The Carbon Enduro Chronicles: Hall Ranch
It's my job to wring out my new 2010/11 Enduro Pro Carbon, and I take this job seriously.
Today I rocked another local benchmark ride: Hall Ranch in Lyons, CO.
Credibility
I've ridden this trail on four generations of Enduros, four generations of Stumpjumpers, two generations of Demos, an SX and a P.bike. I teach here. I shot MMBSii here. I know this trail — and how various bikes handle it.
Terrain
– Mellow uphill approach
– Semi-steep but very rocky/ledgy climb
– Short pinner descent
– Mellow climb to the top
– Turn around
The resulting descent, counting traverses and climbs, is about 20 minutes (40+ minutes for civilians) of swoopy flow, tricky turns and chunky pump. It is a great test of equipment, skills and fitness.
Bike setup
I feel like the suspension is getting close. I weigh about 185 pounds.
Fork: Fox Float 36, 60 psi, high speed compression at stock position one click in from all the way out, low speed compression five clicks in from all the way out (I wanted a bit more platform)
Shock: I'm testing an X-Fusion O2 PVA shock. Air pressure is 185 psi. On smooth climbs I set the 4-position platform lever to #4. On today's choppy climb I rocked #3. On the descents I run #2, which seems to balance the fork. #1 feels too wallowy (for me).
Tires: Yesterday's Left Hand Canyon adventure felt choppier than it should have. Today I lowered the pressure in my burly 2.3 Chunders from 40/42 to 33/35. That felt even slooooooowwwwer, but smoother.
Pedals: Back to clips.
Up
This bike climbs mellow grades extremely well. It weighs a hair more than my heavily built Stumpy, but it's stiffer, and it's white, and it's badass. So there.
When the climbs get steeper and more technical, you really have to work. The rocky sections of the Hall Ranch climb are tough.
Today I easily cleaned every section I went for. If you rock good form and lay down the power, the Enduro goes up like the champ it is. But: In the sections where I cruised whatever style, my front wheel flopped or my tires bonked, and I walked.
Yeah man, if you want to climb steep/tech trails with the fork at full travel, you gotta be on it.
On hindsight, maybe an adjustable Talas would have been smarter than the Float.
Down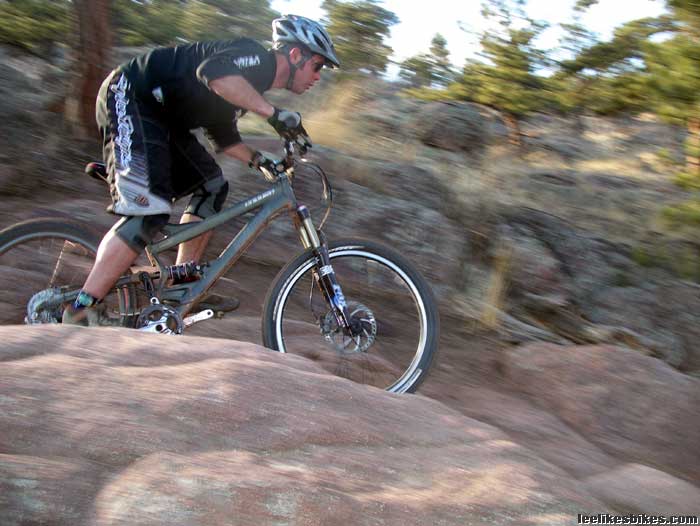 Attacking Hall Ranch, two Enduros ago.
The bike feels stable but nimble, planted yet flickable.
Ha, that sounds like marketing BS.
Let me put it this way:
I pinned the descent, and it was freaking sweet.
Now let's get more specific:
– The rear end did a great job of absorbing the high-speed stutters and braking bumps. Many other bikes — every one I've ridden that wasn't PUSHed — spike and chatter through that stuff. The new Enduro skates on through, which sets you up beautifully for whatever induced those braking bumps.
– The bike is stable and plush. Those qualities let you bomb through random gnar, but they require more effort when you want to flick and pump. That's the nature of the all-mountain beast. Do you set your bike for gnar, pump or somewhere in between?
– I, of course, want a bike that's firm when I want, bottomless when I want, and makes the right choice when I don't know what I want.
Next
– Try even more low-speed compression up front. The bike is pumping well, but I want it to feel snappier.
– Quicker tires. Back to the trusty Eskars.
– Get the 1 1/8 steerer tube adapter, and try the X-Fusion Vengeance fork.
More wringing out. It's my job.
— Lee
---
Know more. Have more fun!
Join the leelikesbikes mailing list:
---
https://www.leelikesbikes.com/wp-content/uploads/2018/08/leelikesbikeslogoheader.jpg
0
0
leelikesbikes
https://www.leelikesbikes.com/wp-content/uploads/2018/08/leelikesbikeslogoheader.jpg
leelikesbikes
2010-05-18 18:38:45
2010-05-18 19:42:08
The Carbon Enduro Chronicles: Hall Ranch