I've been so focused on learning and teaching how to ride fast that I've lost touch with riding for its own sake — or at least covering miles just for the sake of covering miles. Never mind line choice and exit speed — just turn the cranks and enjoy the scenery.

With my thumb still healing from the ligament incident and the Park City Endurance 100 only a few weeks away, downhill riding is out and cross country riding is in. To celebrate our 10th wedding anniversary (10 years!) My Smootchie and I spent last weekend at a friend's ranch near Telluride, CO. This is immense country — rivers running through meadows running through mountains — and our hosts own 470 acres of it.



The view from the guest quarters. The barn/caretakers' house is at left. The main house is straight ahead. See that ring in the water? A brook trout just nabbed a bug.
From the guest house at 9,600 feet, I cranked up a steep dirt road toward the Continental Divide — the series of mountains that extends from Alaska to Mexico. Pee on one side and you pee into the Gulf of Mexico; pee on the other side and you pee into the Sea of Cortez. After the initial grunt the road mellowed to a nice 22tx30t 150-beat-per-minute spin. Trees passed, and I slipped into a trance with the iPod on shuffle and the gods playing DJ. When "Enter Sandman" segues into "Frosty the Snowman," you know a higher power is at work.
| | | | |
| --- | --- | --- | --- |
| When I emerged from the woods onto this meadow, nature hit me upside the head with a big sack of awe. | The word "virgin" comes to mind. | Rocky Horror Picture Show. | Smootchie and the gang return from a picnic at the waterfall. |
The path's worn dirt degraded into trampled grass. There were no bike tracks or even smooth sections: just raw dirt, rocks, roots and puddles. This seemed more and more like a non-trail, but it was on the map, so I settled into expedition mode: climbing slowly but carefully to conserve energy; descending smoothly to avoid crashing. An injury here could be your last. I passed a dilapidated shack and an old mine entrance, and as I looked back I couldn't see where I'd ridden. My stomach sank, and my hairs stood up. It was "that epic feeling." That feeling where you're alone and far from home, and you don't know exactly where you are, and you're not sure you'll make it back. It's a feeling I try to avoid, but one that I relish.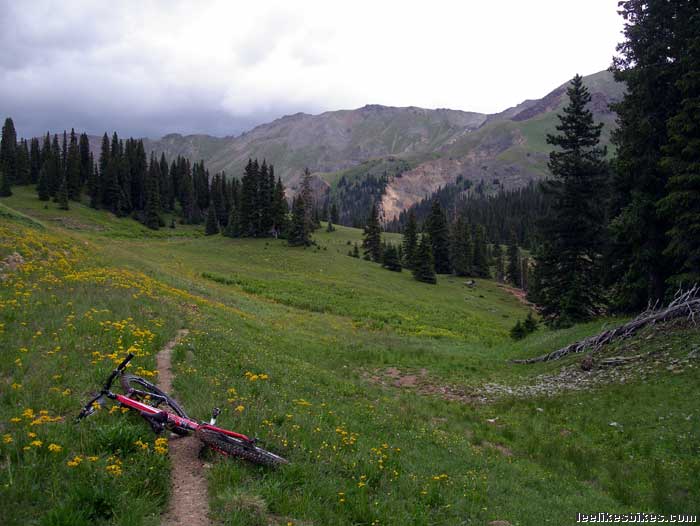 Huge nature. Puny bicycle.
When you're that far out you really count on your fitness, skills and equipment. I love all types of riding, but this — right here — is the spirit of mountain biking. After 2 1/2 hours of oomph I reached the Continental Divide. Mountains spread in all directions. The scale made me gasp. Huge nature; puny human. I cruised along the ridge for a while (if you can "cruise" on rough terrain at 12,000 feet) then dropped back toward the ranch.
The descent was long, burly and instinctive. Years of dedicated practice receded into the background, and I ripped down the trail like a champ: sticking loose turns, pumping little rises, jumping rock outcroppings. It felt great to ride well; not because a timer was running, but because riding well was the quickest and safest way to cover the miles and get back to my Smootchie.
Setup notes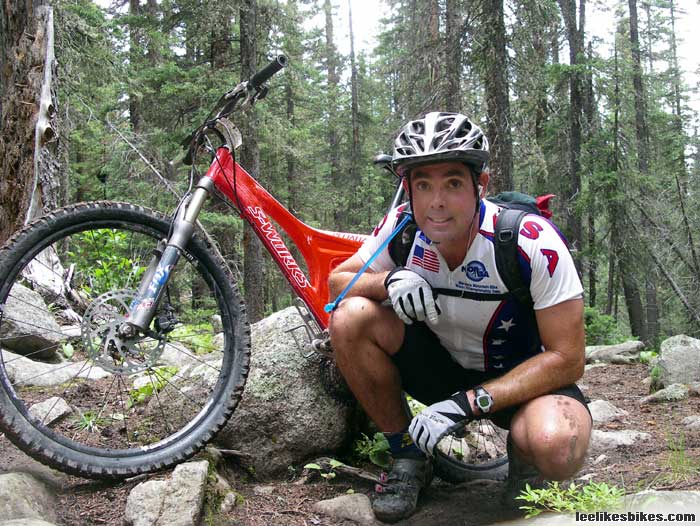 I am King of Dorks. Obey me!
Frame: 2003 S-Works Enduro. Five inches of suspension are plenty for smooth riding on rugged terrain. My custom-shortened Fox AVA air shock lowers the BB and makes the bike rip in Santa Cruz, but on this raw terrain the stock (higher) BB height would have meant fewer pedal strikes and less scootering.
Fork: Fox Talas RLC. Dial in the travel to 3 inches for steep climbing. Slack it out to 5 inches for the descents. Perfect, especially with sweet damping and rock-solid reliability.
Tires: A pair of 2006 Specialized Pinn'er 2.3s with 60A compound and 60 tpi sidewalls. These brand-new downhill tires don't roll as fast as light XC treads, but they provide tons of traction on every surface I encountered, and they all but eliminate flats at expedition speeds. I'll post a full writeup on Specialized's new line of DH tires as soon as I wring them all out.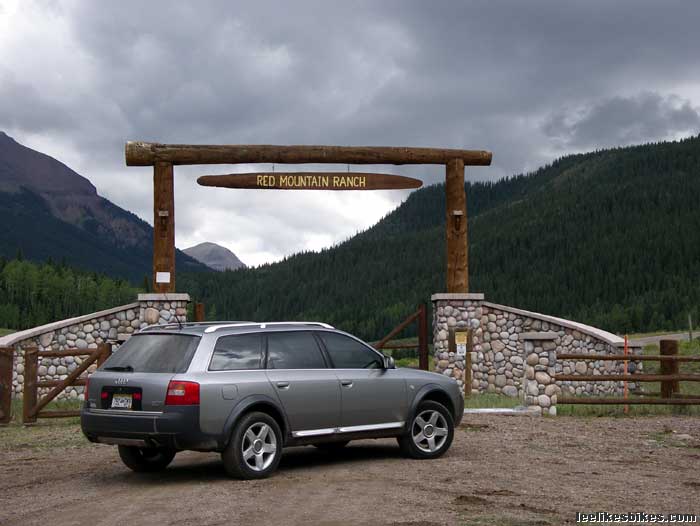 The Battle Wagon, with its suspension one notch from the top, rumbles at the ranch.
Automobile: We drove Smootchie's 2002 Audi Allroad — aka "The Battle Wagon" — and OH MY GOODNESS IT RIPS!!! I usually drive an AWD Safari van, so I'm used to a certain amount of sluggishness, body roll and dankness. That Audi is fast, surefooted and luxurious. Set your side of the cabin to 70 degrees, engage the Tiptronic transmission and pull 110mph over any pass you like. Rail the descent, and when you reach the dirt road hit the button to raise and soften the suspension. Pull 60 or 70 mph across the washboards, over the pass and back onto pavement. Lower the suspension. Repeat. Keep me away from this car.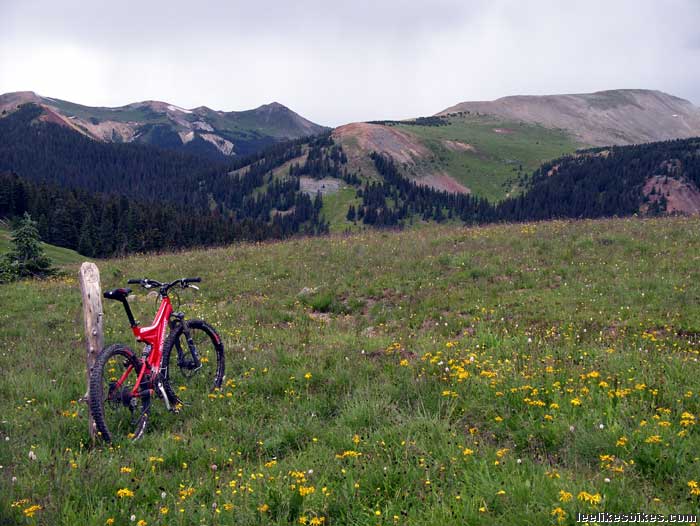 As far as the eye can see.
Thanks to Christy, Jay and the rest of the gang for their hospitality and fellowship.
https://www.leelikesbikes.com/wp-content/uploads/2018/08/leelikesbikeslogoheader.jpg
0
0
leelikesbikes
https://www.leelikesbikes.com/wp-content/uploads/2018/08/leelikesbikeslogoheader.jpg
leelikesbikes
2005-08-15 15:27:07
2005-10-03 15:29:39
That epic feeling