Sorry about the tardiness, but here's the report from the July 21-24 NORBA National Mountain Bike Series stop in Snowmass, CO. We're talking speed, air and precipitation.

Downhill

Pros and experts rode the "Bonzai Downhill" course from last year, which is best characterized as "wide freaking open." Riders follow the white tape down the ski runs, through a short tree section to the finish. The course takes about as long to ride as that sentence took to read. One short "waterfall" section infuses technical interest, but the rest of the course is all about late-apex lines and big balls.
Length: 1.7 miles
Drop: 1,700 feet
Average grade: 19 percent
Joel Panozzo's winning pro time: 2:27.20
Average speed: 42 mph. Woo, that's fast.
Beginners and sports got to ride the "Luge Downhill," which seemed like more fun. Ski runs and woods mixed like old friends, and numerous turns got racers flitting this way and that. To win on this course you must know how to corner.
Length: 1.5 miles
Drop: 1,100 feet
Average grade: 14 percent
Jamie Fenn's junior sport winning time: 3:31.8
Average speed: 25 mph


John Kirkaldie kindly walked the course with me and a couple monkeys: Dylan and Evan. This was Evan's first DH race — not a bad intro!


Wide freaking open.


The dreaded waterfall section. To anyone who's ridden Northstar, this is no big deal.


Mike With The Unfortunate Nickname takes the wide line.


Aaaaaahhhhh … falling into the Land of the Lost.


Fast Jr. Ex explodes out of the woods toward the finish line.


Woodsy action, beginner-sport style.


Beginner-sport racing through the wildflowers … la, la, la …


Mountain Cross

The guys from Cycle Cyndicate put some serious work into this course. The resort provided something like 400 truckloads of very rocky dirt from one of its construction projects. After the heavy equipment placed the dirt, the crew spent more than 2,000 hand hours clearing rocks, working on lips and covering the bad dirt with a few inches of nice dirt. The trucks didn't dump and shape the dirt exactly how the course designers wanted — some of the lips were dangerously steep — but the layout was still pretty darn cool.
Depending on their skill level, rider called this course either difficult and yucky, or technical and fun. Monster berms let riders carry way too much speed into awkward jumps and monster rollers. Some of these rollers were straight off a Supercross track: tall, close and abrupt. Three rollers after the second berm invited a sweet triple jump, but those who landed short or overshot the double paid with flesh and bike parts.
This course was the real deal for sure. In amateur racing, good pumpers and jumpers got the clear advantages and ran away with their races. Pro practice and qualifying made for a great show: people trying the big triple, most failing, a few arcing perfectly over the death mounds. Unfortunately, Biblical rain cancelled the pro finals. The good news: Our friend and favorite person Bobbi "Snap" Watt qualified first and therefore won pro women. Yay Bobbi!
This course remains for Blast the Mass Aug. 20-21. It should be scuplted, drained and ready for four-up action.
| | | | |
| --- | --- | --- | --- |
| Chris from Cycle Cyndicate stands amid the kind of dirt he had to work with. | The triple was HUGE and had high consequences. | Most everyone jumped this berm-to-table-to-berm — except No. 1 qualifier Jared Graves, who never stopped pedaling. | This abrupt line wasn't necessary in qualifying, but it sure looks cool. |
The scene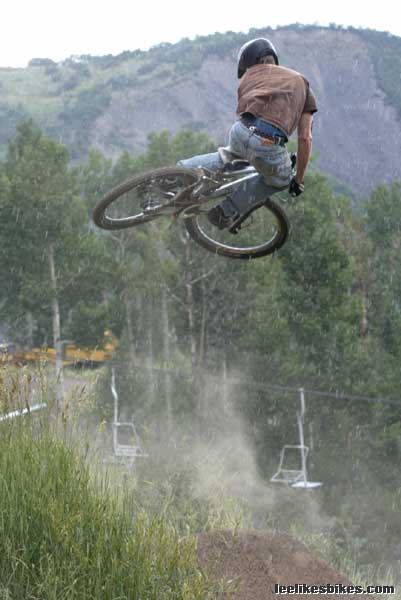 When the rain started pounding everyone ran for shelter — except Elliott Hoover, who just did his thing.
Topography: The Snowmass venue is steep! The condos and parking lots step up the mountainside like … well … steps. You can't go anywhere without climbing. Just reaching the 4X course is a short XC ride.
The pits: Although they were very far from the actual racing, the tiered pits had the normal cast of cool cats. A cruise through saw Fitzy from Fox Racing Shox dialing people's suspension, Maxxis team rider John Kirkaldie scrutinizing the wear on his Minions, Team manager Dave sorting jerseys for the GT-Hyundai crew, and lots of groms pimping stickers.
Cats and dogs: Saturday's storm was just insane. Water was coming down in those sheets you see in Alfred Hitchcock movies, and lightning was hitting often and close. One bolt struck a tree near our condo, and while I was out riding one struck so close I could feel its heat on my legs. Gnarly!
Crew: The cast of characters was basically Mountain States Cup plus some pros and Californians. It's always fun to hang out with the coolest people in the world — at least that's what everyone tells me! … 😉
SMBA monkeys: We had nine monkeys racing in XC, downhill and 4X. Everyone had fun and raced very well. Watching those dudes nail tricky corners and hammer across the line made me feel like a proud parent. In downhill one of my 13-year-old beginners made up a minute and got stuck behind a 40+ beginner. Everyone on the hill yelled at the old guy to get out of the way, but he wouldn't relent. My little dude was mired behind the fat carcass, and it definitely cost him a podium spot. I tried to turn the situation into a life lesson for the little man, but to tell the truth I wanted to strangle the 40+ obstacle. If someone appears on your wheel — no matter who they are — GET OUT OF THE WAY!!!
https://www.leelikesbikes.com/wp-content/uploads/2018/08/leelikesbikeslogoheader.jpg
0
0
leelikesbikes
https://www.leelikesbikes.com/wp-content/uploads/2018/08/leelikesbikeslogoheader.jpg
leelikesbikes
2005-08-12 21:03:16
2005-10-03 21:07:11
Snowmass Action Magazine