Taos pump track: a fine example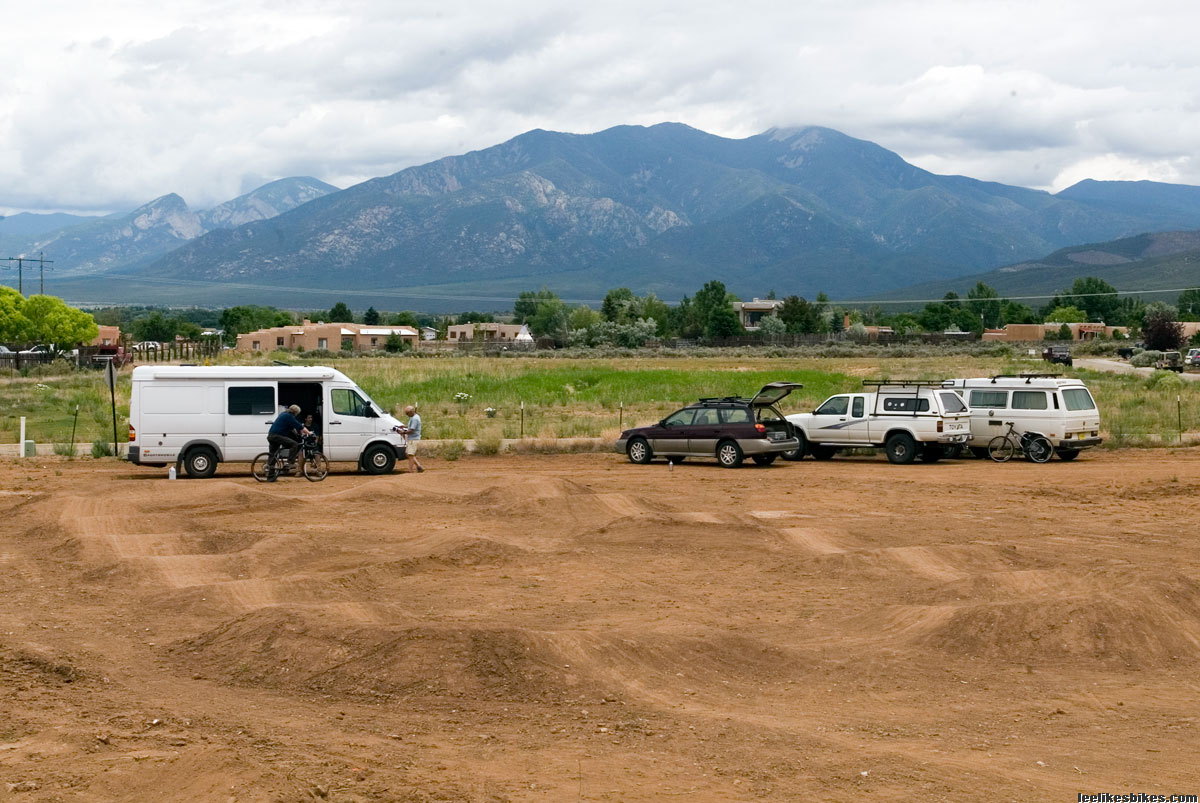 This weekend Ian and I went to Taos, NM to build a pump track, and it came out great.
The whole process serves as a model for grassroots Pump Track Nation.
How the track came to be
This sort of project is all about getting the right people involved. I think, the less money you have, the more personal kung fu you need.
Randolph Pierce is a member of the parks and rec advisory board, and, as an avid rider, he wants to encourage the community to ride bikes. A bit of research led him to pump tracks. Small, safe, cheap and easy. He contacted me. I helped him assemble his proposal.
Brian Greer is director of the Taos Youth and Family Center. He gave us a piece of land behind the skate park. He also got us hoses, a nozzle and access to water.
D. Francisco "French" Espinoza is Taos' Public Works Director, and he came through big time with 100 yards of good dirt and two days of Bobcat time. As several people said over the weekend, "French is a good man. On all things."
Randolph wrangled a bit of money from local businesses — High Desert Tree Care, Taos Cyclery, Taos Ski Valley, Gearing Up, Taos Mountain Outfitters, Taos Cycle Club and Taos Video Works — to cover my costs. He also got sandwiches and pizza from local restaurants.
I provided the design and documentation, stressing the inherent safety of the International Standard Pump Track Design. We are not trying to push the envelope here; we just want a fun track to help get the community stoked on riding. The city said OK and added the pump track to the skate park's insurance policy.
Game on!
The build
Everything went really smoothly. We're getting better and faster at this.
| | | | |
| --- | --- | --- | --- |
| Measure twice. Dig once. Everything is marked out, and we've started placing and shaping dirt. | French (left) and Randolph start shaping a pair of crossover berms. | With the Bobcat's help, we had all the dirt placed in three hours. | While French directed Brandon the Bobcat driver, Ian shaped his crossover berm. |
| | | | |
| --- | --- | --- | --- |
| Ian, a master of building and riding The Pump, foot-packs his creation. Leaning on the tool lets you push into the bank, rather than straight down. | We started at 9 a.m. Friday. By noon all the dirt was placed. | Shaping the various features. Daniel, on the left, came from Santa Fe to help. Thanks dude! | Laying out the tools: shovels, rakes, tampers, hoes, buckets, Specialized p.bike, Intense BMX cruiser and Intense BMX 20. |
| | | | |
| --- | --- | --- | --- |
| Ian, Randolph, Daniel and I pinned it on Friday. On Saturday morning the track was rough around the edges but basically done. Saturday's volunteers only had to do a bit of cleanup — then ride in the lines. That's part of the job! | The tracks after my first few laps on the 20. Note: 1) how soft the dirt is and 2) how only the backsides have tracks. An hour of riding packed everything perfectly. | Saturday afternoon: The track is cleaned up, dialed in and ready for UCI competition. The neighborhood kids are all over it. | Sunday morning: I did a little clinic to help everyone rock the track. Rachael and Daniel from Santa Fe. Dick, assistant mountain manager at Taos Ski Valley. |
| | | | |
| --- | --- | --- | --- |
| Randolph gets some on my mighty SX. | Rachael. | I demonstrate Tea Party Fingers. Oh, so dainty. | Mugzy is the Taos Ski Valley ski school manager, and I promised him The Pump would help all his riding. When I got home he had already emailed: "I could feel a BIG difference on the trail." |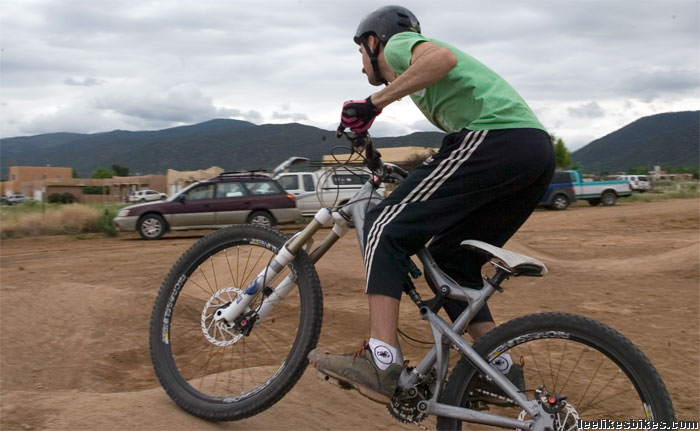 Daniel was wringing out his Nomad. Wringing it out!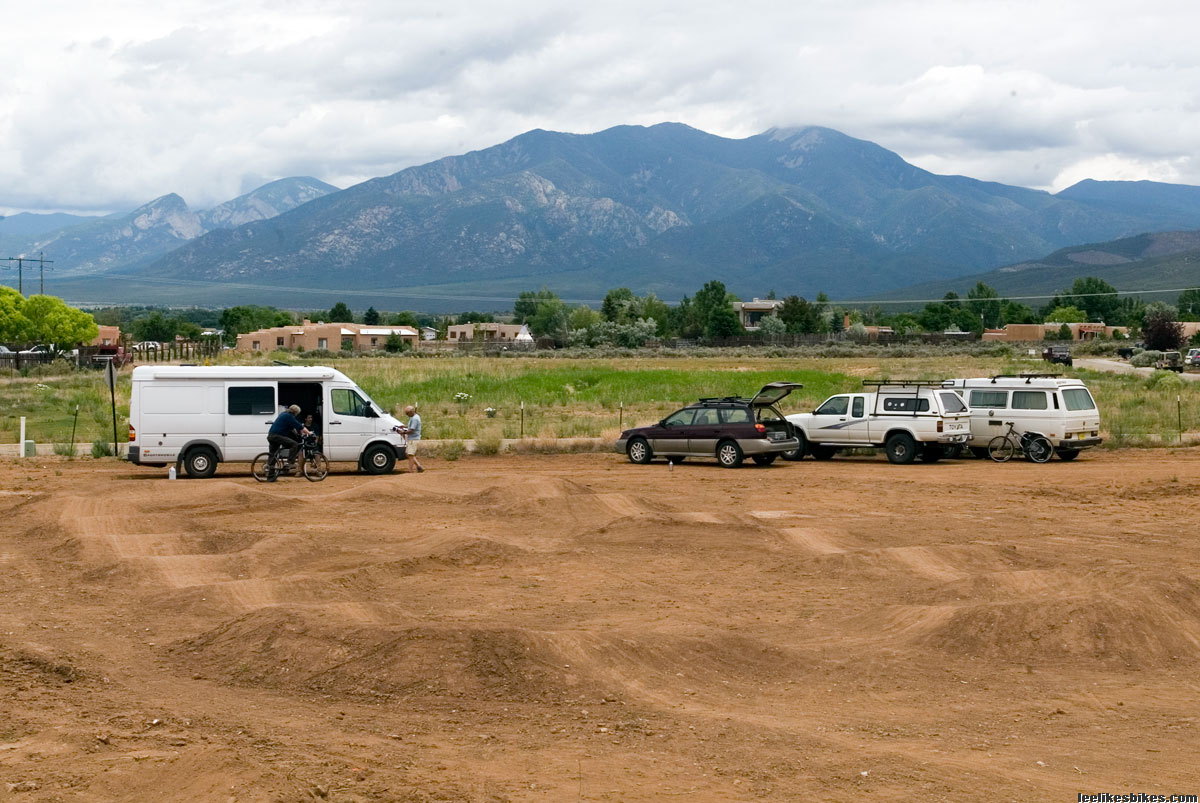 Sunday afternoon: The track is built. The riders are trained. And we're ready to drive home.
Ian and I are tired but proud. In a couple days we'll be ready to build a pump track in your community.
Braaap!
— Lee
---
Know more. Have more fun!
Join the leelikesbikes mailing list:
---
https://www.leelikesbikes.com/wp-content/uploads/2018/08/leelikesbikeslogoheader.jpg
0
0
leelikesbikes
https://www.leelikesbikes.com/wp-content/uploads/2018/08/leelikesbikeslogoheader.jpg
leelikesbikes
2009-06-29 12:37:51
2009-06-29 13:11:13
Taos pump track: a fine example