Two days on the Specialized Turbo Kenevo Expert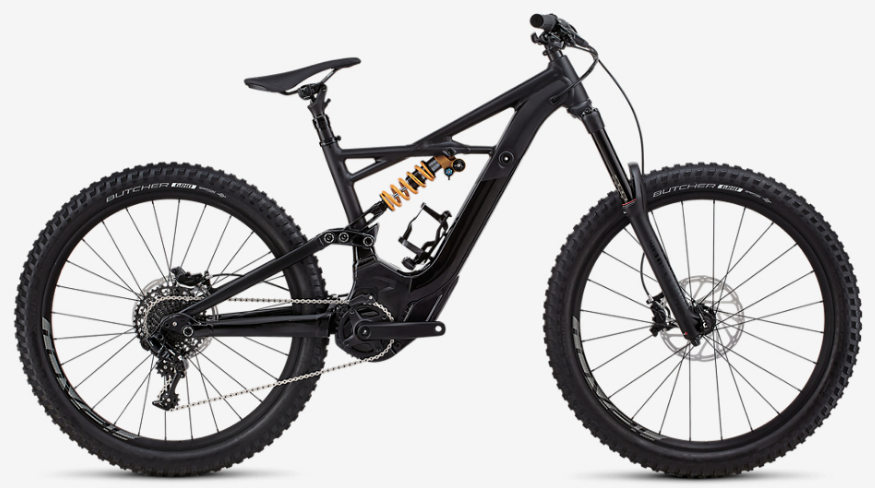 I like bikes, and that includes ebikes. I've been trying to get a feel for how they differ from acoustic bikes — and how they differ from each other. The latest loaner is the Specialized Turbo Kenevo Expert

---
What is this bike?
The Kenevo is a long-travel trail/moderate travel DH bike. 180mm of suspension at both ends. RockShox Lyric fork. Öhlins TTX Coil shock. 65-degree head angle. Mildly reduced fork offset. 117mm of trail (which is like a DH bike or a motocross motorcycle). Burly parts. 52 pounds without pedals.
Oh and it has an electric motor: Specialized 1.3 Rx Trail-tuned with 504Wh battery. From my ebike-newbie perspective, this package worked great: smoother and easier to manage than the Shimano motor on the Pivot Shuttle (rad bike), but, I'm told, a far cry from the new Turbo Levo. I'll be trying that ASAP.
Where did I ride?
I got two days at White Ranch in Golden, CO. Ebikes are legal here, as they are throughout Jefferson County. It's a short drive south from Boulder. I've been riding here a lot lately because the main downhill (Longhorn Trail) is bad ass. It's bike only and downhill only!
The main climb (Belcher Hill) is long, steep loose and often rough. It is a real butt kicker. The other climbs are steep too, and they get technical with big rocks and vertical water bars.
The descents are flowy, curvy, steep, rocky and droppy. They are proper, real deal downhills. A modern enduro bike is not too much, nor is a downhill bike (assuming you can get it to the descents).
This is a $7,500 Specialized mountain bike. It's very nice, and it rides awesome. Big surprise. I'm interested in knowing which specific type of awesome it is.
The 27.5×2.8″ Butch GRID tires might be the slowest-rolling tires ever created, but man they grip. Wow they grip. Like, I never got close to the edge of traction. The slowness only matters when you're coasting/pumping at low speed on flat ground (which isn't much of this ride).
Not stoked about the Command Post Wu. As it goes down, it rotates the back of the saddle downward while pointing the front upward. I'd rather have a flat dropper with more travel.
Climbing the unclimbable. When you press into the pedal, there's a very slight lag, and the motor keeps delivering power for a moment after you stop pedaling. At first this freaked me out, like riding a moto with a random throttle. But, once I got the hang of it, that lag became a brilliant part of technical climbing: Punch the pedals, pump the rock and let the motor keep the rear wheel turning. Braaap — up you go. I suck at technical e-climbing, but wow the possibilities are huge.
At low speed, the bike feels big. It is big, and the geometry isn't designed for low-speed tech, and the plush suspension isn't exactly poppy. Did I make all the sections? Yes. Did I miss any turns? No. The more aggressive I was, the better it worked. This holds true for most bikes and life in general.
At high speed, the bike feels big. In the best way. Like a downhill bike. Point. Plow. Pump (if you feel like it, otherwise just smash into everything). It jumps like a DH bike: You need to plan ahead and cultivate long waves, but it surely jumps — especially from this one rock here to … that other rock … way over there.
Heavy isn't a bad thing. Some of us spend a lot of money making our bikes light, but I gotta tell you: The heavy tires and rims reduce nimbleness — and improve stability. Carrying the motor and battery down in the frame, that does something great for suspension function and rock-smashery. The bike just pounds through stuff — in some ways better than a lighter bike with higher end suspension.
Battery. We rode two hours, with a ton of climbing, at various power settings. I weigh 180 lbs and finished with more than half of the battery left. My buddy Robyn was on the same bike. He weighs 250 and finished with 20% battery.
Who will love this bike? The Kenevo is like having a ski lift or a Ford Raptor built into your bike. Get to the top (pretty quickly if you want) then pin some runs. Specialized pitched the Kenevo as the do-it-yourself shuttle, and I think that makes sense. Especially if you have proper downhills — and you ride for the downs.
When I ride the Kenevo, it looks exactly like Chris Powell in this video:
https://www.leelikesbikes.com/wp-content/uploads/2018/08/leelikesbikeslogoheader.jpg
0
0
leelikesbikes
https://www.leelikesbikes.com/wp-content/uploads/2018/08/leelikesbikeslogoheader.jpg
leelikesbikes
2019-07-03 15:38:12
2019-07-03 16:09:19
Two days on the Specialized Turbo Kenevo Expert