SolVista: The weekend that shouldn't have been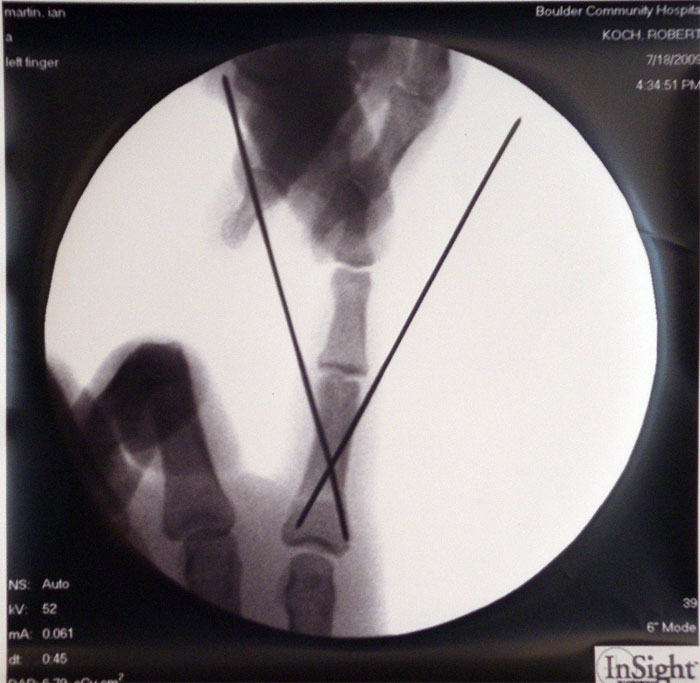 The plan: Go up to the SolVista national MTB championships with Ian and his buddies. Camp. Ride. Hang out. Shoot photos for Mastering Mountain Bike Skills II.
The reality: We were apparently not supposed to rock this adventure. The signs were all there. If I would have heeded the first, I wouldn't have broken ribs, Ian wouldn't have a broken finger and the Sprinter would still be alive.
First, the tally
Round trips to Grand County: 2
Trips to medical facilities: 5
Hours spent in medical facilities: 12
X-rays: 2
Surgeries: 1
Tow truck bill: $350
Medical and repair bills: to be determined
Minutes spent riding: 3
And now the signs …
Sign 1: The mysterious plumbing snafu
Thursday afternoon. I'm loading the Sprinter for the first real camping trip of the year. I hook up the hose to fill the 20-gallon water tank. A few minutes later I hear water trickling. Water flows across the floor and pours out the door.
Yikes! I find a broken fitting under the sink. Randomly weird. No big deal. It's on.
Sign 2: Don't ride that P.O.S.
I'm loading the dudes' bikes and decide to roll Stefan's P.O.S. 20 around my driveway. As I hop on, I hear the voice: "Dude, you have to fix this thing every time we ride. You shouldn't be riding it."
So I rode it. I pumped to the end of my driveway, flipped a 180 then pumped toward the garage. I hit the brake and, as I have thousands of times, I rotated my weight back to counteract the deceleration force. But there was no deceleration force. I slipped off the back of the pedals.
Random violence culminated in the bar end punching into my chest. A bolt of pain and that familiar crunching sound. Oh no. I know this one.
The Wife took me to the E.R. I got an X-ray, but they were super busy with real emergencies. A bus crash, several head-ons, a procession of seriously injured people. After two hours of waiting at the bottom of the triage chart, I discharged myself. Rib injuries hurt — we all know that — but you can't do much about them.
The next morning didn't feel too bad, so up to SolVista we went.
Sign 3: Give us the finger
Dude — I was so stoked to be at SolVista! The courses looked fun, my friends were everywhere and I had plans, baby, plans! I was going to scope the XC course and take photos with Judy Freeman, then rock the DH and shoot photos with Curtis Keene. But first, I took an easy run with Ian and the boys.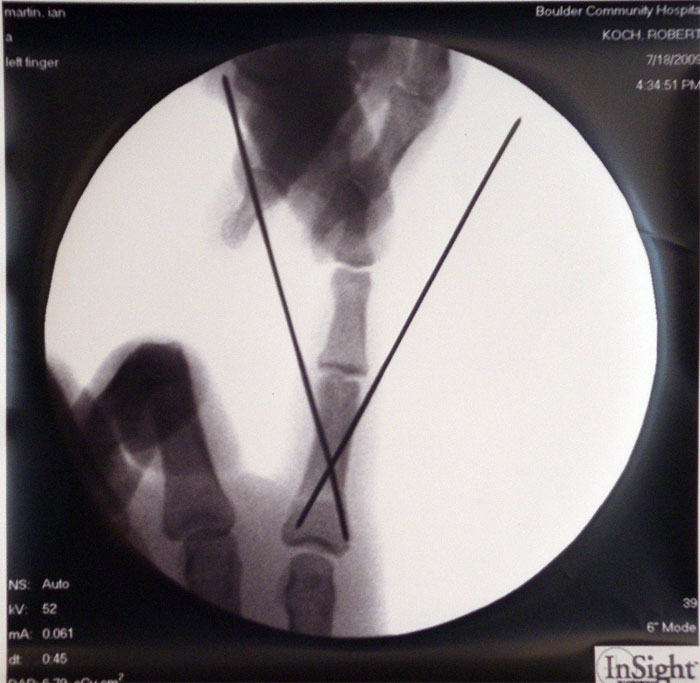 Ian is officially double-pinned.
We dove into Moga's Mile, then into Silky Johnson. On SolVista's scale these trails are green, but their general rawness makes them a blue-plus. Ian dropped into a deeply dusty, rutted turn, stuffed his front wheel and went over the bars.
When the dust settled, Ian's left pinkie was twisted behind his other fingers. Ian, a man after my own heart, twisted it the other way and started walking down the trail.
I took Ian to the on-mountain clinic, then to a doctor's office in Granby. The bone was broken above the first knuckle, which isn't bad. But the broken piece was rotated 90 degrees. That is bad. We hauled mail to Boulder to see Dr. Koch, who scheduled surgery for the next day. The surgury was delayed by emergencies, so we were at the hospital all day, but the procedure went perfectly. Which is very good.
So last night Ian was recovering from surgery and The Wife was feeling very pregnant and rather sick. By this time I'd pretty much given up on SolVista. But Ian came to me:
"What time are you leaving tomorrow?"
"If I go it'll be early, like 6 a.m."
"I want to come. I want to watch the pro downhill."
OK then, it's on!
Sign 4: Oh deer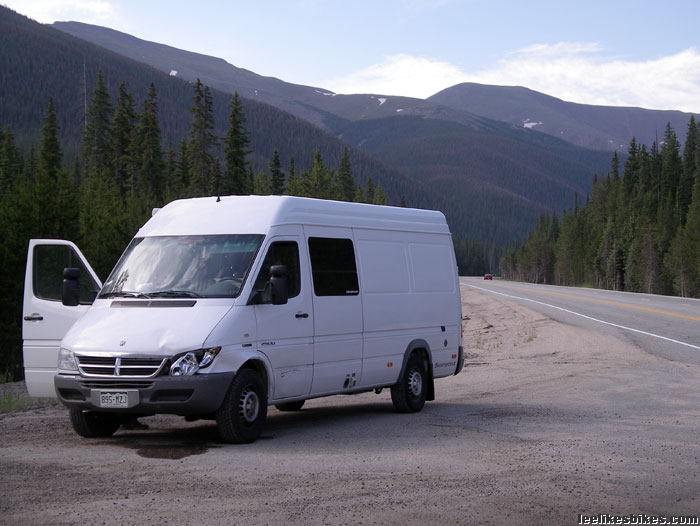 A fine place to be broken down.
So I slept like three hours, got Ian up and started driving to SolVista. As we dropped off Berthoud Pass into Winter Park, I started strategizing. Ride my Stumpy to the top of the hill, shoot the Super D start then pin it down to the second singletrack section. Get some sweet Super D photos there then make my way over to the DH. Not the full weekend I was hoping for, but still quite excellent.
I was exhausted but optimistic. The road was empty. The sun was shining. Ian was sleeping.
Then, all of a sudden … DEER!
No time to swerve my house on wheels. I just held it straight and — boof! — an explosion of fur. An engine light lit up. I pulled over. Ian was still sleeping.
I called the tow truck, then The Wife. The tow truck had a huge head start, but she pinned in in her 5-Series BMW and arrived just a few minutes after the truck. She was jazzed and talking about sections and lines like a downhiller after a race run. "You know that one turn? I used both lanes and just pinned it …"
Glad someone had fun.
We loaded up and headed home. The Mighty Sprinter is in the driveway, bleeding coolant. I have to unload all my bikes and tools, talk to the insurance company and untangle this mess.
| | |
| --- | --- |
| I barely felt the impact, but it was enough to crush the headlight assembly and compromise the radiator. | The villain/victim. Sad. |
The good part
Not to be cheesy, but:
– It's awesome that Ian and his buddies wanted to rock this adventure. We had a great time. For all three minutes.
Actually, I left Stefan with my Enduro SL, and he and JJ road DH the rest of Friday and all of Saturday. I asked Stefan how the bike worked out. "Phenomenal."
– Despite all the craziness, our little modern family got 'er done and took care of everyone.
– I'm glad I gave up after the deer accident. What was next? A lightning strike?
How was your SolVista nationals experience?
I hope you all fared better than we did. Braaap!
— Lee
---
Know more. Have more fun!
Join the leelikesbikes mailing list:
---
https://www.leelikesbikes.com/wp-content/uploads/2018/08/leelikesbikeslogoheader.jpg
0
0
leelikesbikes
https://www.leelikesbikes.com/wp-content/uploads/2018/08/leelikesbikeslogoheader.jpg
leelikesbikes
2009-07-19 15:48:08
2009-07-20 14:35:27
SolVista: The weekend that shouldn't have been