Sol Vista / Crankworx A Rama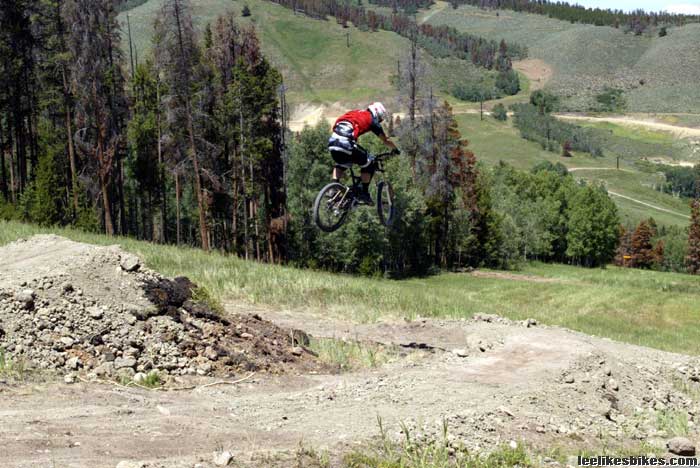 What a great weekend: Three days of riding Sol Vista's new DH trails, plus a little trip to watch Big Air at Crankworx.
The more you click, the more I can post. Lee Likes Groceries dot com!
---
If you have Sol Vista photos, please share: lee@leelikesbikes.com
Sol Vista is yummy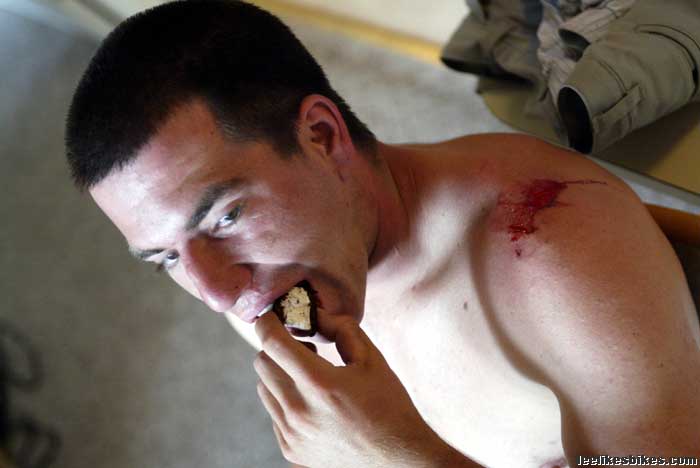 Not only does Steve Wentz build trails, he also crashes on them.
Disclaimer: I have a direct interest in the Sol Vista Bike Park. I produced the paperwork and endured the meetings that made the trails possible. Once we had a contract, Steve Wentz, TJ Sharp and Mike Moga did the actual building. And they rocked it.
OK then.
Thursday: Crankworx DH practice at Winter Park was rained out, and rumor had it the flat/pedaly course wasn't the best DH training. Curtis Keene got his money back, and we met the boys at Sol Vista, just 20 minutes down the road. The rain produced a perfect tack, and four of us — Steve, Mike, Curtis and me — had the mountain to ourselves. Yum!
Friday: I had a meeting with Charlie the Operations Manager, then I pinned runs with Curtis. What a treat, to ride a DH bike for the sheer joy of it. No racing, no coaching, no taking pictures (sorry), just riding the four sweet trails:
Trail 1 – aka Cougar: Follows the original DH course. Some jumps, some woods, some speed and some roughness. Parts of it feel like Vermont. Highlights: big but easy step-down right under the lift; 40mph, machine-made bumps (thanks Steve). Rat tat tat!!!
Trail 2 – aka Drifter: This black diamond got the most traffic. Rocky in an entertaining way, curvy in a fun way, and flowy in a expert way. Easy to get down, hard to get down fast. Highlights: ripping through woods, skimming/pumping/jumping over rocks; the honest-to-goodness 50-foot booter in the middle of a ski run. To fly 30 feet is harsh — to fly 40+ feet … so sweet.
Trail 3 – called Maverick, but that'll have to change since Yeti is sponsoring the park: Turns, baby, turns! Mostly smooth, not very steep, with great flow: Highlight: slaloming through baby aspens, chasing Curtis' jersey and surprised leaves.
Trail 4 – M&M: Named for Mike Moga. A very flowy but pedaly green trail. The top is super easy and swoopy; the bottom is actually tighter than Maverick. I think Steve and crew will open it up. Highlight: the sheer lazy swoopiness of the top. It reminds me of Boogie boarding a crumbly whitewash.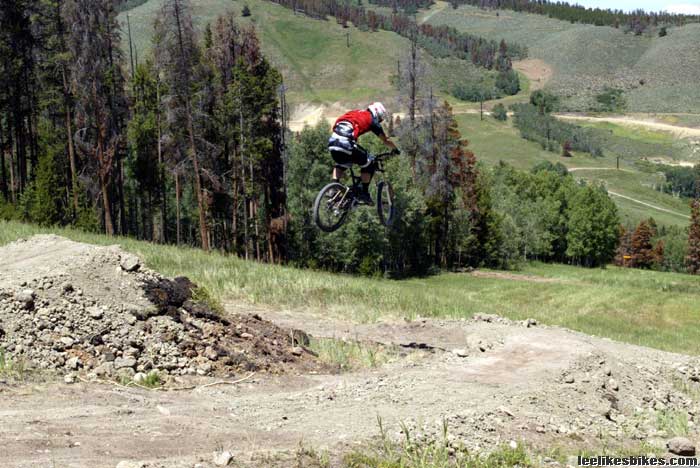 I did get one photo: Curtis boosts the booter on Drifter. You land at 100mph then try your best to stick a superfast, flat chicane. Good luck.
Saturday: Riding 70% is fun, but riding 100% is transcendent. Curtis and I did timed runs on Trail 3. I ran 4:10, 4:08, some 4:00's, 3:58, 3:57 and finally a 3:56. Whew, those last few seconds were tricky! But so dang fun. Curtis ran a 3:36. Big difference between Vet Pro and Pro Pro.
Big Air is dangerous
Made for TV audiences and goofballs drinking beers. Some riders flowed, some crashed, some did both. Our good friends Zach Lewis and Yellow got busted up pretty good. Best wishes to them. As for the guys who survived to the final … very impressive.
| | | |
| --- | --- | --- |
| Something you don't see often. Me and Curtis. | Quite a spectacle. | Big! |
Big events are fine and good, but I sure loved my time at Sol Vista, just riding bikes with my bros.
https://www.leelikesbikes.com/wp-content/uploads/2018/08/leelikesbikeslogoheader.jpg
0
0
leelikesbikes
https://www.leelikesbikes.com/wp-content/uploads/2018/08/leelikesbikeslogoheader.jpg
leelikesbikes
2007-07-10 18:25:16
2007-07-10 18:26:29
Sol Vista / Crankworx A Rama