34+ minutes of love: G3 #1 at Keystone CO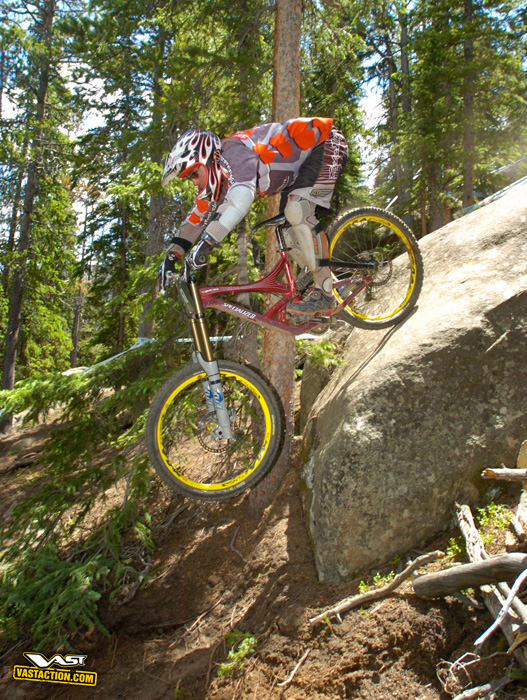 It was the first weekend in July, and Rocky Mountain gravity racers got their first taste of a new format: two days, three runs, fastest combined time wins. After a long weekend and a whole lot of downhill, everyone agreed: G3 is sweet indeed.
Press release written by me, Lee
The more you click, the more I can post. Lee Likes Groceries dot com!
---
Photos by VAST:: vastaction.com – Thanks guys!
Total times ranged from 34 to 50 minutes. With entries running $70-$100, that's a fantastic fun-to-dollar ratio.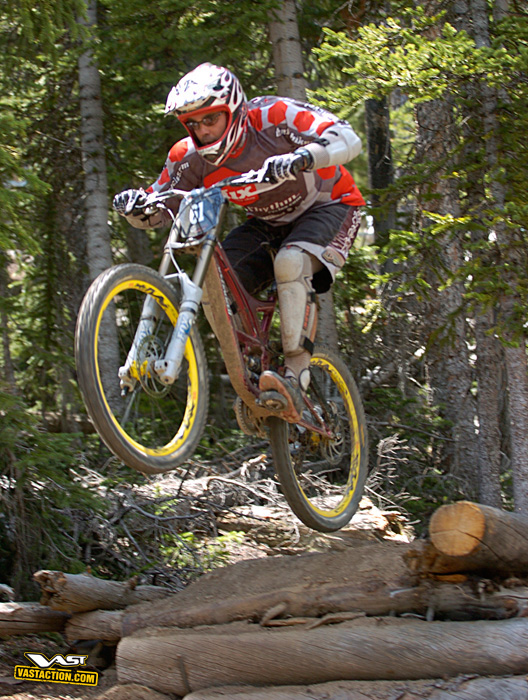 Milky Way.
DOWNHILL #1
This new course is long — and talk about getting your money's worth. Depending on your speed, we're talking three or four normal downhill runs.
Milky Way flows and jumps and drops and clatters much like Garbanzo at Whistler. Rail the turns, stick the off-cambers and watch your lines lest you get sucked into an unfortunate tangent. Join the old DH course for a quick traverse, a rocky turn, a couple doubles and another traverse. Dive, dive, dive into a new section of high speed, rocky, jumpy love then enter a new trail called Jam Rock.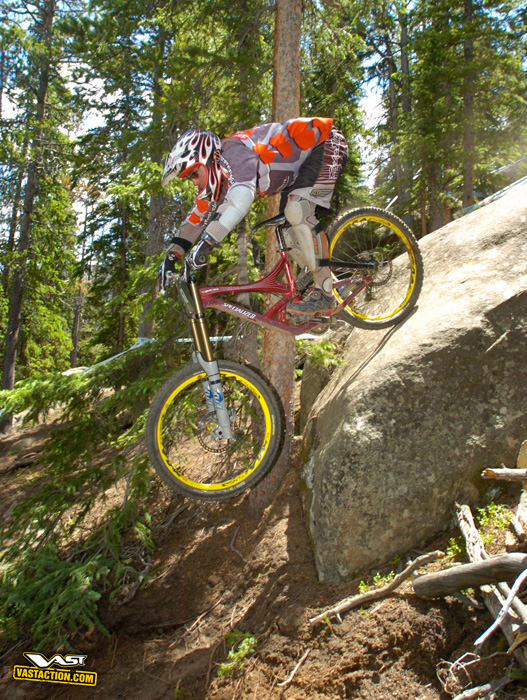 A bold line on Jam Rock.
Holy cow, pray you're not a beginner! Steep. Rocky. Steep. Crazy optional lines. Pros: elevated bridge to steepness to rocks to more steepness to more rocks, then a beautiful drop-in and an infinite rock booter. Beginners: Steep. Rocky. Rocky. Steep! Not easy! But tré cool.
Dive into flowy Mosquito Coast for a sec, cross over to wide-open Paid in Full for a couple turns, then survive Motorhead to the finish. Hope you're not tired —- rocks, switchbacks, rocks, braking bumps! Hold form on the final traverse and cross the timing pad like the champ you are.
Fastest pro: Justin Leov, 10:36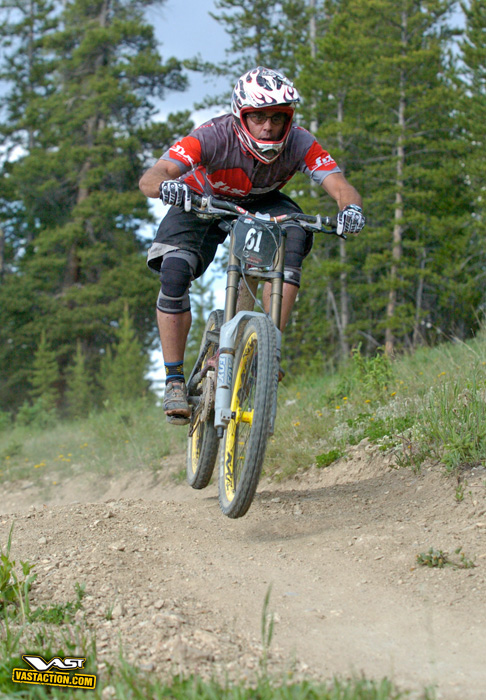 Super D madness, big-bike style.
SUPER D
This course was very DH at the top, very XC at the bottom. Loggers Way, fully pinned across random rocks, to miscellaneous rocky flow to River Run, a ultra slow/tech tree sesh. Speed, check. Pedalling, double check!
Bike choice ran from full XC to all-mountain to full DH. Justin Leov won it in 15:19 on a Yeti 303. Jared Graves rolled 15:21 on a Yeti 575. Two exceptional athletes, a 0.2% time difference on very different machines.
DOWNHILL #2
The original downhill course is a complete combination of single rocks, rock gardens and rock ledges; tight switchbacks, flowy corners and WFO ski runs. By itself this is a serious, physical course. After the other two … sheesh! Jared Graves won it in 8:14.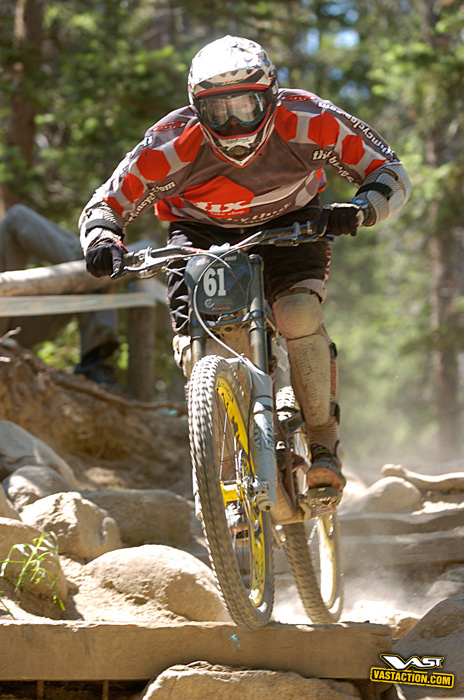 Three Step on Motorhead, flat rear tire style.
OVERALL
Yeti-FOX's Justin Leov won pro men with a combined time of 34:18. Jared Graves, who's training for the Australian Olympic BMX team, was worried about his endurance, but he finished the weekend just 10 seconds (and 0.4%) behind his team mate. Maverick's Abby Hippely, who seems to be over the whole pro XC thing, took pro women in 40:49, about 50 seconds ahead of Jackie Harmony. Most civilians ran in the 40-something minute range. By Sunday everyone was tired and blistered but stoked. Pro, semipros and vet pros shared a $10,000 purse. What a bonus.
Paychecks are sweet, but what's G3 really about? Submitted for your approval: It's Saturday afternoon, Junior Sport Super D. Team mates Dylan Patterson and James Ontiveros (The Fix, Boulder, Colo.) get waxed in the Le Mans start then quickly work their way through traffic. Soon they're out front, Dylan clattering over rocks and flowing through corners, James bouncing and laughing on his wheel. "Dude, it was SO fun!" Dylan blows a turn and comes to a stop. Does James leave his friend and take the victory? No. "I knew Dylan wanted the win." James waits and follows his buddy to glory — 1, 2 style. World class courses, electronic timing and the bro' spirit. That's what G3 is about.
Stop #2 goes down at Sol Vista ski area Aug. 18-19. This venue is 15 miles north of Winter Park, Colo., with an all-new network of flowy, rocky and jumpy trails featuring an honest 50-foot booter to infinite landing. These three-to-five-minute runs will be much less burly than Keystone, but they'll require a higher level of precision and focused aggression. Practice on the free lift has already begun …
https://www.leelikesbikes.com/wp-content/uploads/2018/08/leelikesbikeslogoheader.jpg
0
0
leelikesbikes
https://www.leelikesbikes.com/wp-content/uploads/2018/08/leelikesbikeslogoheader.jpg
leelikesbikes
2007-07-11 15:03:23
2007-07-11 15:05:53
34+ minutes of love: G3 #1 at Keystone CO