SMBA summer: One week done, nine to go
Last week was my first week of full-time coaching with Singletrack Mountain Bike Adventures, and let me say this: Whew!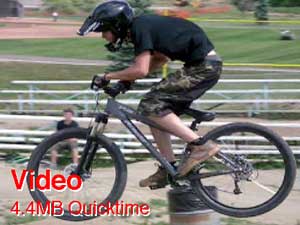 Check out this video from our session at Sky High BMX. 4.4 MB Quicktime style.
I've been leading weekly rides with the SMBA dudes since May, and now that summer is rocking I'm teaching six-hour clinics Tuesday through Thursday, plus a two-hour adult clinic on Tuesday, plus all-day-Friday downhill action, plus race support, plus my own training and racing. This is one of those jobs that kicks your butt, but that you totally love. I'm not complaining, but I am tired.
To sum it up:
The monkeys: Each session teems with five to 10 monkeys, ages 13 to 17. I totally dig their energy, and it feels great to help them enjoy their riding. A few are competitive racers, but I emphasize good technique and great times rather than victory at all cost. (Actually, if you ride well and have fun, the results take care of themselves.)
The approach: In my mission to form an association of bicycle skills instructors, I've broken down the core skills of riding and arranged them in a tree. The base of the trunk is riding position; every other skill is up in the branches. We're working our way up toward that sweet fruit: ultimate mountain biking kung fu.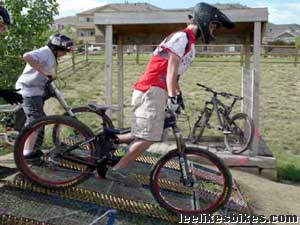 Joey uses his hips to blast out of the gate. He took second in Junior Ex at the Deer Valley national. Watch out for this dude.
The skills: Last week we worked on position, basic cornering, pumping, gate starts, passing, jumping and overall downhilling.
The places:
Our laboratories included the Boulder skate park, the CU Research Park, Sky High BMX, Lake Arbor jumps, The Fix, Nederland trails and Keystone resort. For the most part we pedaled everywhere, but we did get some sweet DH shuttles and a day on the lift.
Special guest stars: Pro downhiller Curtis Keene (WTB/Santa Cruz) helps me keep the monkeys in line, dials in their technique and throws down some impressive riding. Last week pro 4Xer Chris Herndon (Cane Creek/Specialized) kept things rolling and improved everyone's gate starts. SMBA vet Julian Unger is an expert rider and monkey wrangler.
The condiment catastrophe: As we rode along the Boulder Creek path, Nico ran over an ancient packet of house dressing, and it spurted it all over his pants and Ben's front brake: Result: One set of useless pads and one stinky monkey.
This week: Three days of monkey clinics, one adult clinic and the Crested Butte Mountain States Cup race. We're driving down Thursday, and we'll be swinging from the trees Friday through Sunday. The next Tuesday we're going to Summit County for four days of downhill.
This schedule will keeping rocking for nine more weeks. It's a tough job, but I'm just the man for it.
---
We've been having so much fun, I just wish we could get more people into SMBA. I encourage you to check out www.ridesmba.com
https://www.leelikesbikes.com/wp-content/uploads/2018/08/leelikesbikeslogoheader.jpg
0
0
leelikesbikes
https://www.leelikesbikes.com/wp-content/uploads/2018/08/leelikesbikeslogoheader.jpg
leelikesbikes
2005-06-09 20:56:11
2005-06-09 20:56:11
SMBA summer: One week done, nine to go