See no winter, hear no winter, speak no winter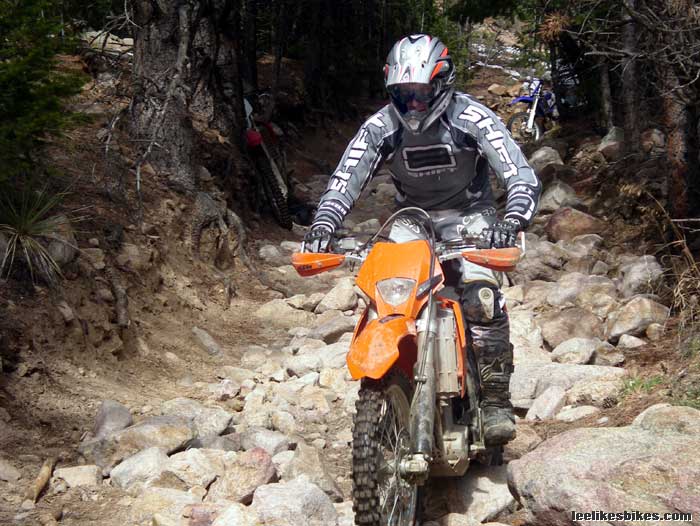 Sure, it snowed over a foot earlier this week. But it's been sunny for the past few days, and our boy Gregor is visiting from New York City. Snow be damned; we had to check out the trails.

Left Hand Canyon OHV area is close to home and relatively low elevation. The dirt was moist and tasty — the rocks and roots, not so tasty. And the patches of snow — raise your pinkies off the bar and have yourself a tea party. Nice and easy …
| | | |
| --- | --- | --- |
| On a day with good traction, the tasty line goes straight over the rocks. Today was a day for the low line. | The crew: Gregor, [me], Sacha and Alex. That red dot is my neighborhood. Livin' the Colorado Promise, baby! | Gregor rolls down from the top, engine brake in effect. On a DH bike, this trail is SICK! |
| | | | |
| --- | --- | --- | --- |
| Death rock: Sacha rolled over, stuffed his wheel and did a slow OTB cartwheel, ending up pinned under the Austrian beast (his KTM, that is). | Sacha back up and rolling. Rocks? What rocks? | Gregor works the clutch, front brake, rear brake and throttle like the experienced road racer he is. This is his second ride on this KTM 525SX. | Patches of snow? What patches of snow? |
| | | |
| --- | --- | --- |
| As the Downhill Boy of the group, it's my job to test all steep drop-ins. The pitch itself wasn't bad, but … | … you really want to make this turn. | Gregor styles it on Alex's bike. |
What a sweet day.
https://www.leelikesbikes.com/wp-content/uploads/2018/08/leelikesbikeslogoheader.jpg
0
0
leelikesbikes
https://www.leelikesbikes.com/wp-content/uploads/2018/08/leelikesbikeslogoheader.jpg
leelikesbikes
2006-10-29 17:43:45
2006-10-30 22:47:51
See no winter, hear no winter, speak no winter