Riding the Specialized Turbo Vado 6.0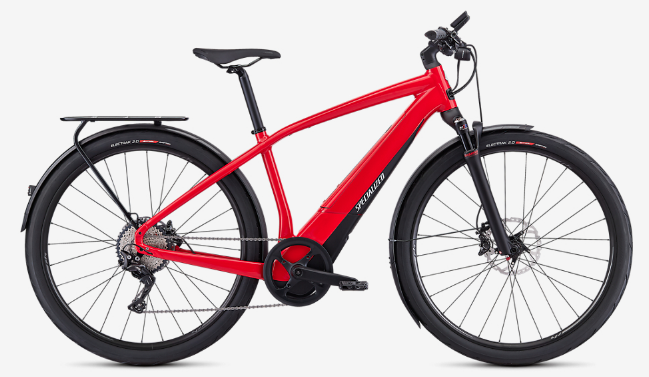 Today The Wife and I rode 15-20 miles of bike paths and roads on Specialized Turbo Vado 6.0s.
Of note:
---
The Vado has three modes. Eco gives a mild boost to your power. Sport turns it up a notch. Turbo is full on. The precise amounts of power are customizable via the Mission Control app. Top boosted speed is 28 mph.
This is a nice bike! It handles transparently and rides very comfortably. The low-travel suspension fork definitely takes the edge off impacts (yes, I was boosting drops and smashing into things on purpose). When I was hammering out of the saddle I could feel some wag, but my massive torque is not what this bike is optimized for.
It's so easy to ride together. The various modes, including Off, help riders match speeds. Say Rider A is stronger pedaler. She can pedal hard at the Off setting while Rider B cruises along in Eco or Sport. Let me tell you: When The Wife is punching into a headwind with boost on, and you're in Off mode, it is freaking hard to hang onto her wheel. Today I got all the training I wanted (and a bit more because I'm silly like that).
Active rest. I can see this being great for "off" days, when you want to get out and spin but don't want to crush yourself.
Spin to grin. I forgot how good it feels to settle in on a smooth road and just turn the cranks at 100something rpm. The power assist helps you carry speed over rises and maintain a nice cadence — kind of like getting a great draft or riding with a tailwind.
Placebo effect. Within an hour I was so used to the smooth boost that, when I was in Off mode, I could swear I felt the motor adding power. It's like when I get buzzed off decaf.
Super fun. If I had the means, I'd have a pair of these for marital rides, errands and commuting.
https://www.leelikesbikes.com/wp-content/uploads/2018/08/leelikesbikeslogoheader.jpg
0
0
leelikesbikes
https://www.leelikesbikes.com/wp-content/uploads/2018/08/leelikesbikeslogoheader.jpg
leelikesbikes
2019-07-09 16:42:26
2019-07-09 16:42:41
Riding the Specialized Turbo Vado 6.0