Pedaling and flowing in the Southeast
I just got back from riding in Miami, FL and Myrtle Beach, SC. Impressions:
---
Markham Park in Miami is flat with some very small rolling hills and very tight woods. The trails are intricate and technical. Horry County Bike Run Park in Myrtle Beach is also flat, with less up and down and more of an open/fast vibe.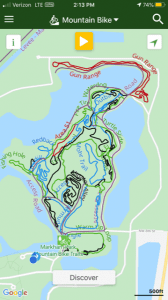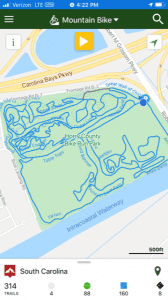 All hail the trail builders. Whoever builds and maintains Markham is a genius. The same can be said for Horry, which is newer and less developed but super-duper clever. Both places have great flow, and they're really fun at speed (see below about the fitness requirement).
Magic carpet. This part of South Carolina is very sandy. Many of Horry's berms, rollers and jumps are covered in outdoor carpet, which is staked into the trail surface. The carpet doesn't roll very fast, but it holds together, and I think it's brilliant. Consider that option for your sandy pump tracks.
They crushed me. Where I live in Colorado, we have big hills. I always thought this made me a badass, but I'm rethinking that. You see, when you do a big climb, you can settle in at whichever pace you want (I generally take it pretty easy). On the downhill, you can let gravity provide propulsion while you focus on pumping and shredding. You're doing work, but the trail comes to you.
In these flat areas, the only propulsion comes from pedaling. If you want to cruise, that's fine but not sick and rad. If you want to go fast enough to have real fun, you have to pedal your ass off. Everywhere. The guys I rode with at Horry were freaking fit. When they opened the throttle, I struggled with the workload.
As a kid I dreamed of fishing the Everglades. When I boxed my bike, I threw in the ultralight spinning rod that I got for Christmas when I was 10. A quick web search connected me with a guide with a fast bass boat. We were going 60mph, holding pace with F150s on the freeway, railing corners in the channels, just ripping. We caught a bunch of largemouth bass, peacock bass, oscars and a bluegill, which were all energetic on 4-lb line. Another childhood dream, realized.
Overall, people in Miami weren't friendly. The guy who took me fishing was really cool. The people I rode with were really cool. But people around town — in restaurants, the hotel — seemed standoffish. I don't know whether it's city living or summer heat, but it was really noticeable compared to Boulder and most other places I visit.
Crowds like I've never seen. The Friday I rode solo at Markham, I wondered why so many people park in the grass. Well … on Saturday the parking lots (plural) were so full that people HAD to park in the grass. The crowding was insane. More than a dozen people at a time on the pump track, trails teeming with riders, just madness. As a local friend told me, "We have 4 million people and zero mountains." The good news: MTB is alive and growing in Miami.
Again, to the Markham and Horry trailbuilders: Great work out there.
https://www.leelikesbikes.com/wp-content/uploads/2018/08/leelikesbikeslogoheader.jpg
0
0
leelikesbikes
https://www.leelikesbikes.com/wp-content/uploads/2018/08/leelikesbikeslogoheader.jpg
leelikesbikes
2020-01-23 14:06:40
2020-01-23 14:38:28
Pedaling and flowing in the Southeast