Rampart Range moto session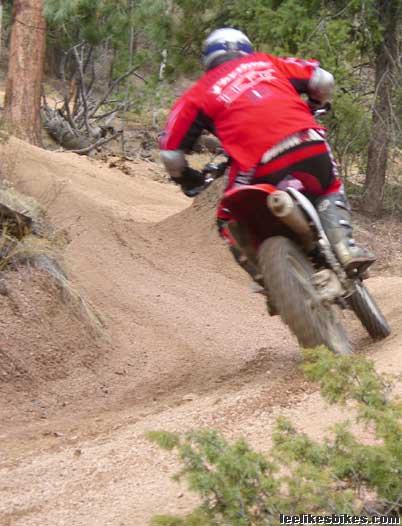 Distance: 52 miles. Time: 2:40. Average speed: 20 mph. Top speed: 60 mph. Terrain: swoopy singletack. Not a bad afternoon.

Shots from yesterday:


I ride this typical S section like a mountain biker. It makes me wonder whether I'd ride my bikes like a moto …


Why go around this boulder when you can jump up it?


Laying into a long sweeper, pulling hard in third gear.


Yesssssssssss!!!


Fireman Jeff brops off a big rock.


Jeff with the sweet body-bike angulation. This came in handy when he hit a patch of ice and wound up sitting on top of his sliding motorcycle.


This stuff feels so much like downhill MTB. Point your hips and shoulders where you want to go, and let the bike do its thing.


Fireman Jeff gets some.


Showoff Jeff rides a nose wheelie down this rock face. After this came a supertech, rocky, rooted climb — which he nailed. As for me, I did a flying W into a tree.


Scott's new to riding, but he's definitely feeling the love.


About Rampart Range: rampartrange.org
https://www.leelikesbikes.com/wp-content/uploads/2018/08/leelikesbikeslogoheader.jpg
0
0
leelikesbikes
https://www.leelikesbikes.com/wp-content/uploads/2018/08/leelikesbikeslogoheader.jpg
leelikesbikes
2005-11-03 19:32:32
2005-11-15 20:53:51
Rampart Range moto session