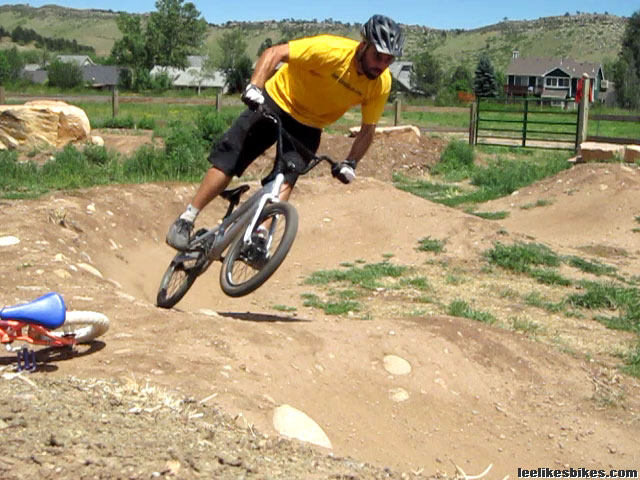 Hey Lee,
I have your mountain biking book and it's been really helpful. I plan on picking up a copy of the BMX skills book too.
I'd like to start incorporating some BMX pump track riding and BMX jumping to gain some skills as you recommend. There are also some skate parks around where I live and I thought that might be fun to try too for the hell of it. Right now I have no experience in BMX, but thought that getting a bike that is capable of BMX racing and dirt jumping would be good. From what i understand, BMX race frames and components aren't designd to be jumped and take hits like the freestyle BMX bikes are designed to take. So I guess my question is do you think it's better to start out with a BMX race bike and then pick up a separate dirt/freestyle BMX bike if I want to get into dirt jumping? Alternatively, would it be better to just get a chromoly dirt/freestyle BMX bike and use it for both dirtjumping and pump track riding?
Thanks,
Ben
---
Hey Ben,
Thanks for writing.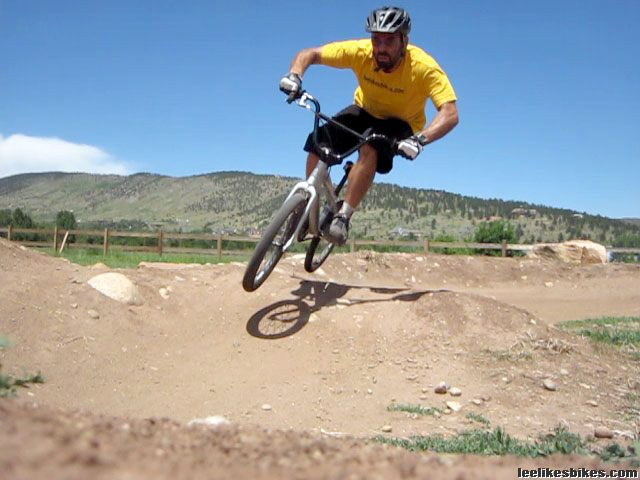 My Intense BMX Factory Alloy 20 is more than enough bike for any racing, pumping or jumping I'll ever do. Pump track action at Lyons Bike Park.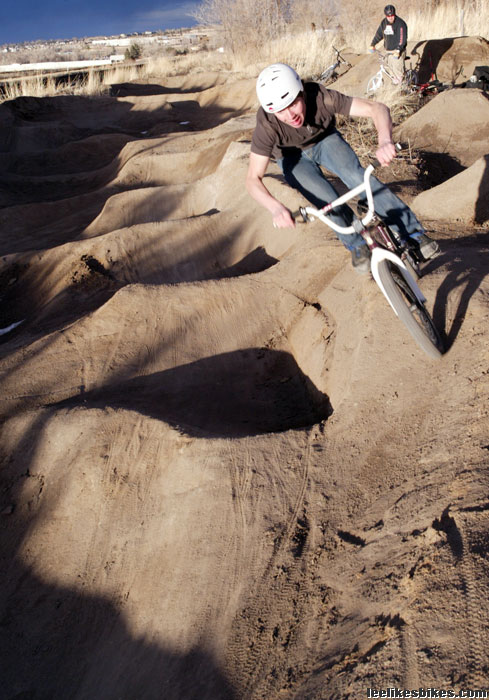 Pro gravity racer Evan Powell pumps the heck out of his DJ 20. He could beat most of us on the track too.
Basically:
• BMX race bikes are lighter and less burly than BMX DJ/freestyle bikes.
• If you're very fast and/or very gnarly, you'll probably benefit from the extra sharpness/burl of a race or DJ bike. Some pro BMXers I know ride their race bikes at tracks and ride their DJ bikes at the jumps. They are afraid to case their ultra-light, ultra-expensive race bikes.
• If you're neither very fast nor very burly — if you're a normal guy who's looking to have some fun and learn to rip — I think either type of bike will be fine.
• If you fancy yourself more of a racer, get a race bike and jump it. If you fancy yourself more of a jumper (or you want the confidence that comes with burl), get a jump bike and race it.
• At the price points you're likely to start (around $600-$700 is plenty), a race bike isn't going to be crazy light. It'll be plenty strong.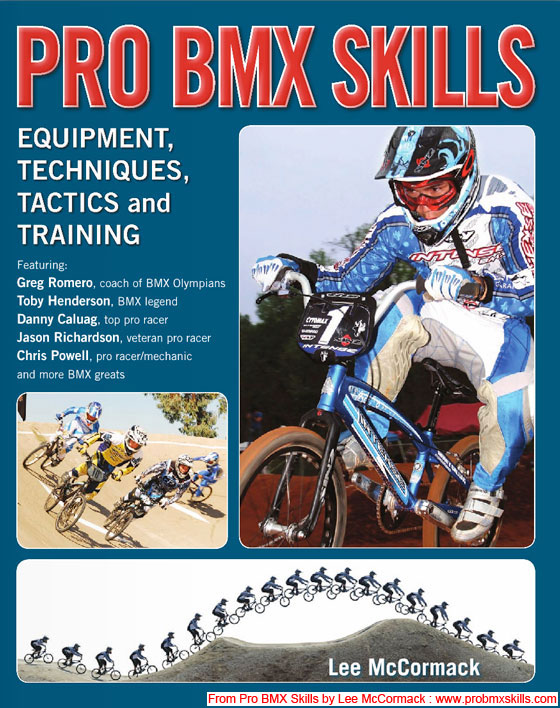 BMX racers go huge, and their bikes hold up just fine. Check out this step-up by Chris Powell (Chris just graduated magna cum laude from law school; total badass).
As always: find a bike you can afford, set it up for you, learn to ride it.
Braaap!
— Lee
---
Know more. Have more fun!
Join the leelikesbikes mailing list:
---
https://www.leelikesbikes.com/wp-content/uploads/2018/08/leelikesbikeslogoheader.jpg
0
0
leelikesbikes
https://www.leelikesbikes.com/wp-content/uploads/2018/08/leelikesbikeslogoheader.jpg
leelikesbikes
2012-05-01 11:56:28
2012-05-01 21:06:52
Race vs DJ BMX bike?