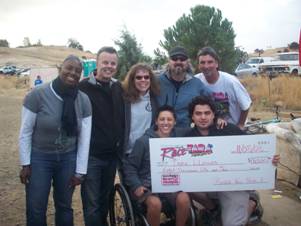 This report of last weekend's benefit race come from Stu's Giant Newsletter, by Mike Stewart, an account executive at Giant Bicycle.
Pretty sweet.
"It is the spirit of friendship that gives balance to life"
– Ernie Banks "Mr. Cub"
In thinking about the race this weekend it is the spirit of friendship that comes to mind. The spirit of friendship for the people involved in organizing and running the event, the spirit of friendship for the racers that showed up, raced, and generously gave their money to support Tara, the spirit of friendship that had all of the sponsors supporting the race, and of course there is the spirit of friendship that I feel for Tara. The day had the feel of a bunch of friends getting together for the day to support a friend and while we all didn't necessarily know each other the spirit of friendship was definitely in the air. We had a great day of racing, that was capped by a huge product raffle and a heart felt speech from Tara herself.
For the race we had a record turnout for a Sand Hill Ranch 4 cross race, team Giant showed up big, we had the full race rig in attendance, one of our demo trucks, and several Giant people that made the trip from our Newbury Park offices. This years race ran super smoothly and we made it thru the day without any major injuries J. The racing was highlighted by a big pro turnout, Black Market rider Drew Powers took the top spot with Giant Bicycle rider Jared Rando coming in 2nd. Evan Kay of Giant demo truck fame raced on my STP and took top honors, and we even got Giant marketing guy, and BMX legend Travis Chipres on the track racing for the first time in like 10 years. He looked good! This year we added an open wheel class for the little guys as well as the BMXers and it was good to see them out there. Pictured below is Jake Cartright who recently purchased his new Brass 1 from the Bike Trip and came out and took 2nd place. We also had two classes of women racers (2 first timers). For the day we managed to raise $8500 for Tara. While this amount is short of our original goal we are still very pleased with the results. Here are some pictures for you to enjoy:
I want to give a special thanks to our title sponsors Alameda Bike, Bike Trip, Danville Bike, Giant Bicycle, Giant for Women, Fox Clothing, Fox Racing Shox, Ride SFO, WTB, and Shimano.
I would also like to thank our product sponsors Easton, Michelin, Bell, Giro, Smith, Oakley, Chris King, Troy Lee Design's, Kryptonite, Felt, Raleigh, Bay Area Bicycling.com, Dakine, Syncros, Point One Racing, Livermore Cyclery, Voler, Defeet, Factory Phils, Leatt braces, Hank and Frank Bicycles, Calabazas Bike Shop, Tomac Cycles, Specialized, Black Market Bikes, Red Bull, and Casa Orozco Restaurant.
Additionally I would like to thank Tara and her mom Barbara for making the trip up from So Cal and being so accessible to everyone in attendance. It was really special having them there this year. Tara spent the day visiting with the racers, signing autographs, and just being very gracious in general.
In closing I would like to give a big thanks to the Race for Tara 2 Crew: Thayne and Brian Bolin for coming up with original idea, their infectious passion for this project that has never wavered, as well as providing the medals and many sponsors , Phil and Renee Anderson for donating the venue @ Sand Hill Ranch, running all of the race functions as well as handling much of the logistics, Daniel Cress from Alameda Bike for his contribution doing whatever was necessary to ensure that we were ready heading into our race day, and Tiffany Brown from Giant for Women that really helped out with the race flyer, and getting our Giant people out to support the event, as well as major contributions to the product raffle.
That does it for this year's installment of Race for Tara. If you didn't get a chance to make it, no worries we are already talking about Race for Tara 3 coming in 2009.
Thanks,
Stu
Mike Stewart | Acct Exec | www.giantbicycle.com
---
https://www.leelikesbikes.com/wp-content/uploads/2018/08/leelikesbikeslogoheader.jpg
0
0
leelikesbikes
https://www.leelikesbikes.com/wp-content/uploads/2018/08/leelikesbikeslogoheader.jpg
leelikesbikes
2008-11-12 09:34:12
2008-11-12 09:35:28
Race for Tara 2 Report