Thousands of pump tracks have been built all over the world (many of them using LLB books and designs) for a reason: Pump tracks are fun, inexpensive and can be built pretty much anywhere. These plans will give you a solid head start on your private or public track.
In case you need them, here are some reasons to buy a ready-to-build pump track plan:
Save time and money. Build it right the first time. Second guessing and re-doing is a waste of both time and money. Plus it's not fun.
They have all the information you need. Each plan includes overhead and side views, plot points, shapes, dirt quantity estimates and basic building instructions.
Get easier approval. If you're building a public track, safety and precedence are essential. These designs adhere to the strictest safety standards, and they are proven. This can help you get the green light from your government entity or your wife.
Guaranteed flow. If you follow the specs in these docs, you cannot go wrong.
Here are our current ready-to-build plans. We have more on the way. If you need a layout that's not on this page, please email lee@leelikesbikes.com. We'll try to help you.
Pumptopia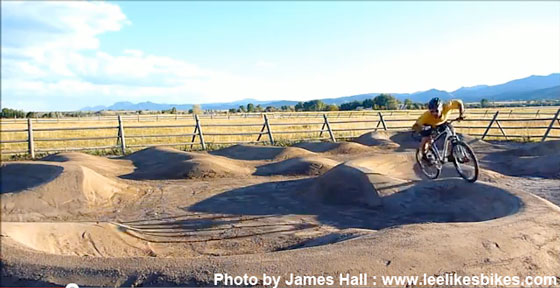 Footprint: 55×85 feet (17 x 26 meters)
Personality: Our favorite all-around track mixes a fast straight, ripping 180 berm, technical linked turns and crossover options.
Ideal riders: Beginner through advanced.
Price: $20
Learn more and get Pumptopia >>>
Sea Otter 2010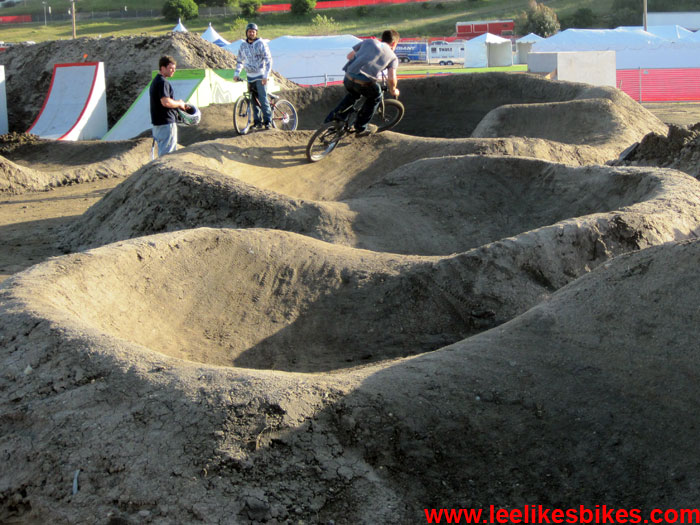 Footprint: 55×85 feet (17 x 26 meters)
Personality: This was the pro pump track for the 2010 Sea Otter Classic. Still one of our favorite tracks ever, with a BMXy main straight, linked turns and some crazy jump options.
Ideal riders: Intermediate through advanced (but beginners will have fun too).
Price: $20
Learn more and get Sea Otter 2010 >>>
SLT (Sweet Little Track)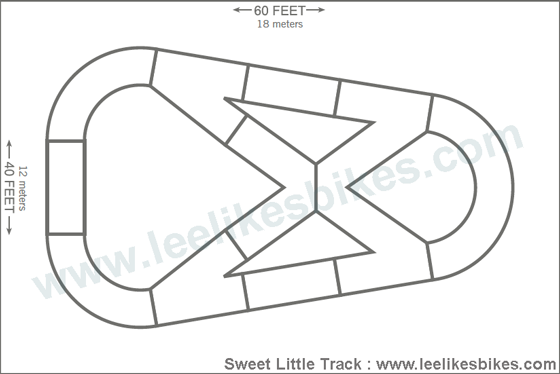 Footprint: 40×60 feet (12 × 18 meters)
Personality: Designed for a small space, beginner builder and beginner-intermediate riders.
Ideal riders: Beginner and intermediate. Advanced riders can have fun too: Go faster or turn the rollers into jumps
Price: $20
Learn more and get SLT >>>
TLT (Tiny Little Track)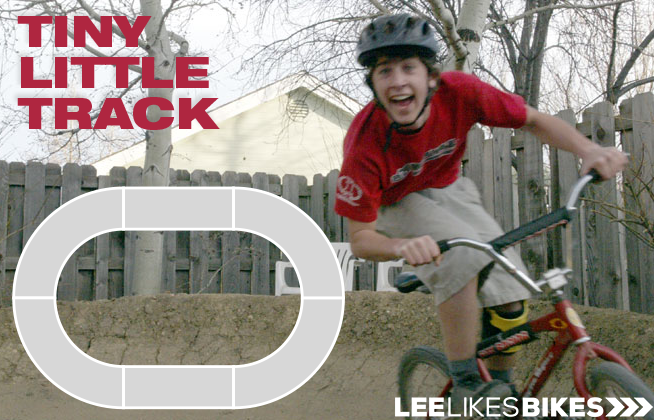 Footprint: 22 x 30 feet (6.7 x 9.1 meters) with dirt on the backs of the berms; as small as 18 x 26 feet (5.5 to 7.9 meters) with retaining walls on the backs of the berms.
Personality: Designed for a tiny little space and builders with any level (or lack of) experience.
Ideal riders: Beginners will find it challenging because they are beginners. Intermediates will have fun going fast. Experts will find themselves going fast then have to figure out how to stay on the track. This track is awesome for small backyards, kids and adults who want to build skill, strength and endurance. Lee built a track like this at the Superior Bike Park in Colorado, and it's amazingly fun to ride
Price: Just $5 because we're saving the world one track at a time.
Learn more and get TLT >>>
You'll also need the $10 Welcome to Pump Track Nation ebook.
---