Pro BMXer Barry Nobles compares race vs. casual shoes
Barry Nobles is a badass.
In this video he compares start/sprint speed between his ultra-stiff carbon race shoes and softer skate-style shoes. He prefers the look and comfort of the skate shoes but doesn't want to give up speed.
---
The average difference between the shoes?
0.01 second over a ~2.4-second sprint. That's about 4/10 of 1 percent.
Not very much, right?
When we extrapolate that difference over a 200-foot first straight (that has no jumps), the race shoe gives you a 10-inch advantage. And you know what? That's enough. Heck, one elbow (just a few inches) is enough. Especially in the pro field.
If you extrapolate that difference over 20 miles, that's about 400 feet. Would you want to finish 2nd in a big race by 400 feet? No way. This is probably why racers tend to wear … well … racing shoes.
For us regular mountain bikers, I think a softer shoe is:
– Way better for hike-a-biking, which I do a lot of.
– Easier on your feet on rough downhills. Whenever I get fresh shoes I notice the extra punishment.
– A better overall choice than a race-oriented shoe.
My shoe of choice is the Specialized Rime 2.0. It pedals just fine, it feels good in the gnar, and it hikes great.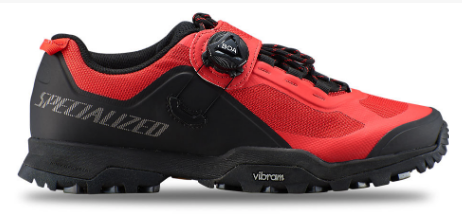 What do you think? What style of shoe do you mountain bike in?
Lee
https://www.leelikesbikes.com/wp-content/uploads/2018/08/leelikesbikeslogoheader.jpg
0
0
leelikesbikes
https://www.leelikesbikes.com/wp-content/uploads/2018/08/leelikesbikeslogoheader.jpg
leelikesbikes
2021-01-18 12:12:55
2021-01-18 12:46:48
Pro BMXer Barry Nobles compares race vs. casual shoes