Photos and more: Olympic BMX track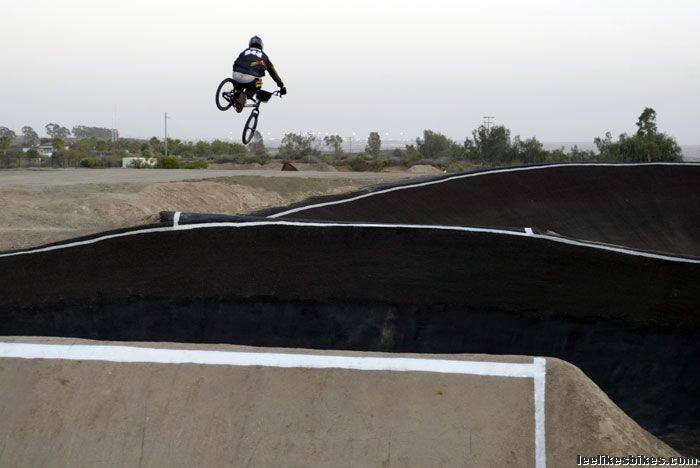 I recently spent a couple days at the Olympic Training Center in Chula Vista, CA, interviewing, shooting and — yes — riding the Bejing replica track. It was like BMX, only way bigger.
Lots of fun stuff: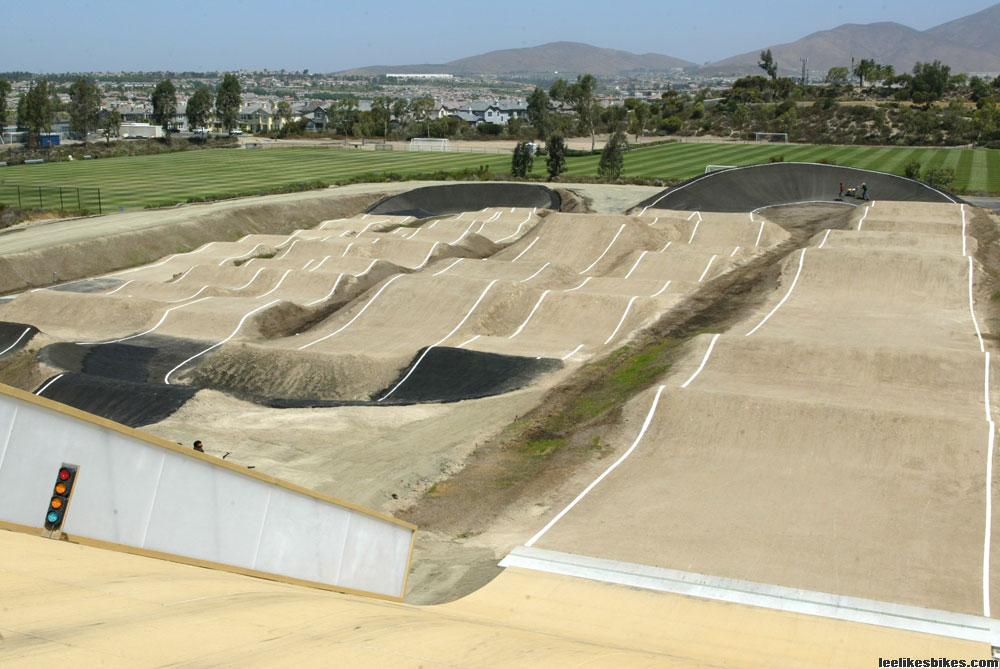 Guys are hitting 40 mph+ on this track. At that speed, I'm told, it's best to forget pedaling — just tuck and pump. (For scale, check out the guys in the first berm.)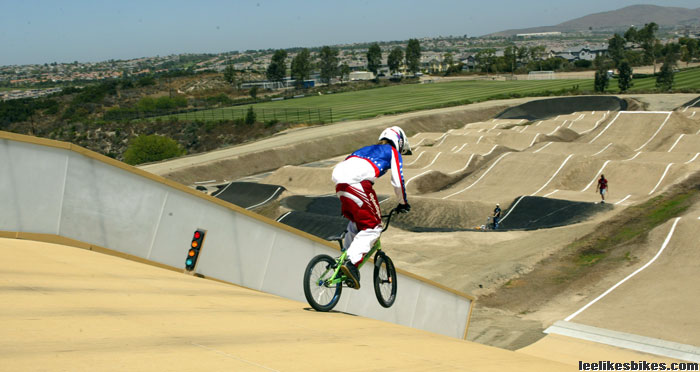 But first you have to sprint full-out down the 8-meter ramp. Dudes — the ramp is so steep it's hard to walk down. Vance Wiesendanger goes after it.
| | | | |
| --- | --- | --- | --- |
| Vance styles the second double. When people come up short, things break. Forks, XTR cranks … | Coach Greg Romero is helping me with the BMX book, and this guy is the real deal: a very smart and experienced coach, plus a highly competent AA Pro. He hasn't ridden in a while, but he pulled this out of his butt — perfect. | The second straight culminates in a big dub over the "girl" berm into the "boy" berm. Dude — the women's lines were plenty big! | Kris Fox rocks the third straight. He has just landed in and railed the second berm. From there you're going about 100 mph and it's all braaap. |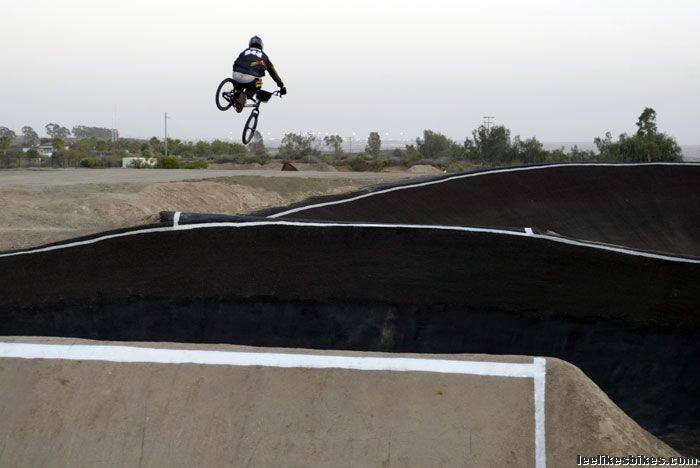 Steven Cisar, an athlete in residence at the OTC, boosts the double into the second turn. There is no rolling this one, folks.
| | | | |
| --- | --- | --- | --- |
| Steve and Bubba Harris rip the second straight. | The paved berms let you rail with impunity. Pro BMXer and MTBer Chris Powell rocks it. He said he was about to give up BMX, until he rode this amazing track. Now he's all about the BMX. | When it comes to contact, 'tis better to give than to receive. Greg gives. Chris receives. | Cisar and Bubba get in one more lap before the sun goes down. This is the non-rollable double out of the second berm. |
Mike Day wins the Olympic trials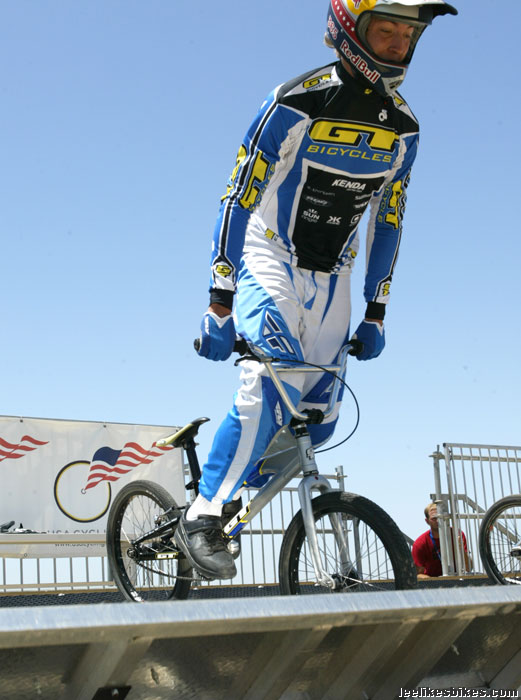 Mike Day busts out one of five gates in his race-simulation workout the Saturday before the trials.
The Olympic Trials were the Saturday after I visited, and everyone was getting nervous. Whoever wins that race gets the 2nd spot on the team.
Mike Day KILLED it. He won the time trial and two of three motos. He was so far ahead by points that they cancelled the main. Crazy.
Mike has been working with Coach Greg Romero, and Greg has had him on a strict two-week taper. While I was there Saturday and Sunday, the other riders were all play riding. On Saturday, Mike did five full laps, with 20 minutes rest, to simulate race day, then he rested the rest of the weekend. Mike performed when it mattered, and now he's going to Bejing.
Jill Kintner also works with Coach G, and she's going too.
Riding the track
That track is so big, and peaky, I didn't jump a darn thing.
But I rode my Intense cruiser around the womens' line several times. The pump was ridiculous, and the speed was instantaneous. I could feel how sweet this track is for the handful of riders who can truly rock it.
I've known Chris for several years, and he said I looked good out there. "You look smooth and confident," he said. "Since I've known you, you've gone from an intermediate to a controlled expert." That's high praise from someone at his level!
It's all about the gates
The start is by far the most important part of a BMX race. Whoever reaches the first turn in front gets to control the rest of the field.
| | | | |
| --- | --- | --- | --- |
| Bubba Harris and crew on the race track. It's hard to get a lot of gates here because you have to climb the platform. | Greg nails one on the Red Bull practice gate. | Greg explains the all-important Triple Extension of your hip, knee and ankle. This is the key to a powerful sprint. | Greg's tip made Vance, a pro rider, instantly better. The BMX book will have tons of detail on starts and sprints. |
Let's not forget cornering
With BMX berms getting steeper and smoother, cornering is becoming a lost art. But excellent cornering form will let you rail faster and carve tighter than everyone else. Chris, Greg and I did some drills for the book.
| | | | |
| --- | --- | --- | --- |
| Chris is trusting his tires and leaning with the bike — very BMX style. | But there is a limit! Greg had just moved the cones, and Chris was too pinned. He felt silly — "I just rode this whole track, and now I crash on a flat turn …" | Chris loads his front end and lets his rear tire drift — very MTB style. | Greg rails. He was doing flat-ground BMX slalom before many of you were born. |
The BMX book manuscript is mostly written, and now I'm processing the photos and video from this adventure. I hope to have the book available, at least for download, by The Games in August.
Super cool!
---
https://www.leelikesbikes.com/wp-content/uploads/2018/08/leelikesbikeslogoheader.jpg
0
0
leelikesbikes
https://www.leelikesbikes.com/wp-content/uploads/2018/08/leelikesbikeslogoheader.jpg
leelikesbikes
2008-06-23 12:10:02
2008-06-23 12:36:21
Photos and more: Olympic BMX track