Nice pedals: Specialized Lo Pro Mag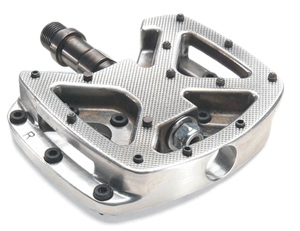 I got my mitts on a pair of Specialized Lo Pro Mag platform pedals in early July, and I've been running them ever since.

When I asked Specialized product manager Deacon James what was so special about these pedals, he told me they are some of the lightest, strongest, lowest profile flat pedals on the market, plus they have some clever features. Well, let's see about that:
Light:
If you believe the online specs, the Lo Pro weighs 17.5 ounces. The Easton Cully tips in at about 18.25 ounces. The Shimano DX comes in at about 17 ounces. The claim of "lightest pedal" might not be true, but you could probably make up the weight differences by clipping your toenails and filing your calluses.
Strong:
The Lo Pro's cro-mo spindle is thickest at the crank, where forces are highest, and, since the wrench flats are inboard, the spindle contacts the crank for the full 180 degrees. I've managed to bend Shimano DX pedals, but so far the Lo Pro's are running straight, even after some tomfoolery on the North Shore.
Low profile:
I just went into my garage with a ruler, and I measured the thickness of some of the pedals I found. I didn't measure the pins.
---
Pedal
Thickness
middle/edge
Width
crank to edge
Compare-O-Tron
Lo Pro Mag
20/17mm
106mm
Atomlab Aircorp
24/20mm
108mm
Truvativ Holzfeller New
21 outside/17 center (concave)
110mm
S&M Bikes
30/30mm
110mm
Cheap "XS"
27/27mm
123mm
Shimano 636 clipless
35/21mm
91mm
---
NOTE: I'll add more pedals as I get measurements. Please
send me
some.

You can see the Lo Pro Mag definitely has a lower profile than the S&M Bikes and cheap "XS" flat pedals. It's easier to make power with lower-profile pedals because your feet don't rotate so far around the spindle as you through your stroke. Yes, you can feel it: The Lo Pros feel … different, but good.
From a ground clearance standpoint, we're looking at differences of about 2.5-7.5 millimeters. I used to drive a forklift in a warehouse that was designed with only one inch of clearance. It was super sketchy, but as my boss used to say, "When it comes to missing something, an inch is as good as a mile." I really noticed the few millimeters of extra clearance when I ran the Lo Pro Mags on A River Runs Through It in Whistler and CBC on the Shore. It's funny how you can sense how much clearance you have, and I found myself pedaling in places where I had been clipping my 636's.
Also of note:
Adjustable pins: The pins are 3-4 mm long for max grip in off-road situations. For urban style you can lower the pins by putting washers under their heads.
Gnurly, dude: The platform of the pedal is gnurled for extra grip. It works.
Sagging in the middle: The middle of the pedal is concave, so your foot settles in there and gives you more grip action.
Resistance is futile: You can adjust the resistance of the cartridge bearings — fast and spinny for racing, and slow and still for tricks.
The price is right: The $83 retail price makes the Lo Pro Mag competitive with other high-end pedals.
It burns: When you grow weary of these pedals, get their magnesium bodies burning nice and hot, then throw some water on there. BOOM! Crazy light show! (Actually, don't do this.)
To sum it up:
The Lo Pro Mag might not be the lightest, but it is light. I can't say whether it's the strongest, but it is strong. And it has a very low profile. Add these attributes to the list of clever features, and you have yourself a mighty fine pedal.
More info on the Specialized site.
A reader reports a problem:
Lee, I agree with you on the fact that those pedals are light and really grippy. However, I know two people that have bought them stock on their specialized bikes, plus myself, and all three of us have had problems with them. If you are doing smooth stuff like dirtjumps or you are riding a full suspension, you will be fine. But riding skatepark and trials — if you screw up and hit the ground hard, it can pop the pedal sideways on the axle. After a few months of hard riding, the bushings get compressed and they feel real bad — with tons of play and grinding and popping noises. I'm sure they are great for dirtjumps and trailriding, (and you know they are good for the big hit stuff on a big hit bike — I dont know personally), but if you are riding BMX, trials, or occasionally flatbottom at the skatepark, these pedals will give you major problems.
Just thought I'd let you know.
David
Specialized reports the fix:
I send David's note to Deacon James, the Lo Pro Mag's product manager.
First productions had an issue with an undersized c-clip (responsible for keeping the pedal from moving side to side on the spindle). When impacted from the side the c-clip would pop out of its groove and allow the pedal body to slide inward. Once the pedal body moves and the clip is not re-installed the bearing seals no longer function and as such the bearings contaminate.
The pedal design uses 2x bushing bearing and 1x cartridge. The pedals can handle over 3000lbs per side w/o bearing damage or spindle yield. It is sad to hear of production hiccups giving products a bad name, but no product is manufactured w/ 0% defect rate.
The groove is now 2x as deep and the c-clip size is such that it engages with the groove as it should. C-clips are stamped so there is a rounded edge on one
side, we are now installing them so the square edge is out and further able to resist being pushed out of the groove when side impacted.
Deacon
If you're having that c-clip problem, bring your wounded Lo Pro Mag to a Specialized dealer. A warranty guy assures me you'll be taken care of.
https://www.leelikesbikes.com/wp-content/uploads/2018/08/leelikesbikeslogoheader.jpg
0
0
leelikesbikes
https://www.leelikesbikes.com/wp-content/uploads/2018/08/leelikesbikeslogoheader.jpg
leelikesbikes
2004-10-23 13:12:48
2006-02-07 13:15:29
Nice pedals: Specialized Lo Pro Mag