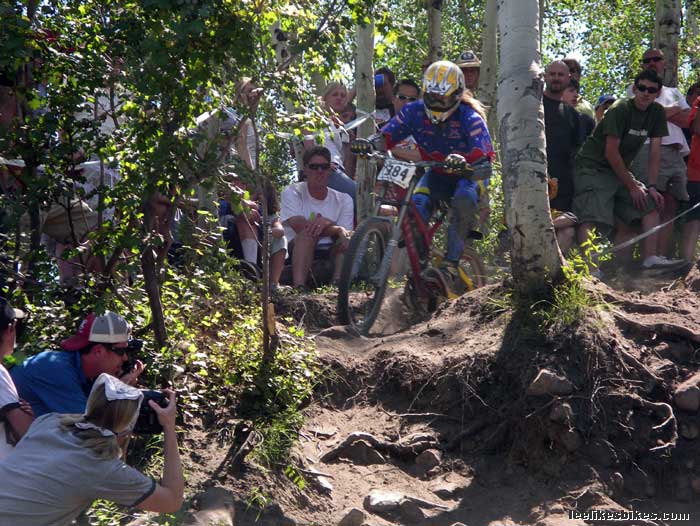 While the nationals went down in Sonoma, we Coloradans rocked some state championship action and filled the Mountain States Cup with even more love. You might say it runneth over.

---
More photos as they arrive.
Downhill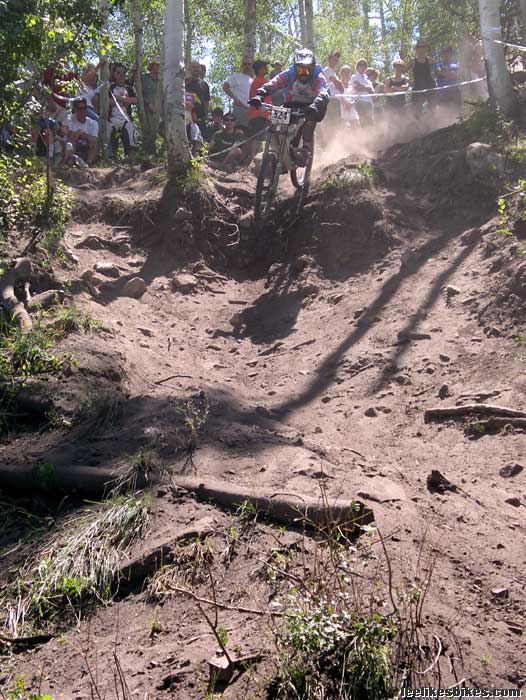 The Waterfall (cue dramatic music).
The pro/expert course in a phrase:
– Rip roaring
– Barn burning
– Ass kicking
In a word:
– Fast
– Pinner
– Siiiiick!
Let's put it this way: Top pros average over 40 miles per hour. Sure, there are wide open ski runs, where the white tape suggests a route but tacky rubber and chaos theory work out the details. And there are swoopy woods sections, with deep ruts for the sheep and late apexes for the wolves. But let us consider 20 yards of compressed havoc: The Waterfall.
Come ripping through the trees and pick a foot-deep trench of braking violence. Bap bap bap!!! Scrub speed and brain cells then pick your poison: around the outside and off the rocks, along the inside and off the grassy knoll or off the middle to a questionable end. Close the deal with a tight, dusty 90. You don't win the race here — you try not to lose it. Despite the woods and the brief technical trial, you still average over 40. Ass kicking. Siiiiiick!
Beginners and sports get pummeled by the same top section, then they dive into some very nice, flowy woods. Super fun on a DH bike. Super fun on an XC bike. Super fun on a 4X bike. Super fun.
Chris Del Bosco edged out mega-pro Jared Graves to win pro men. I hear it all the time: "If Chris has a good run, he's unbeatable." Darian Harey got it done for pro women. A kid named Cameron Barton came out of nowhere and spanked Jr. Ex (My man Joey Shusler took second). Jordan Thinger took care of business in Jr. beginner women. Go Jordan!
| | | |
| --- | --- | --- |
| Entering the Waterfall. | Zach's eyes are already in the next turn. Nice. | Here's the wolf line. |
I didn't race, but I had some very fun practice on both courses. There's nothing like fully committing to a hectic trail, zinging the tape with your knuckles, diving into the corners and making order from chaos. Siiiiick!
Mountain Cross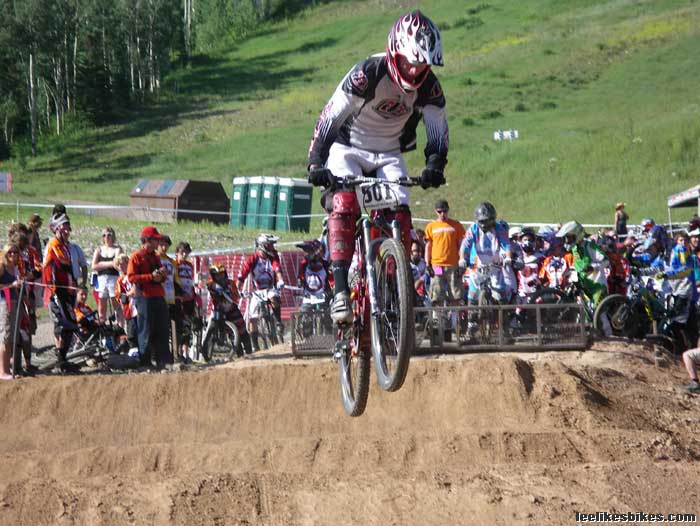 The first straight was little but very tricky.
Finally, a course with everything: good sized jumps, technical rhythm, swooping turns and passing lines. Yes, passing lines!
And it goes a little like this:
(begin bad poetry)
Take two strokes and
jump the mini double
Absorb the steep rollers
lest you get into trouble
Rip the berm
and hook the bump
Suck up the lip
and savor the jump
Land smooth and
rail the berm
Protect your line
as you finish the turn
Hook onto the table
and hold your speed
Pop across the gap
A little's all you need
Follow the line and
let the berm fling
You over the table
Like you're on a string
Right then left
just like that
Into a rhythm that's
anything but flat
Hop from the berm
and hook the first roller
double the next
as the race controller
Hold it together
for the last right
Get it done and pedal
with all your might
First the huge double
then get a crank
A stepup then a table
then your fans you thank
(end bad poetry)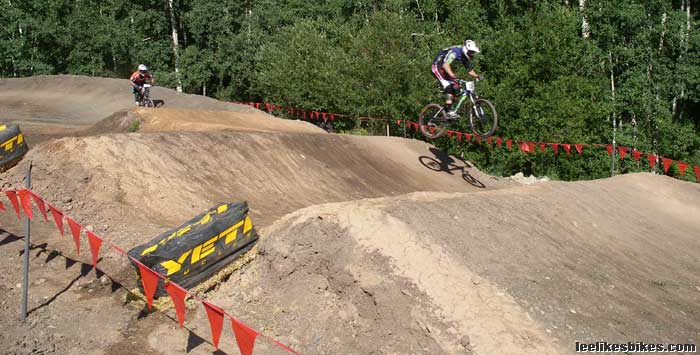 Seond straight. Table to double style. Check out the inside desperation line.
The racing action was hot hot hot! Riders were sprinting and pumping and jumping and crashing and recovering and attacking and re-attacking all the way down the course. So many mountain cross races are parades. Not so here. It's all about course design.
The pro men's final was sick (With one i). Jared Graves, Ross Milan, Petr Hanak and Jon Watt. Graves got the gate with Watt on his shoulder. Graves entered the second turn inside, while Watt went wide to build speed. He was fixin' to pull a pass on Graves when Milan came flying off the double, ripped a flat turn, drifted sideways onto the table and neatly took Watt's line. A little brake scrub for Watt and it went like this: Graves, Milan, Hanak, Watt. Good stuff.
In Jr. Ex Rudy Unrau took off like a dart, but the other three dudes — Chris Shewmake, Joey Shusler and Blair Reed — disappeared in a dusty tangle. Chris ran out with his bike, looking pretty disoriented. Joey followed until Chris picked a direction, then Joey squeaked by for second.
Not cool: All weekend the new timing company blew it super huge style. Apparently the normal crew was at another event. Seeding started and stopped more than a beginner in an Angel Fire rock garden, and messed-up brackets required several re-runs. Good news for our boys Evan Powell and Mike Kreeger, who got eliminated in their first rounds but survived the do-overs. Sweet. "I call do-overs!"
Free Mountain Cross clinic
The Watts and I held a free clinic for beginning mountain cross riders. About 40-50 people showed up: all ages and both genders.
We walked down the course talking about lines. Jon and Bobbi demonstrated low-high and high-low passes. I told everyone "Don't be a sheep," (as Steve Peat says). Plan ahead. Never follow. Never give up.
After answering questions, we walked to the top of the course. Jon and I helped with gate starts while Bobbi helped with pump. The students seemed stoked, and I'd like to think we contributed to the great racing.
Next free clinic: Downhill at Telluride.
Super D
I've said this before, but Super D is so cool. It's like a normal fun weekend ride, just faster and with more traffic. You gotta be skilled, and you gotta be fit. And these days you gotta know how to run.
This was a work-intensive one. Hoof it 100 yards to your bike, hop on and GO! Pedal as hard as you can down a gravel road, which quickly turns 90 degrees left. Ooops, shouldn't have pedaled so hard.
Survive that and bomb to the singletrack. Now would be a good time to pass. Rip the poop out of a few turns, then climb climb climb on a nice trail that would be nice at a lower heart rate.
Whew, that's over. Not you're a Hot Wheels car. Careen across the meadow into a steep 180, then another, then another, just releasing your fortunes to the ruts (and ignoring the dust, and the dudes in front of you, and the dudes behind you). Such a ripper. So sweet.
Uh oh. Coast onto the dirt road and climb. No swooping, no technique. Pure power. Gut it out and reach the singletrack. Aaaah … rest in a blur of green and loam, emerge on a gravel road, style the hip jump then drop to the finish.
Mike West accomplished this feat in a mere 11:15 (When 30+ was staging, he was already finished). The next rider, Dax Massey, was almost a minute back. Sarah Tescher Super-D'd open women in 13:16. Aliciarose Pastore won Jr. women by two minutes. Nicely done.
As for me: It turns out ripping your pump track and riding motorcycles does not make you Super D fit. I've been working on my running, and I actually reached my bike in about fifth — last year I was always dead last. So far so good. I rocked my 44×11 down the dirt road and reached the first turn in second. Cool. I got passed by some impressive XC dudes, battled on the singletrack and made it to second at the top of the first climb. "Sweet, I'm on the podium."
Then my brains exploded. Little bits on my brake rotors, in my cogs, everywhere. Everything seemed to slow down except the other riders. I planned to hold everyone up on the singletrack until I recovered, then make time on the descent. But I was going so slowly, and Adam Lavender was on my wheel, and he's a nice guy, so I let him by. As he passed I stopped caring. Whatever.
A few more squeaked by, then I started ripping again. All great — until the last road climb. Then it was skinny butts, Dopler shifting into the distance. I looked back and saw another rider. "Ha, I'm totally beating that guy," then I looked again. He had a DH bike with one ring and flat pedals, and he was pushing on foot.
So anyway, I cruised the rest of the trail and finished somewhere in the middle. Back when I was winning Super Ds by a minute (before LeMans starts and the influx of XC racers), it was easy to love it. But even now that I'm getting spanked it's still super cool. It's not quite as hard as XC, and it's much less gnarly than DH. Racers take it seriously, but it still feels like a fun ride with your bros.
Thirty of them, battling to the death …
Colorado rippers
I've been helping lots of people with their riding technique, and they all rode super well. Not everybody won, but (almost) everybody executed their plans and got great results. Excellent work by: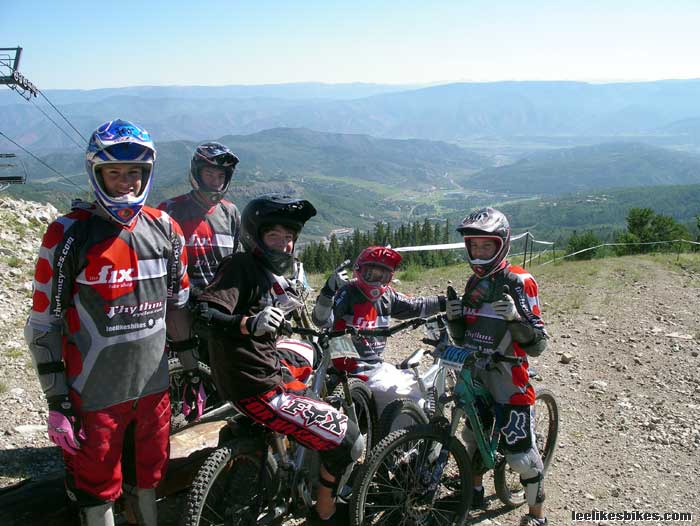 My dudes ready to practice DH. Ben, Yosei, Evan, Dylan and James.
Dave Badger (Ex)
Evan Chute (Vet Ex)
Ben Gager (Jr. Sport)
Zach Griffith (Semipro)
Jerry Harsek (Vet Ex)
Yosei Ikeda (Jr. Sport)
James Ontiveros (Jr. Sport)
Dylan Patterson (Jr. Beginner)
Evan Powell (Jr. Sport)
Matt Ripley (Jr. Beginner)
Zach Saipe (Jr. Beginner)
Nick Simcick (Ex)
Grant Shoemaker (Vet Ex)
Joey Shusler (Jr. Ex)
Clay Watson (Sport)
Addison Williams (Jr. Beginner)
Kendall William (Jr. Beginner)
https://www.leelikesbikes.com/wp-content/uploads/2018/08/leelikesbikeslogoheader.jpg
0
0
leelikesbikes
https://www.leelikesbikes.com/wp-content/uploads/2018/08/leelikesbikeslogoheader.jpg
leelikesbikes
2006-07-17 22:07:45
2006-07-18 08:27:00
MSC#5 – Blast the Mass