MSC #1: Madness in Angel Fire, NM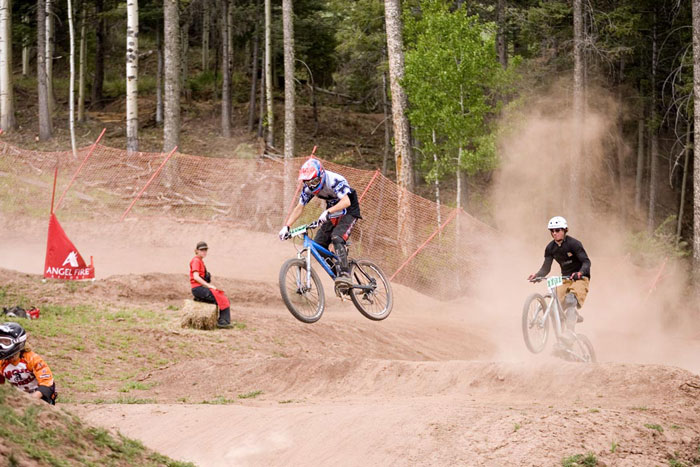 The first Mountain States Cup was sick, sick sick! Great courses, nice weather, all the characters, yadda yadda yadda.

---
More photos as I get them processed
Mountain Cross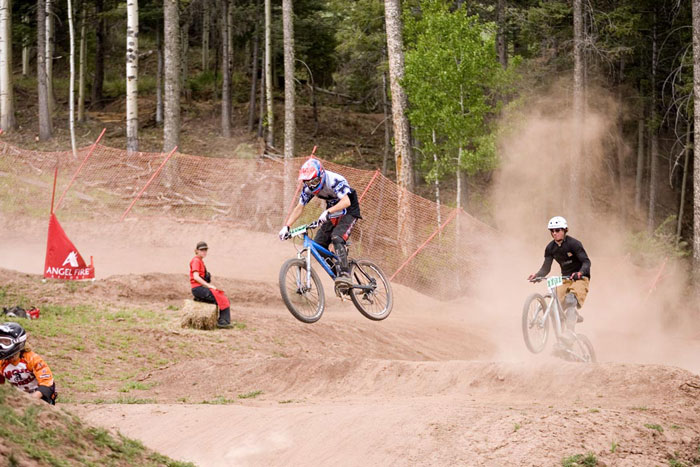 Kona Super Grom Dustin Belcher rips to 1st place in Jr. Sport mountain cross. Photo by Brian Bailey.



Click for big style.
This course is the real mega-huge, hella steep World Cup deal. In practice, the beginners were wide-eyed at the consequential doubles, and even the pros were carefully considering the last couple booters. In racing, the jumps were still monstrous, but the blown-out corners became the deal breakers. The dust was so fine and deep, and the ruts were so furrowed and nefarious — a misplaced wheel ended your day.
– Robin Baloochi swooped in for a win. Czech superstar Petr Hanak looked like the man to beat, but he blew the first turn in fantastic fashion. This was a common condition: Power the first straight then pile into the fence.
– Jon Watt qualified first in pro men and stomped his first round, but he slid out while dropping into the Pit of Despair, and that's where he stayed for a while. Despair and all.
– Bobbi "Snap!" Watt cracked some ribs in practice — adding new credibility to her nickname. After a handful of Vitamin I, she "manned up" to qualify first and handily win the final. Jon was telling her not to race, but I think that was a ploy — as soon as he said that, Bobbi's intensity quadrupled. Snap!
– Wendy "The Desert Pixie" Reynolds rocked a strong second behind Bobbi. The Pixie is on a tear!
Downhill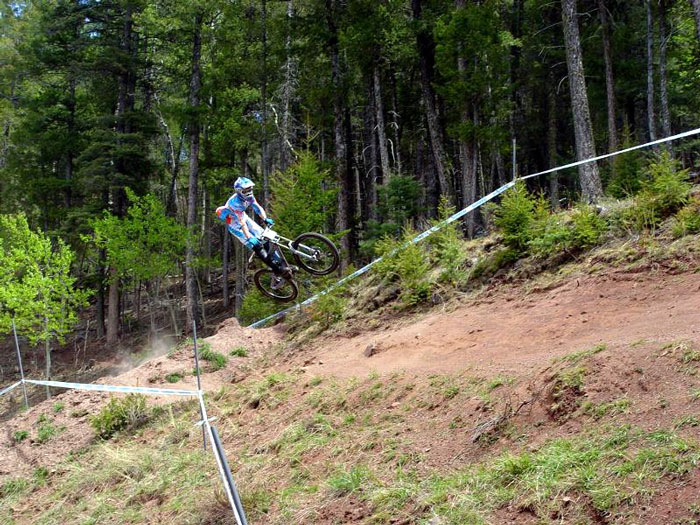 The hip of infinite potential. If have the gamete-producing orbs you can fly 50 feet to back side. Photo by Yosei Ikeda.
We ran the top of the old Alpha course to the bottom of the World Cup course. In case you're not intimate with Angel Fire's trails, it goes a little like this:
Pinner ski run staight to chicane then
– Long, rocky woods section with lots of chances to die or excel
– Top-speed ski run
– Woods section with a big wooden ramp entrance to rocks rocks rocks
– Top-speed ski runn
– Swoopy, tricky woods with a super-tasty S
– Ski run at Mach 5 to massive hip jump
– More speed One turn in the woods then the road gap
– Huge speed to off camber to
– Tight, tricky, flat woods to
– Ski run with tricky off camber corners to
– Finish!
Not much pedaling but TONS of pumping. Keep your feet moving …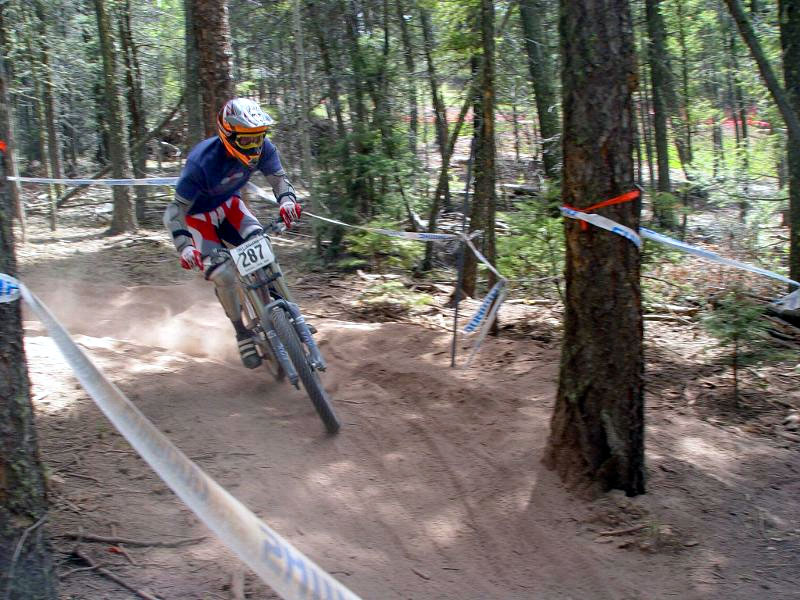 The deliciously tricky chicane in the final woods section. Photo by Yosei Ikeda.
– Keith Mott from Flagstaff rocked a 4:48 to win pro men.
– Local muscle man Matt Thompson got over a winter of injuries to roll a 4:57 and a 6th place.
– Newly minted Yeti Factory stud TJ Sharp rolled a 4:58 for a solid 9th.
– SoCal phenom Sanjay Shanbag got hit by a car on his motorcycle about a month ago — the week after he signed with Commencal. He toughed it out to a 4:59 10th.
– Wendy "The Desert Pixie" Reynolds won pro women in 6:01. Yay! Third at Fontana and now this. What a season.
– Pro XC/SDer Abby Hippley decided to try downhill, and she won Expert in 5:54. Watch out Wendy!
– Gene Hamilton did what I've been unable to do: be a coach and pin a 5:03. He took 11th in pro men.
– I usually dream my race time the night before. I didn't race, but I dreamed a 5:20. So let's call it a 14th in semipro. Not too bad. I'll take it!
Super D
Good stuff. Pinned down the ski run into a rocky doubletrack, then a succession of swoopy woods and small climbs, then a barely downhill fire road pedalfest. There were some techincal sections, but not enough to give the DH riders a chance. Welcome to the sport XC racers do on their day off, and …
… welcome to the Mike West show. After a winter of killing the XC skiing scene, Mr. West came in strong and rolled an 18:13 — a minute faster than anyone else. Sheesh. Where was Ariel Lindsley when we needed him? Only he can stop Mike. Or maybe Weir can, with Ariel's red blood cells.
Open Women was also the domain of XC powerhouses. Lyn Franklin and Jennifer Whalen style.
I was too exhausted to race. What a pansy. Let's say I would have run an 18:10 — right in front of Mike after I pimped him in the last turn. Yeah, that's the ticket.
As for me
I didn't race! I registered for Super D and DH, but by the time I helped my eight The Fix dudes, led four free clinics and ripped every course in sight, I was exhausted (I actually got sick the next day.).
The weekend lacked the thrill of my own personal dominance, but it was still super satisfying. My juniors and adults all rode like champions. Watching them race was so fun and emotional — I cried even more than if I'd raced.
This is definitely a transitional season for me. I still want to rip and kick ass and all that, but I know my future lies with coaching. So I'll focus on my dudes. But I'll be in shape to race …
My crew killed it
People on The Fix Team, kids I coach, adults I work with. Some of the guys got on the podium, which is great, but everyone rode well.
The Fix Junior Team

Joey Schussler – 2nd Jr Ex MX, 4th Jr. Ex DH. Aggressive and solid.

Ben Gager – 6th Sport DH. So clean, so confident.

Dylan Patterson – Quarter finals in Beginner 13-14 MX. Ripped it and loved it. 5th in Beginner 13-14 DH. Rode the final turns cleaner than the pro qualifiers. HUGE improvements over last year.

Evan Powell – 4th in Jr Sport MX. Yes: Super aggro and committed. 18th in Jr Sport DH. Rode like a champ despite a crash and bike problems.

Yosei Ikeda – 9th in Sport DH. Rode the rocks so well. Great attack position.

Neil Grigsby – Quarter finals in Jr Ex MX. Ripped it but got attacked by the loose turn monster. 30th in Jr Ex DH. Flat tire!

Mike Soderlund – 29th in Jr Ex DH. Smooooth. 7th in Jr Super D. Pretty impressive on a DH bike against XC dudes.

James Ontiveros – 1st in Jr. Beginner MX. Rode so clean and smooth, like his brother.
The Fix Sr. Team

Jon Watt – Qualified 1st in Pro MX but crashed out in the second round. 9th in Open Super D despite a catastrophic seatpost failure; it was stuck down the whole way. What a champ.

Bobbi Watt – 1st in Pro MX with cracked ribs

Clay Watson – 1st Sport MX in his second-ever try. 9th in Sport DH. His first-ever DH.

Sacha Halenda – 2nd in Sport MX in his second-ever try. Sacha's an ex-XC weenie who's found the light.

Phil Wheeler – 10th Semipro DH. Second round of Pro/Semi MX. Super solid.

Me, Lee McCormack – no racing; just coaching. But I took a virtual 14th in semipro DH and 1st in open Super D. Think like a winner, be a winner …
Some of my other disciples

In Jr Beginner MX, young Matt Ripley proved his parents aren't wasting money on his bike coach. Matt was confident all weekend and put together great run after great run. His final snap was awesome, and herding the other three off the course was a stroke of aggressive genius. Matt wound up second. Too cool. Special thanks to Zach Lewis of the Yellow Designs Stunt Team, who helped us with gates.
In semipro DH, my boy Zach Griffith put together the best run of his life and rolled a clean 5:10 — good for 3rd, and his first semipro podium. He credits my coaching (really — moto shuttles can't hurt). I credit his talent and dedication. Keep it up Zach!
And great work by Nick Simcik and Cynthia Ferrer.
Next: Chalk Creek Stampede
https://www.leelikesbikes.com/wp-content/uploads/2018/08/leelikesbikeslogoheader.jpg
0
0
leelikesbikes
https://www.leelikesbikes.com/wp-content/uploads/2018/08/leelikesbikeslogoheader.jpg
leelikesbikes
2006-05-24 13:27:03
2006-06-02 21:06:19
MSC #1: Madness in Angel Fire, NM