Mid-winter moto fever: What to do?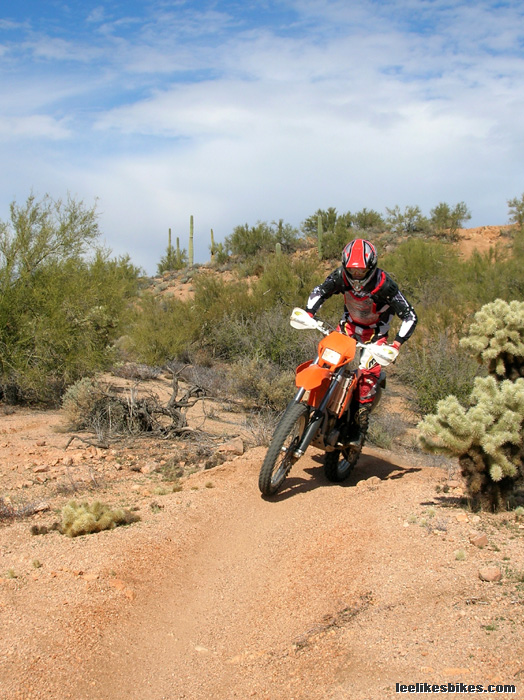 All you need is a plane ticket and a steady throttle hand…
I'm working like a pig, but my friends are living it up. My buddy Mark Lund — musician, surfer, MXer and road tripper extraordinaire — just had a great adventure in Arizona. Here's his report.
The more you click, the more I can post. Lee Likes Groceries dot com!
---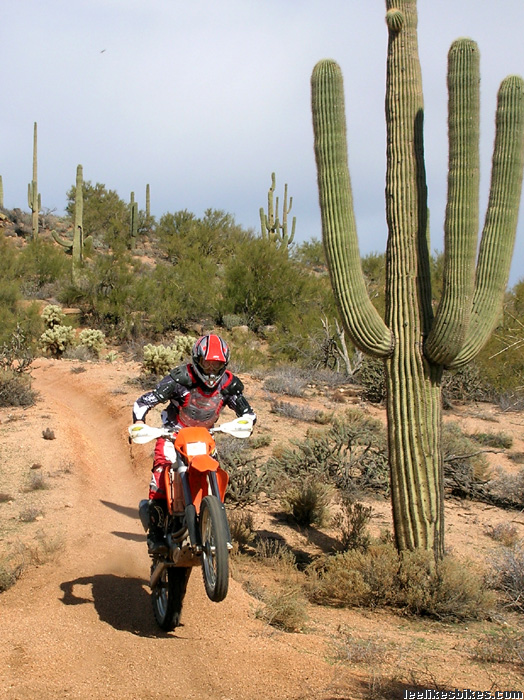 BRAAAAP!!! Mark always poo-poos 250 4-strokes, but he loved this one.
Live somewhere cold and about to loose your marbles? That was me until today. I bought a cheap weekend ticket on Frontier, stayed with a good friend in Phoenix, and headed to Cave Creek, Arizona. About 45 minutes North of Phoenix is a business called Extreme Arizona – www.extremearizona.com
One of the owners, Heidi greeted me warmly and minutes later I was set up with full quality motocross gear, a KTM 250XC, and a guide – World Famous motocross and desert racer Ron Jackson. They transported a group of motorcycles and 4-wheelers to trails minutes from Cave Creek and proceded to bring me back to sanity in a big way. 73 degrees, singletrack, beautiful desert, love it, love it, LUUVV IT!
Notice I did not bring a thing – they provide gear, equipment, and transport to some of the best riding in existence. They do this all for a very low low low price. Call them or check www.extremearizona.com – the prices are really good!
Ron Jackson's son – also conveniently named Ron, and a very talented rider as well guided the 4 wheeler group. World Famous Ron and I proceeded to rip hours of singletracks. The riding is fantastic! We were riding singletrack 99 percent of the time, and did not ride any trail twice. Sand wash, single track, whoops, hill climbs, like moto fantasy dream! Only you are not dreaming, it is live! Absolutely one of the best rides I've every had.
Next year I'm going to bring the family to Phoenix and sneak over to ExtremeArizona a couple of times! We will all find winter a little easier to handle!
Lee Like's Bikes field reporter Mark Lund over and out in the desert! Stay tuned!
| | | |
| --- | --- | --- |
| Extreme Arizona rents motos, ATVs, Jet Skis and Tomcars, which look like fun. | Mark's guide for the day is World Famous Ron Jackson: motocrosser, desert racer and all around great guy. | Mark says one must double the whoops. |
| | | |
| --- | --- | --- |
| Says Mark: "I found long ago that you look better in pictures if you are hauling ass – somehow the camera knows and reveals. So I pulled out the stops!!" | Mark, you're KILLING me! That looks like so much fun. Soon! | Riding within your limits and staying on the trails is very important. Very important. |
Other adventures with Mark
https://www.leelikesbikes.com/wp-content/uploads/2018/08/leelikesbikeslogoheader.jpg
0
0
leelikesbikes
https://www.leelikesbikes.com/wp-content/uploads/2018/08/leelikesbikeslogoheader.jpg
leelikesbikes
2007-02-09 17:31:40
2007-02-09 17:31:51
Mid-winter moto fever: What to do?