Five Miles of Hell and other pleasures
Each May for the past 25 years, the Moosehead Motorcycle Extravaganza has assembled a group of friends in the desert near Green River, UT for some friendly brotherhood and some heinous motorcycle trail riding.

The adventure is called the Moosehead because back in the day each person had to bring a case of that beer. And that pretty much sets the tone for the weekend.
The Moose Heads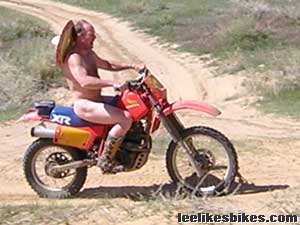 Our extended camp had more than 25 guys ranging from 18 to 60. The original crew is getting old but still charging hard, and now they're bringing their kids and younger friends. Women are not allowed, but motorcycles, ATVs and guns are encouraged.
The geriatric group rides mellow and spends a lot of time resting, drinking and shooting. The younger group rides hard and has no energy for drinking or shooting. Well, OK, maybe a little for drinking. I must say, too, that the leader of the younger group is 55 years old and charges as hard as anyone.
Friday and Saturday nights we had a huge fire surrounded by 25 jolly fellows. Stories were told. Guitars were produced and songs were sung. Bottles of mystery liquor were passed around, and bonds were renewed. Some men bonded with each other. A few passed out and bonded with the dirt. Despite the late nights, everyone managed to peel themselves up and do some ridin'.
| | | | |
| --- | --- | --- | --- |
| When you pass through Fruita, camp at the Colorado National Monument. Nice view. | San Rafael Reef juts out of the eastern Utah desert. When you see the rocks toss up like this, you're almost there. | Our little piece of heaven. | Testing the new logo. |
Day 1: Devil's Racetrack, etc.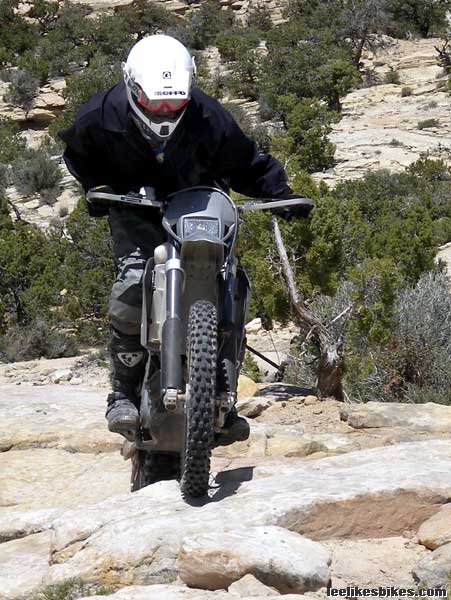 This was my third career motorcycle trail ride, and I had no idea what to expect. My bro and neighbor Mark led me along some sandy roads to a rocky trail. We started riding up the sandstone steps, and before long my 2000 Kawasaki KDX200 started to feel less like a big motorized beast and more like a bike. Just look where you want to go and stay confident. I found a rhythm and caught Mark, then noticed he was taking some bad lines and went for a pass.
Around this time he looked back to make sure I was OK and was shocked to see me setting up for his demise. When we stopped I was feeling cocky, and I gave him a speech: "Dude, I only caught you because you were diving into the turns too early. You gotta wait and go for the late apex …" Mark didn't say much, but he whipped out some moto kung fu and left me in the dust.
I was zipping along trying to catch up when I found myself cornering — and drifting — on the edge of a rock slab. On a bicycle you can sort of flick yourself onto a new line. I instinctively tried this move, but the green beast barely flinched, and instead of dropping cleanly onto another rock, I slid off sideways and drove my knee into the ground. Thank goodness for Dainese.
Devil's Racetrack has a few sequences of swoopy, sandy berms that definitely feel like a race track. You open the throttle and dive, dive, dive into turn after turn, as if you're ripping a 30-mph slalom course. Other sections are rocky and ledgy, and I must say at first I couldn't believe you can ride motorcycles on this stuff. But of course you can, and it's a whole lot of fun.


Mark the Conqueror reigns over Devil's Racetrack.


Me, Lee, King of all Dorks, running the safety colors.


Yes, that's a trail.


Kurt finesses his mighty KTM up a ledge.


The San Rafael Reef area is full of box canyons. You struggle in, turn around and struggle out.


Yay! Motorcycles are FUN! Rick actually has this well under control.


Ken takes the straight but vertical line. The way around required about 37 screwy turns. If you had the gumption, this was the way to go.


Far from camp, a master link decided to take a vacation. The solution? A plate from a spare link, plus some bailing wire.


Day 2: Five Miles of Hell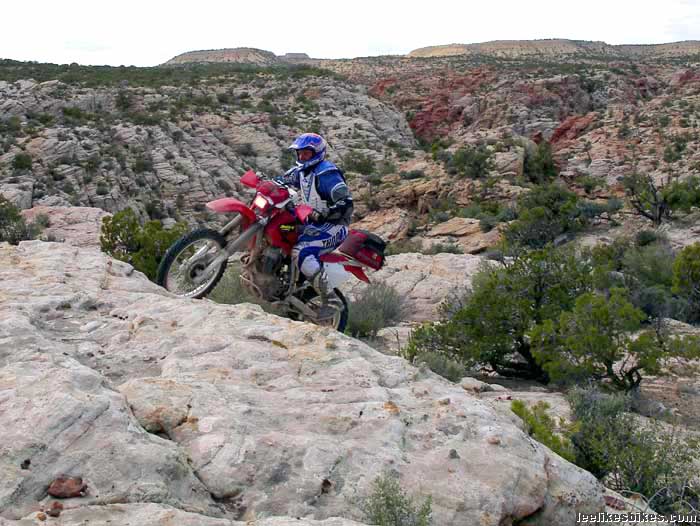 Our group contained some very experienced motorcycle riders, and they all said this is the hardest trail they've ever done. Five Miles of Hell winds back and forth and up and down in and out of an endless series of washes and mini canyons. The surface ranges from deep sand to loose rocks to slickrock. It's hard to imagine how anyone established the trail in the first place, and the only distinctions between the trail and certain death are the white painted lines and the stench of rotten egos.
We braaped in first gear off ledges, up steps, through sand pits, around steep turns and over frame-grabbing ridges. With 12 inches of suspension and long wheelbases, these motos will go down just about anything. Going up is trickier; you have to gas it enough to maintain momentum, but not so much you lose control. It's very technical and very physically taxing, especially when you blow a section. About every 10 feet the group stopped to help everyone through a crux move. The real studs on the Honda XR400s could ride everything; most of us needed our bikes to be pushed or even carried up the rock.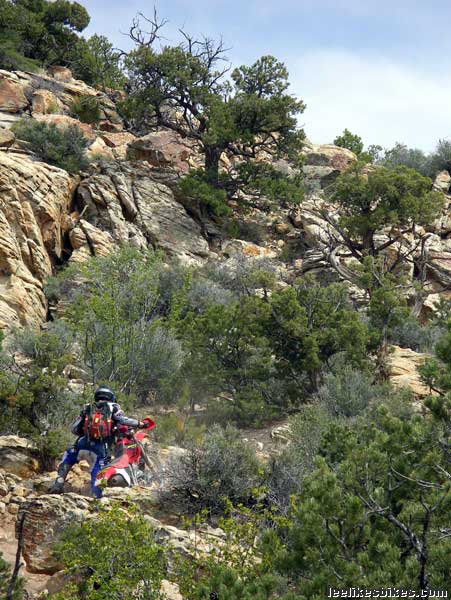 Watching experienced riders flip their motorcycles upside down didn't help my confidence, but I tried to stay centered and get the job done. It's so much like mountain bike riding: Just look where you want to go, believe you've already done it and hold that throttle open. Yes, it's a lot like mountain biking as long as the moto is up and running. But stall on a rock cliff and the similarities end. That 200+-pound beast wants to squash you, and you realize that while you can carry a bicycle over anything, that infernal motorcycle can be a real curse. After a few dozen motorcycle dead lifts and motorcycle chest presses, you'll feel like leaving the machine where it lays and walking out. "Motorcycling? Yeah, I tried it, but it's not for me …"
After two hours and only 1.4 miles (do the math!), we reached an escape route, and half of us decided to settle for 1.4 Miles of Hell. While the hardest of the dudes rode the other 3.6 Miles of Hell, we softies railed along the bailout trail in 3rd or 4th gear, swooping through long corners, rhythming the whoops and jumping the rock gardens. It felt just like a mountain bike ride, only at 30 miles per hour, up and down hill, for 15 miles straight. What's not to like?
When we hit a smooth section I felt something funky in my rear end (Yikes, that sounds weird) and discovered my rear wheel was missing eight spokes! Good thing I bagged out of Hell. While I limped toward camp in first gear, Mark blasted the 20-some miles to get his truck and meet me along the way. Cool idea, except I took a wrong turn and weebled the wrong way for over an hour before I realized my error. Meanwhile, Mark drove past where I turned off, got to the trail and drove his Chevy all the way in, getting more and more worried as he went.
I finally reached camp on 27 of 36 spokes, grabbed Mark's bike and blasted out to find him. By the time we met he'd gone all the way back to the Escape trail and was on his way back out. He jumped out of his truck and just about strangled me, which I deserved. I'll be hearing about this for the rest of my life, and most certainly around next year's Moosehead campfire.


Ritual lo Technical.


Going down …


Rick motors up crux move #890.


The crew stands at the ready. Can't have Rick low-siding here.


I spool up for that section. Check out the white lines.


BRAAAP! Too fun.


Whew! Made it. Now it gets easy …


That just looks stupid. Mark.


Rick takes the EASY way around …


… this sucker.


Dan is about to catch traction and flip his XR upside down.


This little spokey went to the market, this little spokey stayed home, this little spokey went for roast beef, this little spokey had none …


The numbers

– Days riding: 2
– Miles ridden: 128
– Kilometers of Hell ridden: 2.24
– Broken master links: 1
– Broken spokes: 9
– Injuries: 0
| | | |
| --- | --- | --- |
| Trail map action. | Homeward bound. | Dropping out of the San Rafael Reef. |
https://www.leelikesbikes.com/wp-content/uploads/2018/08/leelikesbikeslogoheader.jpg
0
0
leelikesbikes
https://www.leelikesbikes.com/wp-content/uploads/2018/08/leelikesbikeslogoheader.jpg
leelikesbikes
2005-05-17 19:33:26
2005-11-22 19:33:48
Five Miles of Hell and other pleasures