In January our favorite soul-riding tough guy received a call from a major sports nutrition company, and now he's muddying up Outside magazine.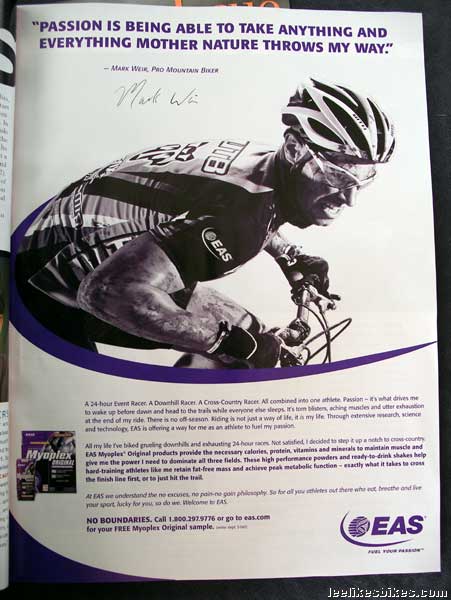 In January our favorite soul-riding tough guy received a call from EAS, a major sports nutrition company. According to Mr. Weir, it went something like this:
"Mark, we've been researching you, and we believe in your mission, and we want you to represent EAS products."
Mark had been with Clif for a long time, but EAS promised a real deal: serious nutrition poducts, top-notch training, a nice salary and the support of a national ad campaign. For an athlete that ad campaign is huge. It gives your other sponsors exposure, which you then negotiate into better contracts and even more sponsors. It's a real catalyst.
The June issue of Outside magazine contains a full-page ad featuring the bald brute himself.
This is so cool, not just because he's a friend; I remember racing Sport downhill with him in 1995. And not just because a mountain biker made it into a major ad campaign; check out Shaums March in the Nissan commercial. This is cool because Mark doesn't fit into any of the standard categories: XC racer, downhiller, freehucker. He loves to ride long and fast, and that's what he does, whether it be on a downhill, 24-hour or cross country course. He does his own thing, and it's working for him.
He will kick my ass for saying this, but he isn't the most talented rider out there. As a matter of fact, when he got his aerobic capacity tested, the scientists told him he'd be a fast regional racer and that's it. In typical Weir fashion he told them to screw off and trained his brains out to compete at the national level. Weir rides because he loves it, and he succeeds because he gives it everything he has. And what's cool is that a major company like EAS recognizes the passion, and has recognized a mountain biker alongside body builders, football players, triathletes, marathon runners and football players.
Congratulations to Mark. As for the rest of you: Follow your bliss and great things will happen.
---
From the Lee Likes Bikes archive: Hanging with Mark Weir.
Nutritional products and training advice: www.eas.com
https://www.leelikesbikes.com/wp-content/uploads/2018/08/leelikesbikeslogoheader.jpg
0
0
leelikesbikes
https://www.leelikesbikes.com/wp-content/uploads/2018/08/leelikesbikeslogoheader.jpg
leelikesbikes
2005-05-16 22:54:27
2005-11-22 22:58:18
Mark Weir goes national