Lyons Bike Park update: Equipment and love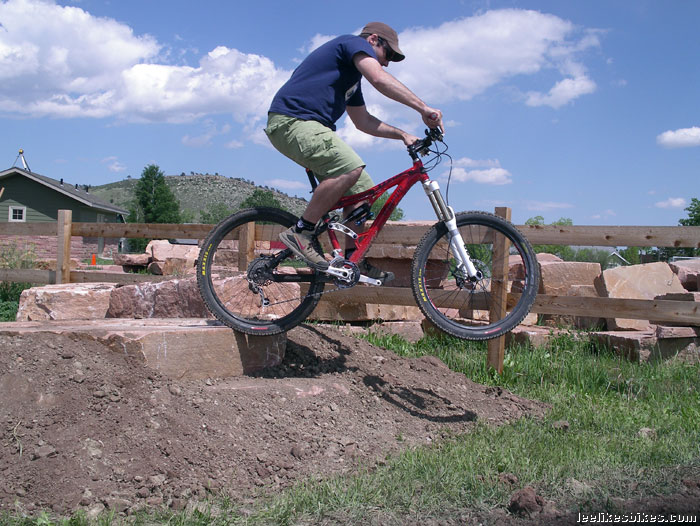 We made huge progress today — thanks to equal parts equipment and love.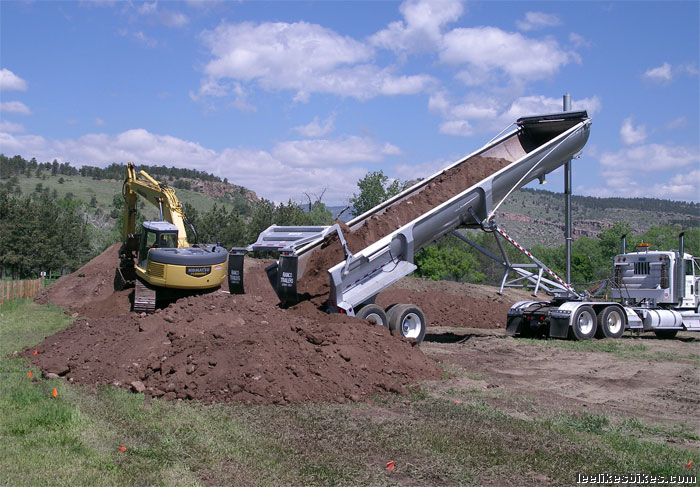 The limiting factor has been getting enough dirt to the site. You can't imagine how stoked I was to see this monster from Left Hand Excavating. What the City of Lyons trucks can move in a full day, this baby moves in one load. Game on!
| | | | |
| --- | --- | --- | --- |
| This is how the pros build big jumps: Scooter moves the dirt. Jake checks the elevations with his computerized voodoo tool. Scooter adjusts accordingly. | Then, Brandan Turman — local DJ riding/building stud — shapes a narrow section in the middle of the lip by hand … | … and Scooter copies that shape across the entire lip (in about one minute). | Brandan, Sam, John and Dom spend a few hours ultra-fine-tuning, packing and watering — and bam: You have a very sweet step-up that will get half the kids in Lyons doing backflips. For the Lyons Outdoor Games, a wooden takeoff will be placed in front of the lip you see. HUGE! |
| | | | |
| --- | --- | --- | --- |
| Jake and Scooter placed the rock sections with amazing precision and creativity. As trail moto rider, Jake gets this. | The rock sections provide a range of lines, from super easy to pretty darn tricky. Glenn from Bitterbrush Cycles tests an easy line. | Glenn with some wheelie drop action. | Soon a berm will feed you right into this rock garden. Glenn goes for the aggro line. |
| | |
| --- | --- |
| Meanwhile, Yellow and Dominic finished one of the wooden ramps for the Lyons Outdoor Games. This sucker will go in front of the step-up we built today. | Doug, the owner of Left Hand Excavating, literally dropped by in his helicopter. (Dude, that is about as bad a– as it gets.) Doug is super stoked about our project, and he has been incredibly supportive. This guy has equipment and love. |
Tomorrow:
– More super-pro jump shaping thanks to Brandan.
– Left Hand will start building the technical climb/descent.
– Start placing the various jumps and rollers, as well as the pump track.
Saturday:
Massive dig/ride session. Most of the dirt should be placed. I hope we'll be doing final shaping and testing.
– We'll start at 9 a.m. and go all day. Bring any tools you have: shovel, metal rake, tampers, McCleods, skid steerers … helicopter parking is available.
– Bring your bike!!! We need to burn in the lines, my friends. The rock lines are rideable now; the trick jumps will be ready tomorrow.
– Lyons Bike Park is right next to Bohn Park in Lyons. Google map.
Mega huge thanks to
The growing list of rock stars: Doug, Jake and Scooter from Left Hand Excavating; Raul from Blue Mountain Stone; parks director Dave Cosgrove and the entire Lyons work crew; Glenn from Bitterbrush Cycles; Brandan Turman; Brian, John, Dominic from the Yellow Designs Stunt Team; Sam, Chad, Nick, Ian, the list goes on … and The Wife, who brought me lunch and looked hot.
Go Team!
For something like this, you need equipment and love. And we have both.
— Lee
---
Know more. Have more fun!
Join the leelikesbikes mailing list:
---
https://www.leelikesbikes.com/wp-content/uploads/2018/08/leelikesbikeslogoheader.jpg
0
0
leelikesbikes
https://www.leelikesbikes.com/wp-content/uploads/2018/08/leelikesbikeslogoheader.jpg
leelikesbikes
2009-05-27 19:57:01
2009-05-28 06:59:53
Lyons Bike Park update: Equipment and love