Let's build a badass pump track on a tennis court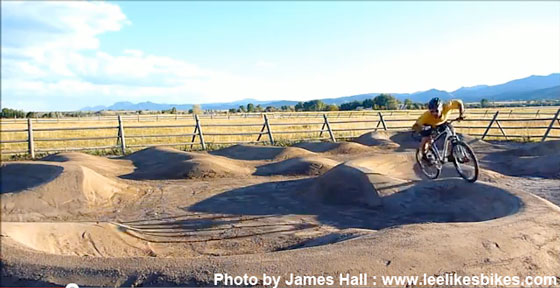 Elsewhere in the Pump Track Nation, some cool people are doing cool things. We talk design options and how to build on a hard surface:
Hi Lee,
Greetings!
We have a tennis court here in that we're looking to convert to a badass pump track. Dimensions are:
37.2m x 18.6m or 122 ft x 61ft
Was looking at the ready-made designs and was wondering which would be most suitable or which would scale-up best for that shape?
Looking forward to hearing from you!
Thanks
T.C.
– – – – – – – – – – – – – – – – – –
T.C.!
That sounds rad.
For sure you need a PumpTopia. This track has everything I think a track should have:
• Long, fast straight.
• Crazy high-G 180 berm.
• Linked turns/rollers. These feel like singletrack.
• Options for lines across the middle.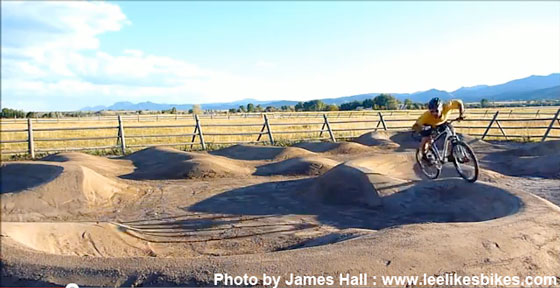 Here's the very first PumpTopia track. Since this one, dozens have been built all over the world. When we have a pump track at the Mars space station, this will be the one.
If you're going to have kids there, see if you can also fit a Sweet Little Track or Tiny Little Track.
Check out all of our ready-to-build pump track plans >>>
Measure twice and holler if you have other questions,
Lee
– – – – – – – – – – – – – – – – – –
Hi Lee!
Followed your advice and bought the Pumptopia plans for the pump tack we're going to build on some old tennis courts.
Just one question. Since we're building on a hard surface (cement tennis court) – what's the best way to ensure the dirt/mounds stay in place and don't shift/collapse because they don have a dirt surface to adhere to?
Should we line the whole court with a thin layer of dirt first? Or put in a wooden or hollow-block retaining walls on the edges of the track to keep the dirt from moving?
Curious how you've done it on a surface like this before.
Will appreciate your input.
Thanks and best
T.C.
– – – – – – – – – – – – – – – – – –
T.C.!
This is a great question, and I've been giving it some thoughts, such as:
There's going to be a massive traction difference when the riders transition from perfectly groomed dirt to loose-dirt-on-hard-surface. If you watch Supercross, you can see what happens to racers when they leave the dirt then suddenly hit the concrete. They often hit the concrete. Literally.
So we want to keep the riders on homogenous dirt.
Ideally:
Build a retainer around the whole area. You can use wood, blocks or perhaps Legos, which would be rad.
Fill the area with dirt. Ideally, it's the same kind of dirt the track is made of.
Give the dirt a slight grade (~1 percent) so water sheets off the area. I'm guessing the tennis court already has good drainage. (Go to the court in a heavy rain and watch where the water goes.) Grade the dirt smooth and make it pretty hard.
Build the track on top of the dirt. Be mindful of where water will flow, and create drainage within the track. The Pumptopia plans give advice about that.
Cool?
As always:
Plan thrice.
Measure twice.
Build once.
Ride forever!
Lee
https://www.leelikesbikes.com/wp-content/uploads/2018/08/leelikesbikeslogoheader.jpg
0
0
leelikesbikes
https://www.leelikesbikes.com/wp-content/uploads/2018/08/leelikesbikeslogoheader.jpg
leelikesbikes
2018-02-27 09:27:13
2018-02-27 18:57:09
Let's build a badass pump track on a tennis court