If you're gonna do, do it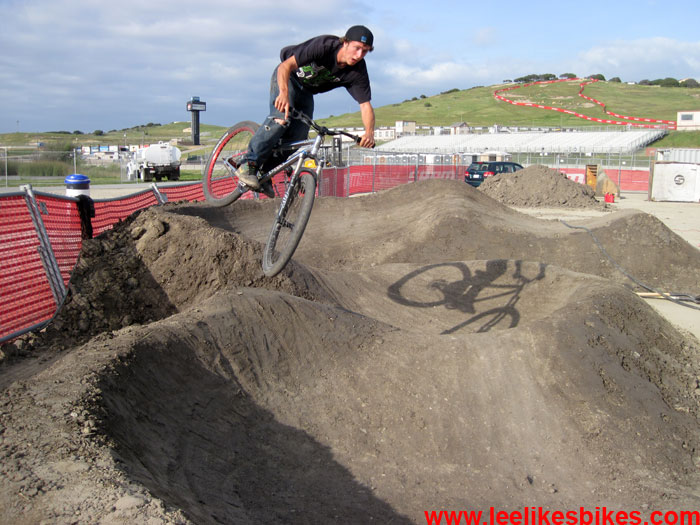 Another life lesson, learned at the pump track.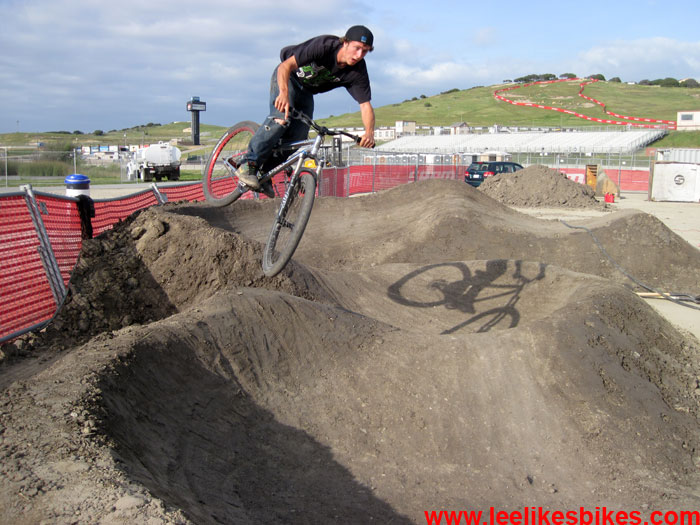 Jacob Hyde nails the pro line like 10 minutes after he helped build it.
You might have heard that I designed/built the pro pump track at this year's Sea Otter. The track featured some very pro lines — the most important involving a step-up into a steep bowl then an immediate jump across a gap into another berm.
This line saved major time by giving you huge backside and eliminating two tight turns. The line was tricky: all but the very best riders blew it many times before they nailed it.
I wanted to ride this line, but by the time the line was ridable I was exhausted from stressing, arguing and building. So I took the conservative approach. I worked the turns — actually trickier than taking the jump. It was fun and pretty fast, and I got comfortable with that line.
By the time we warmed up for pro qualifiers, I was more rested and ready to pin it. I knew the pro line would save at least a second, and that I needed to bring it. But it was too late for me to dial in that line and be able to execute it in a race situation.
So I rolled my extra-long, extra-turny line. I rode it as fast as I could, but it was just plain slower. The top 20 riders qualified for the main; I was 24th, just a few tenths out of qualifying.
Grr. If would have tried the pro line right away, I would have had it wired for qualifying, and I would have made the big show. No way I would have beaten the fast guys, but it would have been so cool to race with them.
If you're gonna do it, do it. The sooner the better.
---
Know more. Have more fun!
Join the leelikesbikes mailing list:
---
https://www.leelikesbikes.com/wp-content/uploads/2018/08/leelikesbikeslogoheader.jpg
0
0
leelikesbikes
https://www.leelikesbikes.com/wp-content/uploads/2018/08/leelikesbikeslogoheader.jpg
leelikesbikes
2010-04-27 09:04:13
2010-04-27 09:06:28
If you're gonna do, do it