Frame sizing for dirt jump bikes
Hi Lee,
Just wondering what your advice is on frame sizing for dirt jump bikes? Depending upon the manufacturer there are either minimal choices or lots of choice. Also due to the nature of the beast, not too many shops will let you take one for a ride to see how they fly in the air. I have seen somewhere that 2 inches smaller than your normal sizing is about right. Any thoughts on bike sizing?

Cheers, Grant.
---
Hey Grant.
Top tube lengths
17″ S-Works hardtail
585mm
Short P.3
540mm
Long P.3
597mm
For this one, I consulted with Deacon James. He manages Specialized's BMX and P. bikes, and he knows a thing or two about dirt jumping. Here's a simplified sliver of his philosophy:
He starts with a minimum top tube length that lets your front wheel turn without hitting your foot. This happens to correspond with the length of a 17″ race hardtail. So that's the foundation.
A long P. bike is a little longer than the race hardtail. A short P. bike is a little shorter.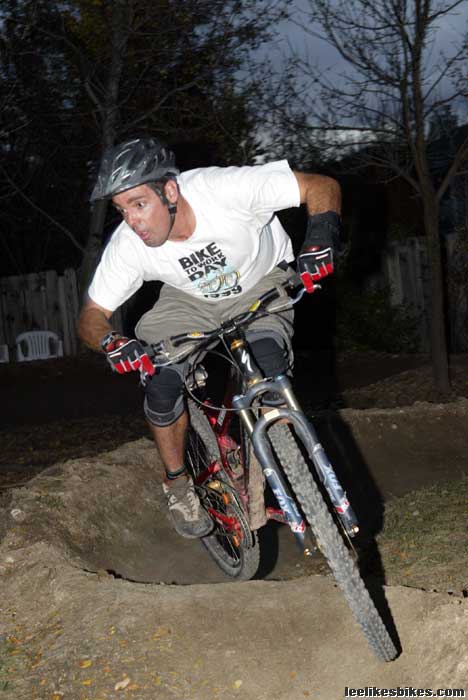 My SX's wheelbase is three inches longer than my P.1, but it's no sled.
Racers like bikes longer for extra stability. The downside: It can take a lot of input to manual. As Deacon says, "If there's a lot of distance between your attack and manual positions, it can delay the timing needed in quick pump-and-pull scenarios." Sweet: He said scenarios.
DJ and park riders like their bikes shorter for quicker handling and easier "mid-flight antics." Sweet: He said antics.
Both sizes of P. bikes have the same length seat tube. This applies for most DJ frames. You want your seat as low as possible without it hitting the rear tire. This allows a low top tube, which gives you lots of room to rock.
So: If you want to race or you're taller than say 5-10, go long. If you want to screw around, go short. My P. bike and SX are both short.
— Lee
Regarding the SX: The Specialized Enduro SX is a race bike. As such, both the short and long sizes are longer than the P. bikes. An SX will always be more stable than a P. bike, but it'll never handle as quickly. Braaap!


Three Specialized dudes: Deacon James (middle) is a DJ/style kind of guy who rides a short P. bike. Brandon Sloan (right) is a racer dude who prefers an SX. Alain Lanusse (left) can go either way. He rocks a 20, P. or SX depending on his mood. I still want these guys to form a boy band …
https://www.leelikesbikes.com/wp-content/uploads/2018/08/leelikesbikeslogoheader.jpg
0
0
leelikesbikes
https://www.leelikesbikes.com/wp-content/uploads/2018/08/leelikesbikeslogoheader.jpg
leelikesbikes
2006-05-16 11:05:32
2006-05-16 11:08:56
Frame sizing for dirt jump bikes