Welcome to the LLB fitness page. In his work with thousands of riders of all styles, ages and levels, Lee has seen the importance of both on- and off-bike fitness. While it's easy for people to focus on one area of their riding (generally the one they already know best), we see skills, fitness and confidence as closely related:
Skills: Your ability to make your bike do what you want. Rail a corner, hop a log, climb a hill, hammer a sprint.
Fitness: Your ability to perform skills at the level you want to. Generate huge cornering Gs, hop two feet high, pedal comfortably for hours, crush a sprint.
Confidence: Your ability to fully use your skills and fitness in the moment. Can you carve loose turns? Hop slippery logs? Maintain composure on huge climbs? Clean steep, rocky ascents?
These elements work together: The more confident you are, the more you can train and develop your skills. The fitter you are, the more you can use your skills, and the more confidence you'll build.
On-bike training
Pedaling skill. Endurance. Power. And the confidence that comes with them.
PUMP UP THE BASE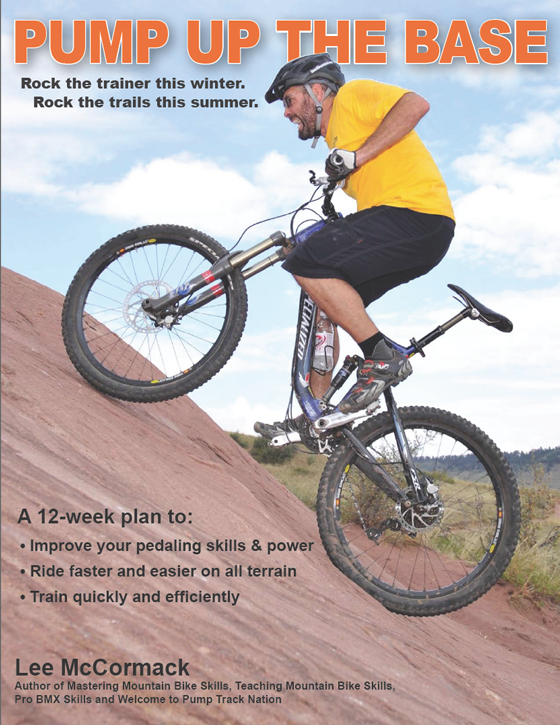 ROCK THE TRAINER THIS WINTER. ROCK THE TRAILS THIS SUMMER.
A 12-week plan to:
• Improve your pedaling skills and power
• Ride faster and easier on all terrain
• Train quickly and efficiently
PUTB is perfect for off season and early season fitness. It will get you strong without beating you up.
$15 ebook. $22 print book.
Learn more >>>
PREPARE TO PIN IT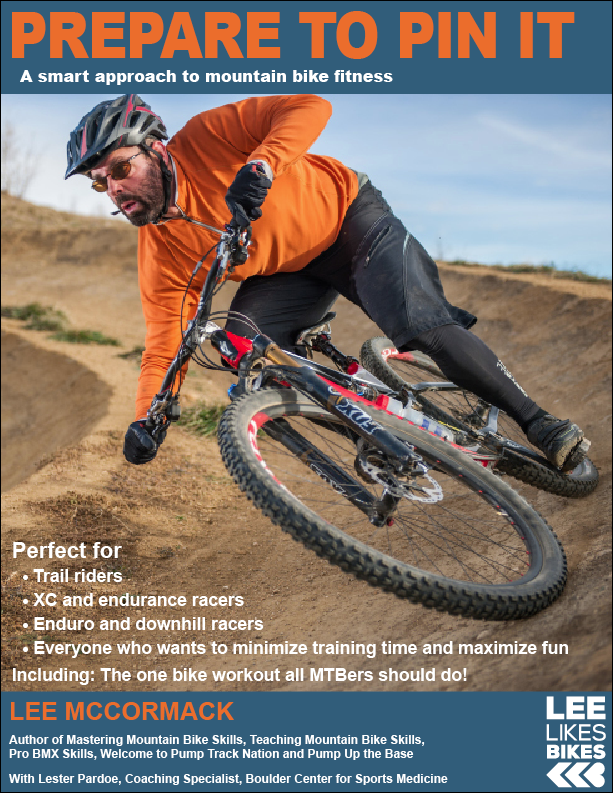 A SMART APPROACH TO MOUNTAIN BIKE FITNESS
Perfect for:
• Trail riders
• XC and endurance racers
• Enduro and downhill racers
• Everyone who wants to minimize training time and maximize fun
P2PI is a great way to achieve and maintain your peak riding fitness.
$20 ebook. $27 print book.
Learn more >>>
SPINTERTAINMENT: TRAINING VIDEOS FOR MTBERS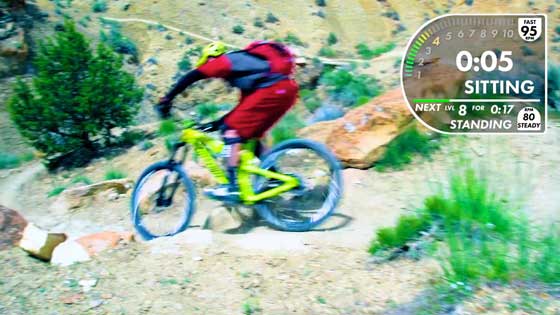 Spintertainment comes from pro MTB racer (and skills client) Eric Landis. Eric is a serious minded guy with a vision and a commitment to excellence — and it really shows.
• Perform a variety of workouts: power, XC, trail and authentic, which mimics the actual ride.
• Get stronger while watching skilled riders shred world class trails.
• Watch online or download the videos to your device.
50% off until Feb. 14. Free 7-day trial.
Learn more >>>
OFF-BIKE TRAINING
Build stability, mobility, strength and power. Address imbalances and injuries. Prevent new ones. Ride (and live) stronger with less pain.
F6: SIX MOVES TO BUILD YOUR FOUNDATION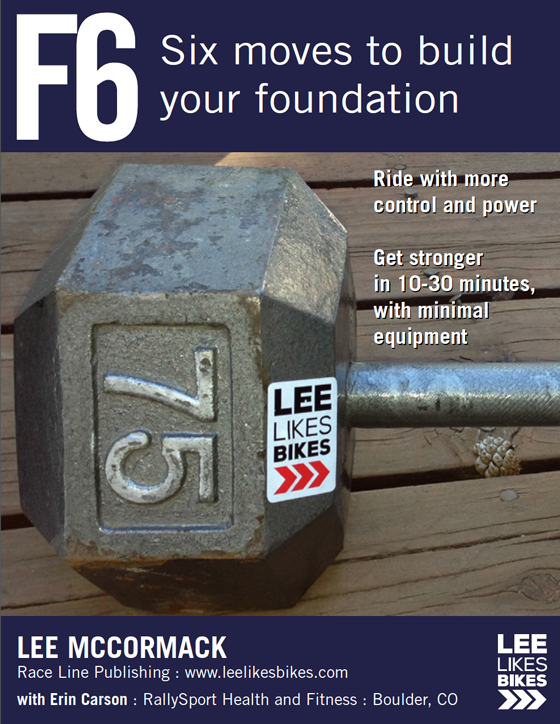 An off-bike training program to help you:
• Ride with more control and power
• Get stronger in 10-30 minutes per session
• Do this program almost anywhere
• All you need is an exercise band and some heavy (or not so heavy) objects
F6 is based directly on the LLB skills teaching method — and the movements you need to shred your best.
$15 ebook. $22 print book.
Learn more >>>
REVO Physiotherapy & Sports Performance
When it comes to physical therapy and sports performance in Boulder, CO there is only one place that deserves your time, money and body — and that's REVO. Doctors Dane, Matt and Brian help lots of Lee's clients recover from injuries, correct movement issues and kick more ass. Physical therapy, dry needling, soft tissue work, computer analysis, fitness classes, individual training programs … REVO can work with you in person and remotely. They've helped Lee manage some serious shoulder issues. Heck, REVO is a major reason Lee is still riding.
Learn more at revoptboulder.com >>>
STRENGTH COACHING WITH ENDURO MTB TRAINING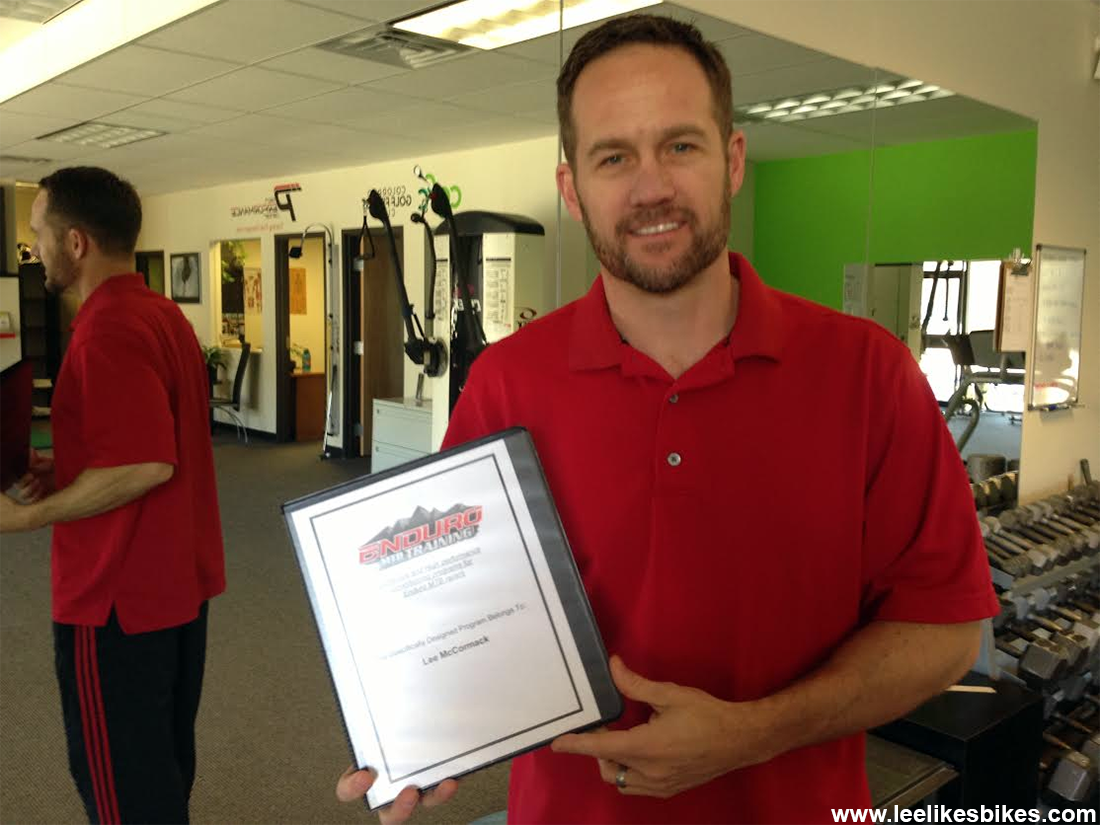 Dee Tidwell is well respected in the fitness industry: not just as a bike trainer, but as a trainer, period. He has helped Lee overcome back issues and a build a core that can handle real work. Dee offers remote and in-person services:
• 90-Day Training Program – $99
• 6-month Ultimate MTB/Enduro Training Program – $149
• Annual MTB/Enduro Athlete Training System – $199
• Personal coaching – starting at $249 per month
Learn more >>>
Train smart. Have fun!
Lee
---