RipRow 12-week build to MTB XCE Worlds: Week 1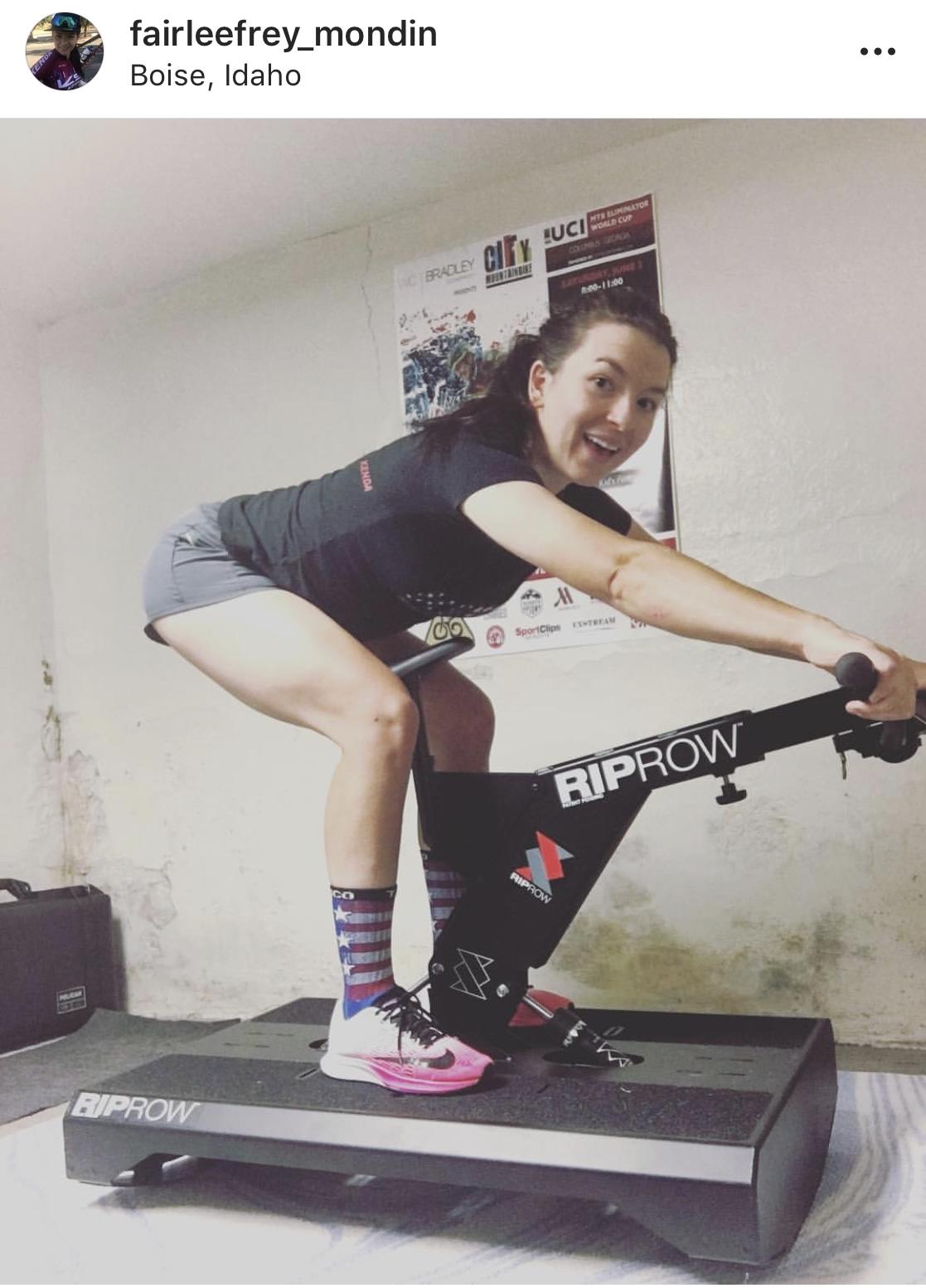 Our friend and pro mountain bike racer Fairlee Frey (KS-Kenda Women's MTB Team) is prepping for XCE world championships, and her coach Mike Durner (@mikedurner) is working RipRow into her training. Here's how an elite coach uses RipRow to prepare an elite racer for a huge event.
What is XCE?
Cross-country eliminator is a newish form of MTB racing in which racers compete on a short, technical course in a heat format. In each round the fastest racers advance to the next round. Faster and faster riders meet in ensuing heats until the overall champion is crowned.
XCE puts a premium on power, skills and the ability to recover between heats. These videos will show you what it's all about:
Fairlee's first RipRow experiences
I've coached Fairlee's riding skills over the years, and RipRow has a been a big part of our skills training. She'll be posting videos as she works through her training plan. Here is the first.
Note the upside down stem! She's a pro XC racer and this feels natural to her. It'll also help her work in a deeper range of motion for steep descents.
Some skills training a few years ago:
The overall training plan
Here's Coach Durner's overall training plan. As all high level coaches do, he'll be adjusting as needed.
Week 1 (13 – 19 Aug):
RecoveryFairlee being ill this week puts a slight damper on the ass-kicking start but we can roll with it.
Utilize this week to develop proper movement patterns on the RipRip
Watch videos from RipRow website LINK and video yourself doing movements for critique
Focus on improving health
Weeks 2 – 4 (20 Aug – 9 Sept)
Build 1
Fitness: 8-10 min efforts at threshold to improve ability to recovery between heats
RipRow: Continue to develop proper movements patterns at light resistance during warm up
RipRow: Develop specific strength w/ bike stance Shredlifts at a high resistance
Pump Track: Begin to transfer movement patterns to the bike and work on jump skills
Week 5 (10 – 16 Sept)
Recovery
Fitness: Easy spinning each day
RipRow: 1 heavy day mid week
RipRow: 2 light work days beginning to develop Round Row movement
Weeks 6 – 8 (17 Sept – 1 Oct)
Build 2
Fitness: 3 min Bike/RipRow efforts (start hard, work technical section [round row, left turn, right turn, high row], sprint finish)
RipRow:  Conditioning w/ "10min of RipRow Love"
Pump Track:  Step ups and Doubles
Week 9 (8 – 14 Oct)
Recovery
Fitness: Easy Spinning each day
RipRow:  1 heavy day mid week
RipRow:  2 light work days beginning to develop Round Row and corners
Weeks 11 – 12 ( 22 Oct – 4 Nov) 
Build 3
Fitness:  2 min Bike/RipRow Race Simulations, Maximal Effort
RipRow:  Race simulations w/ multiple scenarios
RipRow:  1 – 2 days conditionin
Pump Track:  Weather dependent
Week 13:
Race Week
Reduce travel stress w/ a couple of easy workouts early in week.
Race openers: Prime body to go hard 2-3 days out from race.
Stay tuned for more
Go Fairlee!
Lee
https://www.leelikesbikes.com/wp-content/uploads/2018/08/leelikesbikeslogoheader.jpg
0
0
leelikesbikes
https://www.leelikesbikes.com/wp-content/uploads/2018/08/leelikesbikeslogoheader.jpg
leelikesbikes
2018-08-14 13:20:40
2018-08-25 17:04:43
RipRow 12-week build to MTB XCE Worlds: Week 1