Epic + Stumpjumper = Camber?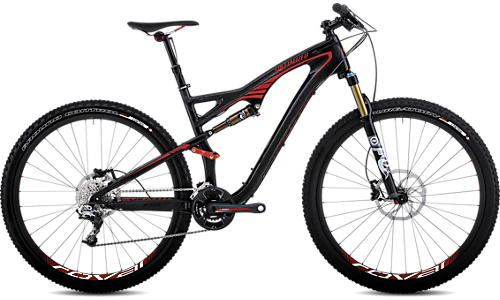 Hey Lee,
I am going to be getting a new mountain bike in the next month or so and I am in need of some sage advice before pulling the trigger. I can only afford one bike. I compete in a few xc races each yr, but want to race a few super Ds. I am looking for a bike that I can race xc, super D, and trail ride on. Since I can't have an epic for xc racing and a stumpjumper for super Ds and trail riding, I figured a camber 29 carbon would do decent job at these varying styles of riding. I was thinking of purchasing the carbon pro 29 frame with the command post and putting a 120mm (110mm stock) 15qr fox up front with a 1×10 drivetrain. Will I be reaching too far with this bike?
Thanks Lee!
Ian
---
Hey Ian,
I don't know about sage advice, but I can offer you this:
You are right on target with the intended use of the Camber 29. It's Specialized's "general trail bike" that sits between the razor-sharp Epic 29 and Enduro-killing Stumpjumper 29. With the Epic focused on XC efficiency, and the Stumpy getting more and more DH, the Camber serves that middle ground.
Are you reaching too far?
No.
Evidence:
Exhibit 1: During my last annual Santa Cruz rip session with the Specialized crew, product manager Joe Buckley was riding a Camber. The rest of the riders (other product managers, racers, Curtis Keene, Chris Herndon, me) were on various flavors of Stumpjumpers and Enduros. The pace was INSANELY fast down some real-deal gnar — and Buck and his Camber were leading the charge. If you can push harder than Buck, you're probably not asking me for advice. (Buck riding a pump track)
Exhibit 2: Last summer I rode a Camber 29 for a coaching weekend in Austin, TX. I was rallying tech descents with a local pro DHer on his Enduro, and I was inexplicably hanging on the tech climbs with elite XC racers. That bike was handling all the braaap I have, and it promoted my climbing to a new level.
The Camber 29 opened my eyes to the whole 29er thing. I'm building a Stumpy 29 because I'm not an XC racer, and I still fancy myself more of a DH guy.
If you're doing one bike that will cover XC racing, Super D and trail, the Camber would be a great choice.
Braaap!
Lee
---
Know more. Have more fun!
Join the leelikesbikes mailing list:
---
https://www.leelikesbikes.com/wp-content/uploads/2018/08/leelikesbikeslogoheader.jpg
0
0
leelikesbikes
https://www.leelikesbikes.com/wp-content/uploads/2018/08/leelikesbikeslogoheader.jpg
leelikesbikes
2012-02-26 10:27:20
2012-02-26 10:30:20
Epic + Stumpjumper = Camber?