A reader asks how to avoid getting bucked when he lands a big drop. 1) Reduce the impact force. 2) Suck it up.
Dr. McCormack,
I started jumping and doing stunts about 9 months ago. For the most part fear kept my poor skills in check, in the beginning. After riding a wave of good luck, I bit off more than I could chew and am now close to being done rehabing a clavicle/rotator cuff issue. I've been all over your site, and have found heaps of really great insight. I took to heart some advice you gave a kid who had some real broken bone issues, and I am now getting ready to put it to use when I start freeriding again here shortly. My plan is to start small, master every step, and assess my skills more accurately before I take off.
Let me get to my question. I want to understand the bucking concept a bit better. Slow rebound and stiffer spring compression help, but is there a way to land that helps? It tends to get worse as the drop gets bigger. Are you always going to have some bucking issues when you start maxing out your suspension?
I do plan on picking up your book, and reading it before I hit my local haunt, don't worry I'm all over that.
Thanks,

Adam Leahy
---
Dr. McCormack … I love that! Check out this action:
Lee Likes Physics

When you drop off a curb or a house or whatever, you accelerate downward and gain energy in the form of momentum. Momentum = your mass times your velocity. The heavier you are and the farther you fall, the more impact energy you have. A 200-pound rider and bike dropping five feet generates 1,360 kg m/s2 worth of energy. I know that's meaningless, but it's a big number! A 10-foot drop generates 2,718 whatchamacallits. Impressive.
Falling with all that energy is no problem. The issue arises when you land. You see, all that energy has to go somewhere: your tires, wheels, frame, suspension, muscles, bones, spleen, brain — somewhere. The energy gets spread over the entire distance of your decelleration. The more abruptly you slow down, the more energy you endure per instant. Imagine an entire cube of butter splatted on a slice of bread — that's what you get when you land stiffly. All that energy gets expressed in an instant, and — dude — that is way too much butter. Imagine that cube of butter spread on an entire loaf of bread. That's still a lot of butter, but it won't kill you. When you land your drops, spread the force over as much vertical distance as possible, across all those slices of bread.
Designed bottom-out force for the new Cannondale Rush all-mountain bike: 400 lbs. That's a 3.5-foot drop for a smooth 200-pounder.
Consider our 200-pound rider hucking a five-foot drop to a flat landing. If he lands stiffly, the impact force will top 3,000 pounds — enough to break bike and body parts. If he uses his suspension, arms and legs to spread out the impact, he can reduce the force to 600 pounds. What a difference.
By the way, 600 pounds might sound like a lot, but strong riders and burly bikes can handle that much stress. This example is grossly simplified, but it proves that absorbing a landing dramatically decreases impact force.
Get nerdy with this sweet impact-force calculator.
How much impact force can you handle? That depends on your bike, your technique and your strength.
Bike setup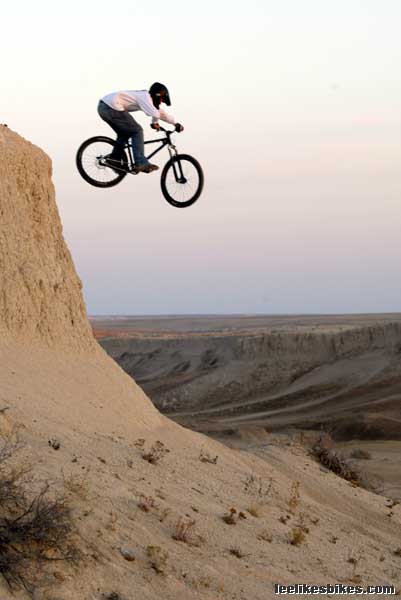 Pretty big drop, hardtail style. Elliott Hoover knows it's not about the bike.
Your fork and shock should gather you in their arms and just barely kiss the bottom-out bumpers.
Spring rate: Use your air pressure or spring re-load to set your sag at about 30 percent. With coil springs you should have no more than two turns of preload, otherwise they'll bind up and put too much butter on your bread. If you can't get the right sag with your spring, change the spring. If you don't use full travel you're giving up some cush. If you bottom hard you're asking for an extra-rough landing — and a possible buck.
Rebound damping: Most people blame bucking on speedy rebound, but keep in mind the bucking force comes from excessive impact force — for every action there is an equal, opposite reaction — not your spring catapulting you. For general riding run your rebound as fast as possible without it feeling bouncy. For drops you can run it a bit slower, but I think it's best to find a good general setting and leave it be. Fifth Element shocks have awesome position-sensitive rebound. You can run them fast for quick-hit response, yet they slow down at the top of the stroke.
Compression damping: You might have too much. Oil can't race through your shock, and your suspension suddenly stiffens. How to tell: You use your travel on slower compressions — like pumping for hops and jumps — but it feels harsh on fast hits.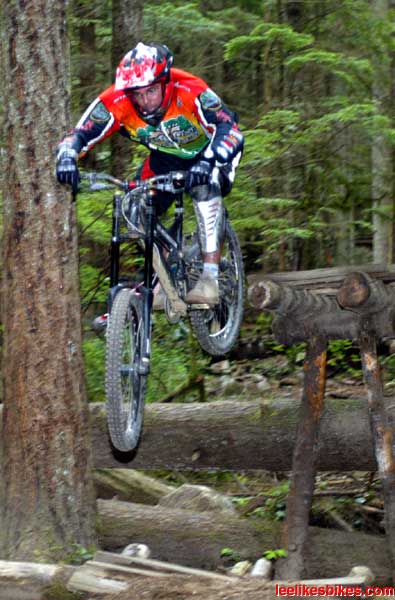 Me, Lee, on Vancouver's North Shore. This action required some adjustments.
You might have too little compression damping. If the oil is too free to move around, you can bottom hard despite the correct spring rate. When you bottom out, there's an instant of very high impact force. Not cool. How to tell: The preload is good, but your bike eats up its travel.
If you can't get your bike dialed, consider custom valving. Fox Racing Shox will re-valve their stuff at the big events. You can mail Fox forks and shocks to Push Industries, and they will dial you in like a factory pro.
Benefit of high-end shocks: For the past two years I've had my Demo 9 and Demo 8 dialed for downhill racing, but Whistler's drops made me bottom like crazy. On my D9's Manitou Swinger I reduced the air volume and increased the end-stroke compression damping. This year on my D8 I reduced the Fox DHX's air volume. Everything else stayed the same, but I had more bottoming resistance. Perfect.
Lower your seat: This is a total "duh" for you downhillers, but you XCers must realize the only way to use your full leg travel is to get that seat out of the way.
Your bike might have four or eight inches of travel, but your body has more like 16 inches. Technique is more important than suspension.
Technique

Minimize the height of the drop. When you reach the takeoff, get your torso as low as possible. A nice, low crouch can turn a five-foot drop into a three-foot drop.
Use your landing gear. As soon as you're airborne, extend your arms and legs. When you land, bend them to absorb the impact. Use them like your suspension: Try to gradually slow yourself down and barely touch bottom when the violence ends.
Bonus: On flat landings, land rear-wheel first. On downhill landings, land front wheel (barely) first or with both wheels simultaneously.
Strength

The kind of strength that absorbs impacts is totally different from the kind that turns pedals. Don't think you can do spin classes then go hucking. To build the necessary "eccentric" strength:
– Do lots of smaller drops, and ride lots of rough terrain. Skis, snowboards, motorcycles and Rollerblades count.
– In the weight room, lower your weights slowly. When you get used to that, let them drop fast, then slow them down with your manly muscles.
– Plyometrics are awesome, but only if you're already strong. If you're not careful you'll tear yourself apart.
As always, perfect your technique on small drops, and work your way up slowly.
For more dropping tips, read Mastering Mountain Bike Skills.
https://www.leelikesbikes.com/wp-content/uploads/2018/08/leelikesbikeslogoheader.jpg
0
0
leelikesbikes
https://www.leelikesbikes.com/wp-content/uploads/2018/08/leelikesbikeslogoheader.jpg
leelikesbikes
2005-09-30 12:20:17
2013-02-22 16:35:34
Drops: Don't get bucked