Run timer: DMC Moto-Trainer II
If you're trying to go fast, the only true measure is time. What feels fast is frequently slow, and vice versa. For example, riding sketchily feels fast, but riding smoothly is fast. You cannot trust feel. If you want to know whether one run is faster than the last, you must use a timer.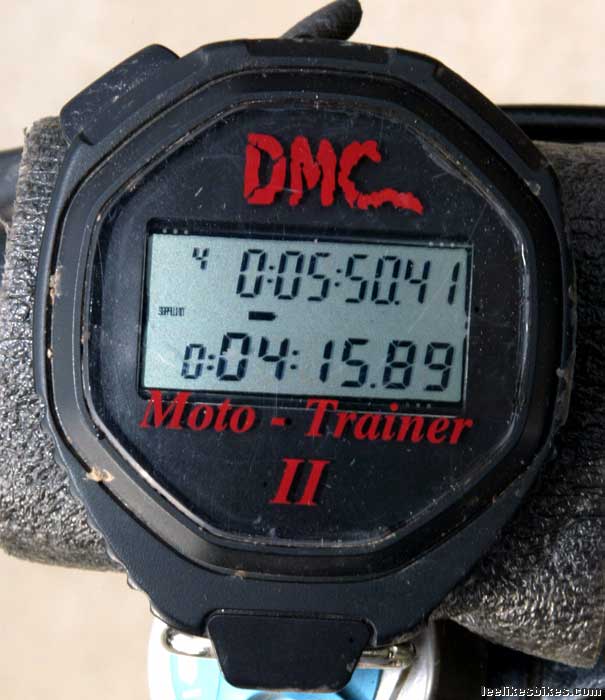 The display is easy to read, but it seems scaled for big bad motorcycles, not dainty little bikes.
The DMC Moto-Trainer II mounts on your handlebar with a start/stop button next to your grip. It's made specifically for motocross, but it works well for mountain bikers.
Installation: If you have a moto-style handlebar pad, the timer will strap on quickly and easily. To fit my bikes I wrapped a piece of foam pad around my bars and double-wrapped the long Velcro strap. This setup doesn't look super slick, but it does the trick. The magic red button clamps next to your grip with an effective but persnickety little bolt and nut. Some riders will have to fiddle with the placement of their shift and brake levers.
What to use it for: Use the Moto-Trainer II to time and record entire rides or up to 50 individual sections, in increments of 1/100th second. Time climbs, descents, tricky corners, rock gardens, etc. to determine which line, intensity or bike setup is fastest.
How it works: Press the red handlebar button to start timing. Press it again, and the timer displays your first lap time and your total time. When you repress the button for each segment, the previous time displays. After your ride, press the black button on the timer to see the average segment time, then press it repeatedly to see each segment time. With a pad of paper you can easily jot down the times for each of your test sections, as well as the goofing-off periods between them.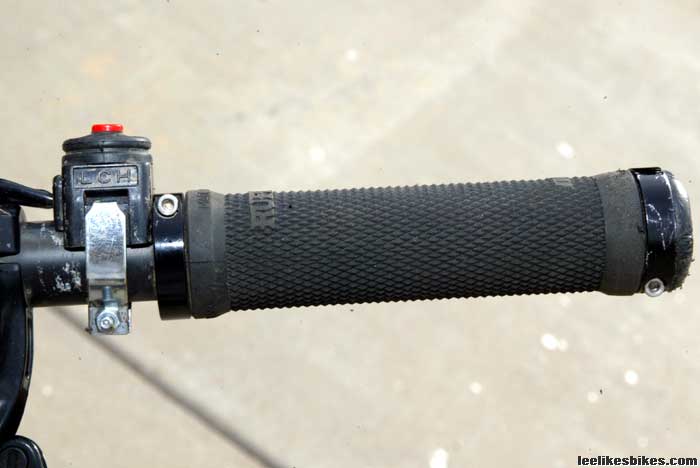 The red button works flawlessly. I'd appreciate a quick-release mount for switching bikes.
What's cool: The display is large and easy to read, and the red button is in the perfect place. The Moto-Trainer II takes the guesswork out of riding strategy and bike setup. Also, the intensity (and fun) tends to rise while the timer runs.
What could be cooler: I cannot fault the Moto-Trainer II for its intended motocross application. A couple features would make it better for bikes. 1. A beep (inaudible on a motorcycle) would confirm that the button has been pressed. 2. If the unit was smaller, had less wire and a shorter strap, it would look better on a bike. 3. It would be nice to see the running time of your current lap. 4. A quicker red-button clamp would facilitate changes among bikes. This is probably not a big deal for most motocrossers, but for mountain bikers who rail two to three bikes a day, every second is precious.
And that's why a timer is so important. If you're serious about going fast, the Moto-Trainer II could be the best hundred bucks you ever spend.
Price: $99.95

Contact: www.diverse-mfg.com (661) 618-2644
This review ran in the September issue of Mountain Biking magazine.
https://www.leelikesbikes.com/wp-content/uploads/2018/08/leelikesbikeslogoheader.jpg
0
0
leelikesbikes
https://www.leelikesbikes.com/wp-content/uploads/2018/08/leelikesbikeslogoheader.jpg
leelikesbikes
2005-10-17 17:53:22
2005-10-21 17:59:33
Run timer: DMC Moto-Trainer II