Curtis Keene's training philosophy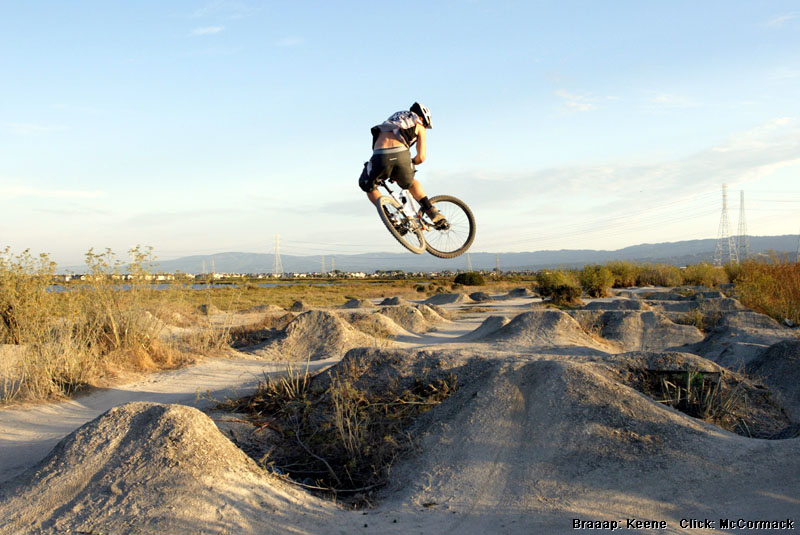 There are many ways to prepare for gravity racing. Here's how one of the U.S.'s fastest (and strongest) downhill racers does it.
---
Curtis Keene is one of the stronger characters out there. He can climb like an XC champ, and he can flick a downhill bike around like it's a graphite fly rod. When I met Curtis a few years ago, he appeared out of nowhere, and in his second year of racing he became the semipro national DH champion.
Curtis has a ton of natural talent and strength, but over the fast few seasons he's purposefully transformed himself from 215 pounds of gym meat to 190 pounds of pro downhill machine.
It's taken some experimentation, but Curtis is now significantly quicker and more athletic. "I feel better now than I ever have," he says. "I wake up with energy, and I can go hard throughout the day. I like the feeling of being able to ride a road bike up a huge mountain, or to go ride moto all day."
Here's his yearly program:
October – December : Building
As soon as the race season ends, Curtis sells his mountain bikes and says "see ya" 'til spring. It's been a long season, and he's ready for a break.
It's time to rebuild the muscle mass he lost during the season. He hits the gym hard five days a week. Each day he does core work and cardio, and he focuses on one body part. He does 4-5 exercises, 3 sets of 12-15 each, in supersets. A superset is a pair of complementary exercises that you alternate: flat bench, incline press, repeat 2x.
Monday – chest

Tuesday – legs

Wednesday – back

Thursday – just cardio and abs

Friday – shoulders
Weekends are all about moto. He rides a Honda CRF250R every Saturday and Sunday, for hours.
"We go out and RIDE. Some of the sections are 20 minutes, fully tapped, taking a beating the whole time. It's like riding Tunnel Trail (in Santa Barbara) for 20 minutes. It's part of my training, both physically and mentally."
From October to December, Curtis puts on 10 pounds of muscle.
January-March : Honing
He puts down the weights and lays off the monster burritos. He spends a lot of time doing cardio in the gym and riding the road bike. A few days a week he does something like:
4×20 pullups

4×30 dips

4×50 pushups

Lots of abs

Stretching
And moto every Saturday and Sunday.
When Curtis starts endurance work, his weight falls right off. From January through mid February he's lost five pounds. By now he's starting to think about mountain biking. When it's time to resume riding, he'll be jonesing.
"I don't touch a mountain bike for five months, and every March I come back faster than I was in October. I come back really eager, and I'm used to going fast on a moto. It trains the mind to work faster."
April-September : Punishing
Curtis races most weeks for six months, and that doesn't leave much time for training.
"After Thursday through Sunday walking the course, practicing, crashing and racing, you need Monday though Thursday to travel and rest. Travel is hard on you. The rest of the week is recovery."
Curtis rides XC, dirt jumps and downhill whenever he can, but the season is more about surviving than pinning it. After six months of punishment, he starts the cycle anew.
"I love mountain biking, but I need a break. The season is so tough — I get so beaten up. I have no desire to ride at the end of the year. But in January I start thinking about it again, and now I want to rip. I'm eager. Stoked. Driven."
https://www.leelikesbikes.com/wp-content/uploads/2018/08/leelikesbikeslogoheader.jpg
0
0
leelikesbikes
https://www.leelikesbikes.com/wp-content/uploads/2018/08/leelikesbikeslogoheader.jpg
leelikesbikes
2006-02-18 18:06:43
2010-07-27 06:46:40
Curtis Keene's training philosophy