Buying the wrong size bike sucks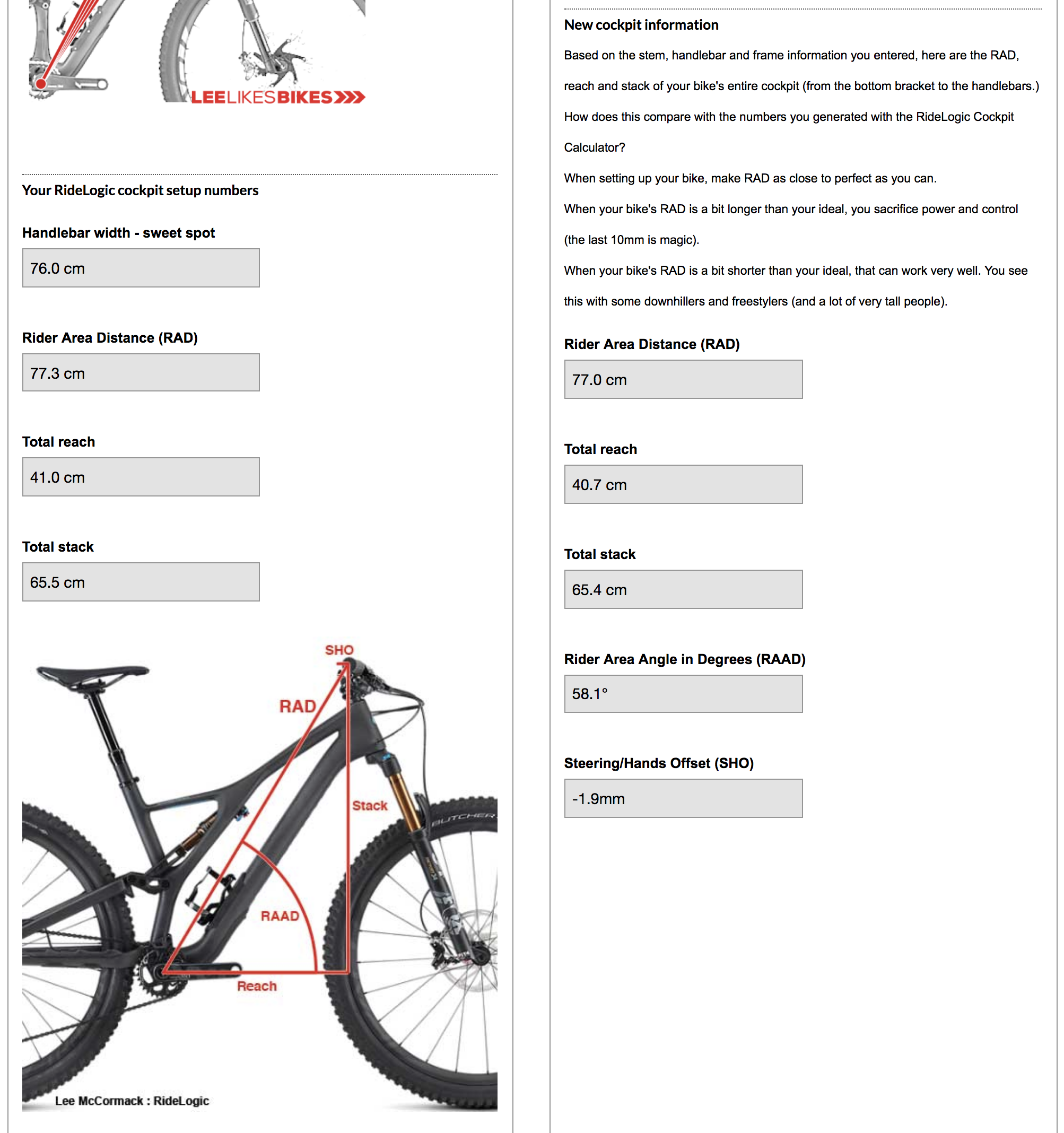 Here's a comment thread from the Lee Likes Bikes MTB School (www.llbmtb.com – membership required). This poor guy was advised to buy the wrong size bike. I see this happening a lot — and it's not cool.
– – – – – – – – – – – – – – –

kjaouni says:
I wish I found this before purchasing my new bike. At 5'5″ I was in between sizes (Small and Medium) and was recommended a Medium.
When I plug in the numbers into the RideLogic Rider and Bike Calculator, my small Ibis Ripmo is way too big. Unfortunately I opted for a Medium frame which puts the numbers even further out. Even if I exchanged for small frame this bike is still nowhere near the RideLogic bike fit numbers.
What gives? Any recommendations?
Lee McCormack says:
kjaouni,
Thank you your writing in.
I'm going to give you my straight opinion (based on inventing this method and setting up about 1,000 riders of all sizes, styles and levels). I apologize if this isn't what you want to hear.
Here's a screen shot of the RideLogic Rider and Bike Calculator. You input your info (height, gender, etc.) on the left side and input your bike info (frame/stem/handlebar) on the right side. When the numbers match in the calculator, they tend to match in real life.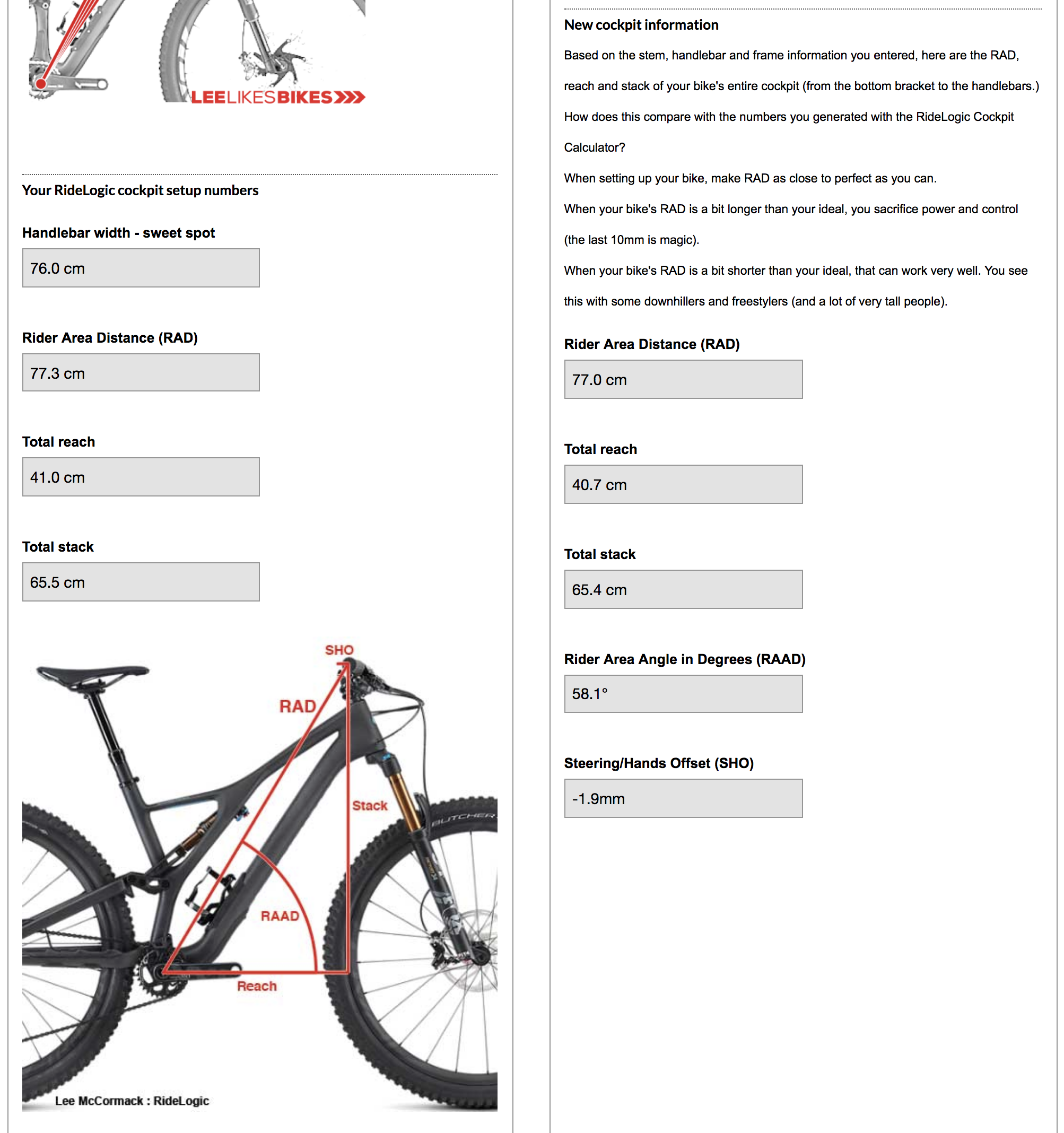 1) You are a victim of the new geometry and some bad advice.
2) Bikes have gotten longer. People have not. A small Ibis Ripmo has a reach of 431mm. A handful of years ago, that would be the reach on a long medium. My 2017 medium Enduro has a reach of 430mm, and at 5'8.5" I had to take extreme measures to make it fit me. A medium Ripmo has a reach of 446mm! In a just world, that's a large!
3) At 5'5" you are a small at the biggest. Not a medium and certainly not a large. Who in the hell recommended a medium for you?
3B) That sizing chart makes no sense to me. Ibis is a rad company that makes rad bikes, but that chart sounds old fashioned.
4) At my size, I can't ride a medium Ripmo properly. At your size, it'll be a shit show. Keep in mind that you can have fun and hopefully not get hurt, but you'll need world class mobility and skills, and your ability to engage with the bike will be massively compromised.
5) You need a much shorter bike. Even if you get a small Ripmo, you'll be fighting to get it rideable. You'll need an SQlab 30X bar to bring your hands back (I sell SQlab bars, and I ride them) and a 30mm stem. You'll also have to turn the riser bars upside down. But it'll be a compromise, and it'll never be perfect.
6) You need a bike that's made by a company who hasn't followed this geometry trend. I'm sure there are other options, but I know the 2019 Specialized Stumpjumper well, and it is a profoundly great bike. The small 29 has a reach of 405mm, which makes sense for you. From a ride experience standpoint, it's a lot like the Ripmo.
I'm sorry you were put on the wrong size bike. I hope this helps.
Lee
kjaouni says:
Thank you Lee. I really appreciate the honest feedback. Unfortunately, nobody gave me a straight answer when debating between a Small and Medium – it was always along the lines of "Small will be more playful and Medium will be more stable."
What threw me off during the test ride is that I felt crammed in the cockpit on the small (mostly my knees) and this could be simply due to the fact that the cranks are too long.
Anyway, I am considering selling the Ripmo and looking at alternatives, I am keen to get a 29er. Will a small in another brand fit for someone my size (say the 2019 Stumpjumper 29)?
Lee McCormack says:
The 2019 Stumpy 29, size small, will fit you nicely, and it is simply the best trail bike I've ever ridden. These days there are lots of great bikes. The most important thing you can do, once you decide on a quality bike, is to pick the correct size and set up it properly.
Look for a reach that's similar to the Stumpy's (405mm). You can find all the reasoning and the rider/bike calculator inside www.llbmtb.com.
Take care.
– – – – – – – – – – – – – – –
https://www.leelikesbikes.com/wp-content/uploads/2018/08/leelikesbikeslogoheader.jpg
0
0
leelikesbikes
https://www.leelikesbikes.com/wp-content/uploads/2018/08/leelikesbikeslogoheader.jpg
leelikesbikes
2018-08-02 12:15:47
2018-08-06 06:17:12
Buying the wrong size bike sucks