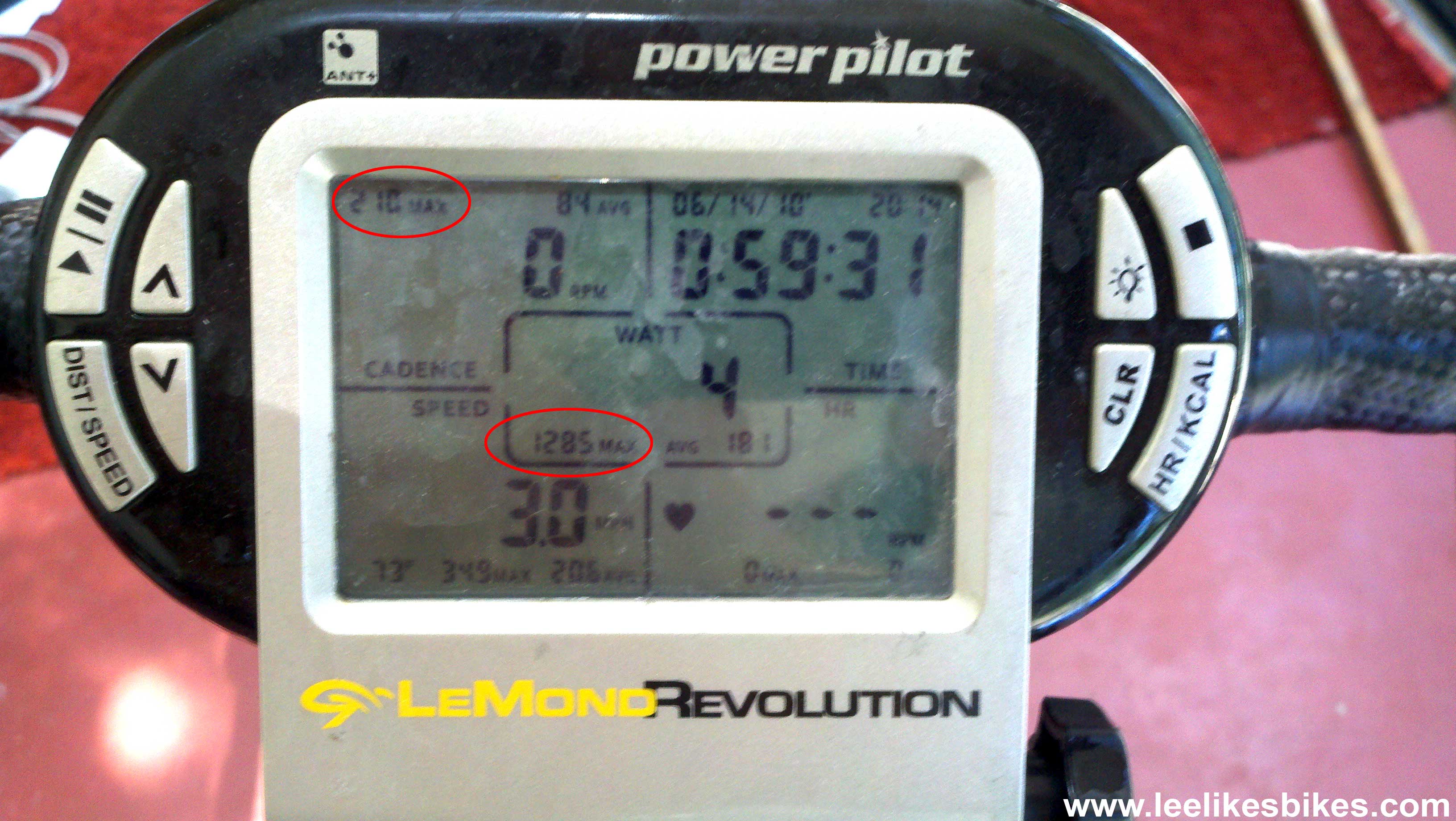 Thank goodness I haven't weighed 200 pounds since I started riding bikes two decades ago.
We're talking pedal cadence!
---
Building speed
A couple years ago I embraced pedaling as a skill. I quickly reached about 120 rpm with flat pedals. After some practice I could spin flats at 180. This is not world class, but it's pretty good — especially if you can do it in real life.
I couple months ago I clipped back in. The power increase was dramatic, and more RPM started to come (Sprinting with clips, Climbing with clips). I hit 190 rpm right away, and I figured 200 was possible — once the nervous system got the idea.
Today is a typical in-season day:
• Wake up, hang with the Bugs, help Mamma get them together.
• Computer work. Email, design enterprise mortgage origination software, revolutionize the reptile shipping industry, revolutionize the online reptile community, send books, schedule clinics, whatever. More email.
• Hang with Mamma and The Bugs around lunchtime.
• More computer work.
• Private clinic with a pro DHer this afternoon. Stoked about that.
• Feeling antsy and needing some aerobic work, so …
… I hopped on the LeMond Revolution trainer (clipped into my original-issue Shimano DH pedals) and busted out The Hunted. This is a Sufferfest indoor climbing workout. Yes, it's a perfect day outside, but this is the most efficient way to develop that specific energy system. (And I plan to hit the Valmont slalom later before my clinic.)
The Hunted focuses on sustained effort, which is my weakest point. It's hard. But I snuck in a few little sprints.
Top RPM: 210! That's a record for me, and I think there's more in the neurological tank. (Technique tip: At this speed, trust all your pedaling drills and just freaking pin it!)
Max power: 1,285 watts. Not world class by any means, but I'm proud that I can grind out an hour-long workout and still have that snap at the end (my highest reading is about 1,500 watts). Whole Enchilada Enduro!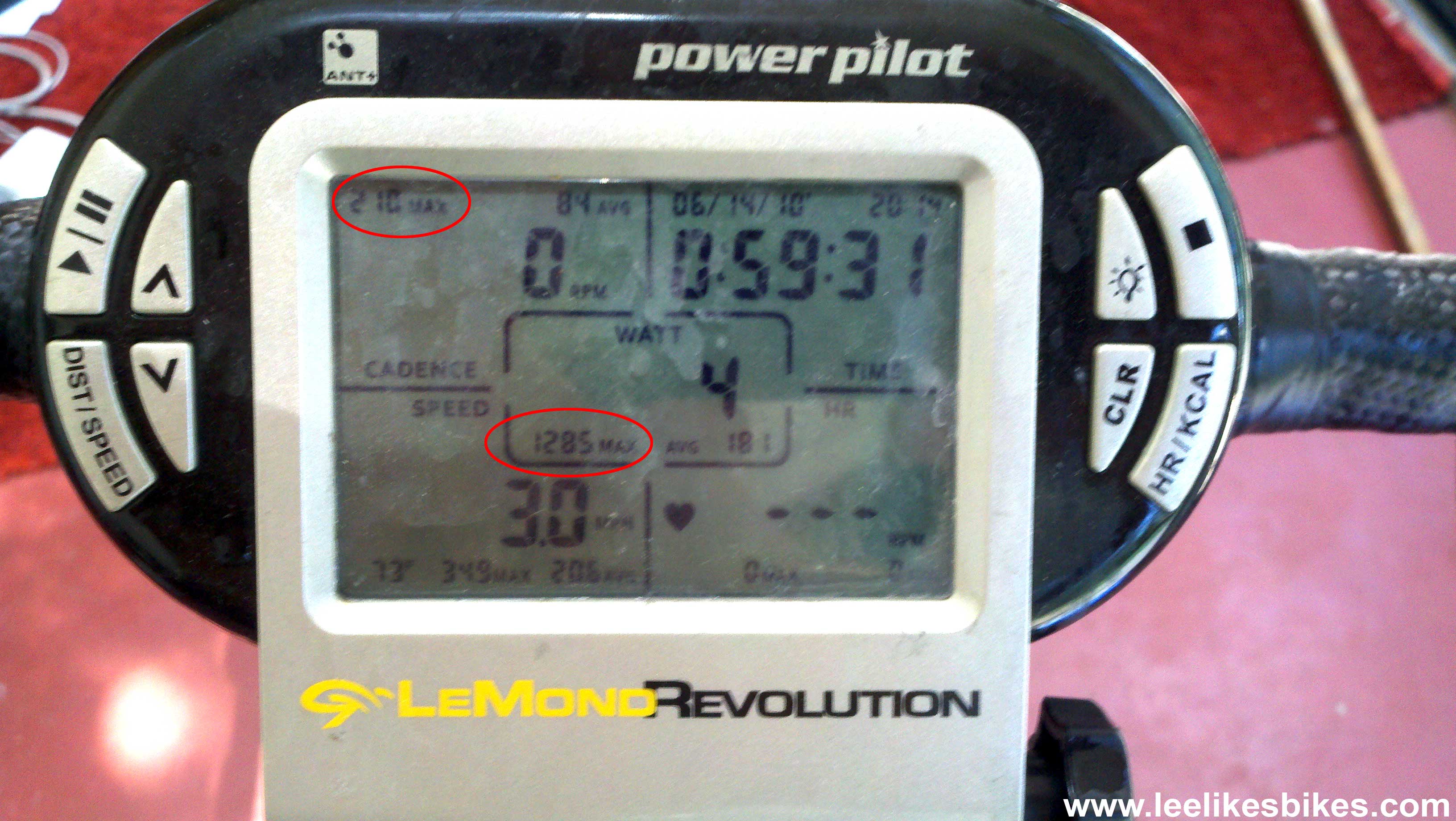 Now with real sweat and filth!
I believe …
… learning to ride flats is the best thing you can do for your kung fu. Flat pedals help teach your feet to move in the same direction as the bike.
… this is critical to smooth riding and — I believe — to efficient pedaling.
… learning to pedal with flats makes you a smarter, more efficient and ultimately more powerful pedaler.
… when you clip in you have the new flat-pedal mechanics PLUS the clipped-in connection.
… if you ride as if you're on flats — but with subtly improved engagement — you can find new power.
That's what I believe. More and more riders are believing this approach to technical descending. I'm telling you it can help your pedaling too. I have two elite XC racers working their flat-pedal-fu and reporting 8 percent more power with the same heart rate. That's a big deal — especially for elites.
As for me, I'm having fun and still learning a ton.
225 rpm? 1,600 watts?
Braaap!
Lee
---
Know more. Have more fun!
Join the leelikesbikes mailing list:
---
https://www.leelikesbikes.com/wp-content/uploads/2018/08/leelikesbikeslogoheader.jpg
0
0
leelikesbikes
https://www.leelikesbikes.com/wp-content/uploads/2018/08/leelikesbikeslogoheader.jpg
leelikesbikes
2012-05-14 14:18:38
2012-05-14 14:19:18
Breaking 200