Are we training? Winter Park moto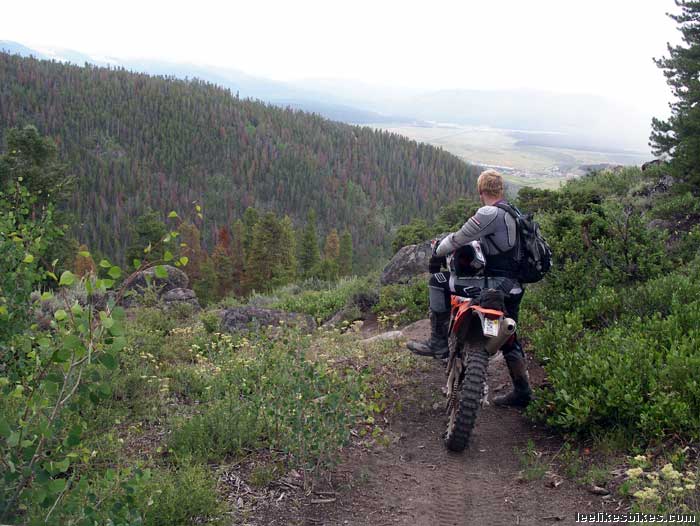 The boys and I have been talking about riding the Baja 1,000 as a relay this November. We haven't pulled the trigger, but I plan to be in shape no matter what.

---
Last Friday we got our first taste of a long trail ride, and I'd say it tasted like a fresh salad, deep dish pizza and ice cream. Crispy, satisfying and oh so sweet.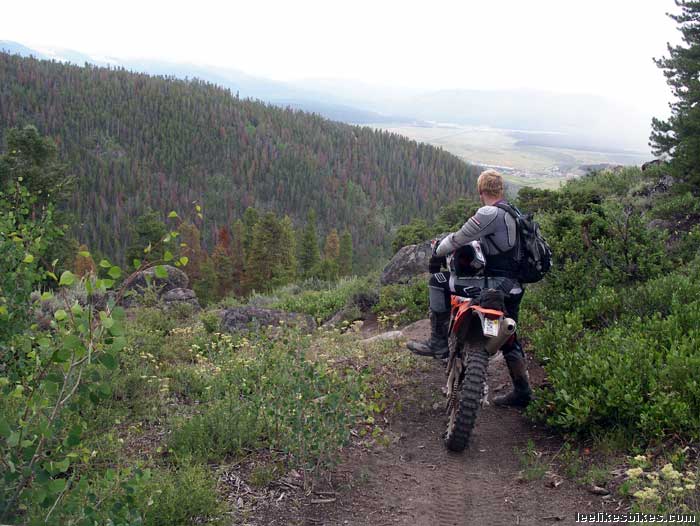 One of our few stops. Sacha surveys the Park of Winter.
Highlights:
– Miles of supertight, bermed singletrack. Imagine descending in Santa Cruz — for an hour nonstop.
– Wide open dirt roads. 60 mph over natural tables, sucking up water bars and folding into huge sweepers. Braaap!
– Crazy-steep, rocky climbs. First gear half open plus DH-style body English. See the line — believe it's possible.
– 30-40 mph doubletrack crisscrossing across the mountain, up, up, up then down, down, down. Jumping water bars, skipping through baby heads, wheelying out of switchbacks.
– Heavy rain, slick rocks and frictionless roots. Get it all done — brake, turn, accelerate — on the tacky dirt, then become the projectile you know you are.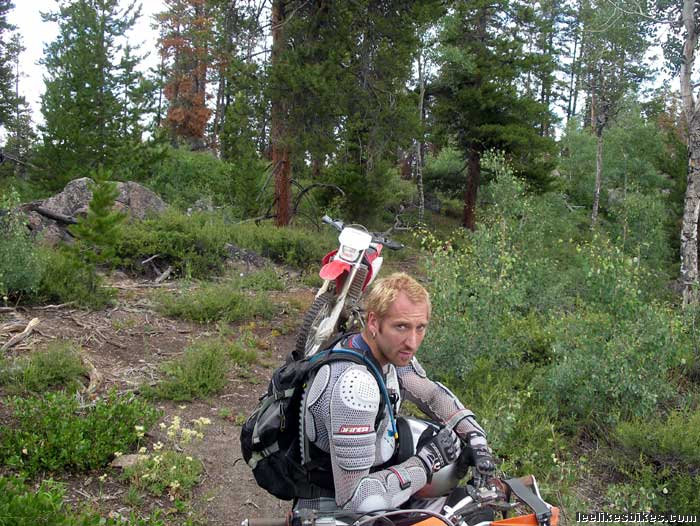 That woods section was amazing — too good to stop and take a photo.
– Gathering darkness. It's wet and yucky, so why see it anyway. Just stay loose and let 'er rip.
Get back to town. Eat salad, pizza and ice cream. Start scheming. That was 87 miles. I'm tired, but I feel good. Gotta ride 200 miles in Baja …
I had a dream that night:
I was all geared up, in a race pit down on the peninsula. A few motorcycles came in then my buddy Curtis Keene (pro DHer) rolled in on our XR650.
"Curtis, you're in fourth overall!" I said.
"That's right. Here you go."
He handed me the XR, and off I went.
https://www.leelikesbikes.com/wp-content/uploads/2018/08/leelikesbikeslogoheader.jpg
0
0
leelikesbikes
https://www.leelikesbikes.com/wp-content/uploads/2018/08/leelikesbikeslogoheader.jpg
leelikesbikes
2006-07-12 22:14:37
2006-07-12 22:15:39
Are we training? Winter Park moto