Adding dirt to a pump track
Hi Lee,
I haven't been here in a while, but Spring is around the corner and I am about to order more dirt for my somewhat settled pumptrack. My question is…
What is the best way to "mesh" new dirt with the old, hard packed track?? Should I wet the old track and put the dry dirt on top of the mud and then re-water? I'm afraid that I will end up with a bunch of new, loose dirt over the hard stuff. Thanks Lee!
pmac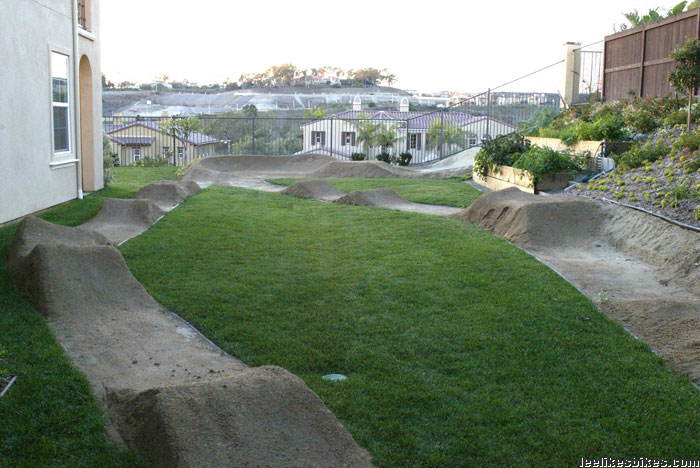 It's best to plan your track and build it all at once. Jason Richardson's "xeriscape project" in Carlsbad, CA.
Hmm.
If you add dirt to a packed track, chances are it will either stay loose on or flake off the existing base.
If you must add dirt:
– Loosen the exiting dirt as deep as you can bear.
– Put the new dirt on top.
– Mix them.
– Wet them.
– Shape them.
– Pack them. Pack them some more.
You want your track to be as homogeneous (dirtwise) as possible. If there's any junction between dissimilar materials, the track will probably come apart there.
This will be a lot of work. That's why I'm a big fan of planning. Measure twice, dig once.
Pump Track Nation!
— Lee
---
https://www.leelikesbikes.com/wp-content/uploads/2018/08/leelikesbikeslogoheader.jpg
0
0
leelikesbikes
https://www.leelikesbikes.com/wp-content/uploads/2018/08/leelikesbikeslogoheader.jpg
leelikesbikes
2008-02-29 07:04:31
2008-02-28 20:02:27
Adding dirt to a pump track