2007 MSC #4 – Blast the Mass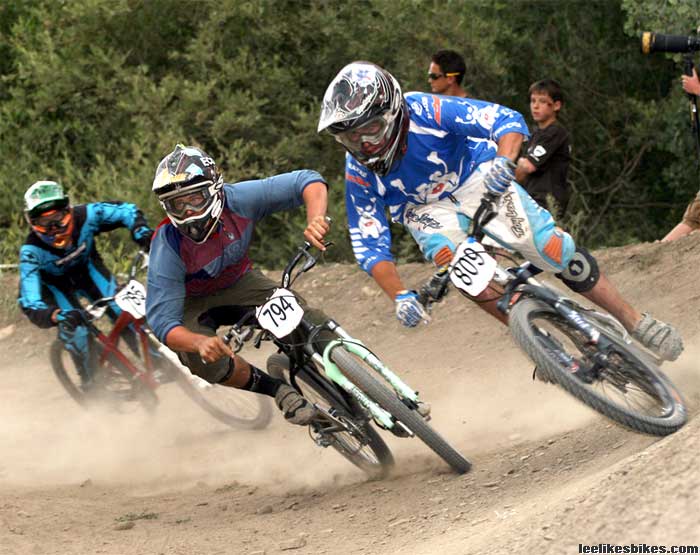 It was a weekend of warm weather, cool folks, fast race courses and a slow timing company.

The more you click, the more I can post. Lee Likes Groceries dot com!
---
Timing and results were way out of whack. For the scoop on the timing problems: The Great Snowmass Timing Snafu of 2007
Downhill
Some courses might reward a smaller bike or mega pedalling power. Not this one. Heck no — whatever you bring, you'll use.
Wide effing open top section. Pinned at ludicrous speed, cross a road then dive into a series of very loose, very jacked up turns. The off-camber right-left chicane separates the wolves from the sheep. Wolves prefer a late apex to a clean exit. Sheep settle for an early apex into the tape. In practice: Justin Leov slows way down, enters wide, carves high in the grass, waits … another late apex then resumes ludicrous speed. He's a wolf, and a fast one at that.
Beginners and sports split into some flowy but bumpy woods. Berms, drops, braking bumps and little booters. Very fun.
Experts and pros split into steep and rough woods. Holes, ruts, stumps and a steep waterfall. Very fun as well.
Top pro men: Justin Leov (2:18.5), Jared Graves, Cole Bangert, Kain Leonard, T.J. Sharp. All great riders and gentlemen; right on!
Top pro women: Melissa Buhl (2:42.1), Joanna Petterson, Jackie Harmony, Darian Harvey, Caroline Jarolimek.
Fastest sport time: Steve Etheridge (2:52.7)
| | | |
| --- | --- | --- |
| In beg/sport practice I'm like a mother goose with her goslings (left to right) –> Caroline, Michael, Madison, Alex, Roy, Matt, Yosei, Dylan, Tim, Teddy. | What a view. The first turn, already pinned wide open. | Sick! |
| | | | |
| --- | --- | --- | --- |
| That crazy chicane really wants to suck you down into the tape. This guy is doing semi-Ok, but you can see he's already blown the left turn. | Nice entry. | Joey Schusler knows what's going on. | Cody Wilderman sticks it. |
| | | | |
| --- | --- | --- | --- |
| Pro/expert course. Now things get interesting. Dropping into the final forest. Yosei Ikeda photo. | Dropping … (Yosei Ikeda photo.) | Cole Bangert with awesome form. Last year, many top riders took the inside line over the waterfall. This year everyone followed the rut around the outside … (Yosei Ikeda photo. ) | … which forced a tricky but impressive turn. Yosei Ikeda photo. |
| | | |
| --- | --- | --- |
| I think this is Logan Binggeli. Turn = nailed. Yosei Ikeda photo. | The final moments are fast and rough but basically brakeless. Yosei Ikeda photo. | Nice shot of Chris Meyers. Yosei Ikeda photo. |
Mountain Cross
Depending on your perspective, this national-caliber course was either fun and flowy or just plain terrifying. Most riders vote for the former.
Snap! A couple pedal strokes then a Pump Track Nation series of rollers. Roll, hook, manual and jump in your combo of choice. Drift the banked left, hook the big roller then boost the floaty double into the 90-degree right berm. Whee! Hook onto the table then step off the roller, or — if your jersey says Graves, Milan or Neethling — triple the whole mess. Huge. Thread through the superfun right-left chicane, pump/manual/jump the four rollers then square up the last right. Pedal! Pump roller 1 then roller 2. Braaap the double-table then BRAAAAAP the final step-up. Sprint to the line. Walk back up for your next round.
This course had quite a bit of passing, which made for great action. A brief but violent thunderstorm made the final round slick as can be, and that sure re-shuffled the deck.
Jared Graves owned pro men. Some wonder how good the best riders are — well, they're pretty darn good! Hmm, let's see … Chris Meyers won Jr. Ex, with my own Evan Powell in 2nd. Melissa Buhl crushed the pro women. Make me pine for the era of Bobbi "Snap!" Watt.
| | | | |
| --- | --- | --- | --- |
| The first straight (from last year). | Jr. Ex Action Magazine. Shawn Neer leads in a pre-final round. | Is it a table-double, or is it a triple? Most vote for the former. (From last year.) | The last jump. Sweetness! |
Last year
Detailed course descriptions: 2006 MSC#5 – Blast the Mass
Super D practice
I haven't been racing at the MSCs where I coach The Fix monkeys (I can only do one or the other well), but I do get to ride the courses — and Super D practice was delicious. I hooked up with my trainer James Wilson for three runs down a fast, flowy trail that reminds me why I ride bikes.
We pinned the wide effing open fire road then dove into a flattish, sinuous singletrack. Short climb then more flow. Bomb a doubletrack to an uphill right. Don't brake — carry all that speed! Finish the climb with a dozen efficient strokes, then fold back onto singletrack. Ripping across green ski run, dipping into aspen groves; light and shadow; green leaves, white bark; bumps and turns; so sweet! Superfast straight with huge holes. Yeah! Pump, jump … uh oh … sudden switchback. Skid into the bushes. Someone's standing there. "Hey Lee, nice turn. Just like in your book!"
Ha. Back onto the program. Me letting my Enduro SL run, James hooting and hollering on my wheel. What a treat, to ride for riding's sake. No Type-A External Validation B.S.
Of course, I timed the last run. I cruised about a 6:30. The winning time in my class was in the low sixes. Poo! I could have won it! I'm trying to evolve beyond the racer thing, but I'm still a competitive bastard!!!
Results are still not posted. Here's a guess: Mike West and Ariel Lindlsley rocked pro men. Abby Hippeley killed pro women. Just a guess …
Lee Likes Swimming in Lakes
When I got divorced and started dating last winter, I dreamed of finding a women who would share my life. Traveling to the races is such a powerful experience; I don't care if she rides, I just want a co-pilot. One of my main fantasies: Driving home from a race, see a beautiful lake, stop for a quick swim and hang-out.
| | | | |
| --- | --- | --- | --- |
| Kiss! | Happy boy. Happy girl. We've been married for 9 weeks, and every day is better. | Yeah, a lucky bastard. BTW: That water was COLD! | Random cool window sticker. Braaap! |
https://www.leelikesbikes.com/wp-content/uploads/2018/08/leelikesbikeslogoheader.jpg
0
0
leelikesbikes
https://www.leelikesbikes.com/wp-content/uploads/2018/08/leelikesbikeslogoheader.jpg
leelikesbikes
2007-07-18 12:27:23
2007-07-18 12:30:16
2007 MSC #4 – Blast the Mass