Stems and bars: Long and low or short and high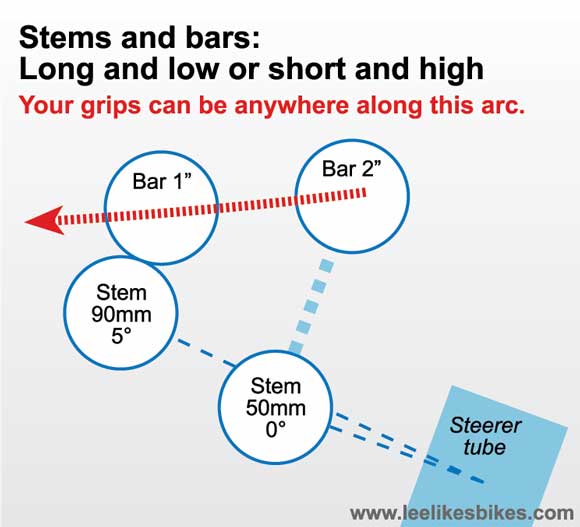 Lee,
I am currently riding a Thomson 90mm w/5 degree rise on my 575 and have considered trying a shorter stem. Unfortunately none of my friends or any of the local shops have one for me to demo. I do, however, have a 2″ riser bar that I purchased at a swap meet but have never used. I am currently using a 1″ riser bar. My question is this: Couldn't I achieve the same result installing the 2″ riser bar and adjusting the sweep back towards the saddle as I could by installing a 70mm stem?
Rick
---
Hey Rick,
Good thinking, but that won't quite work.
First: Your grips would point downward way too much. It would jack up your ergonomics: weight on the outside of your hand, elbows wanting to drop … not good.
You want your grips to be level (or close to level) with the ground.
Second: If your current position is comfortable, adding rise to the bars will put your hands too high. Long and low is good. Short and high is good. Imagine a full-moto position with a short stem and high bars. Imagine the classic road/XC position with long stem and low bars. Connect them with a nice, smooth arc. Your grips can be anywhere along this arc. Above or below the arc … not good.
Check out this sweet diagram madness: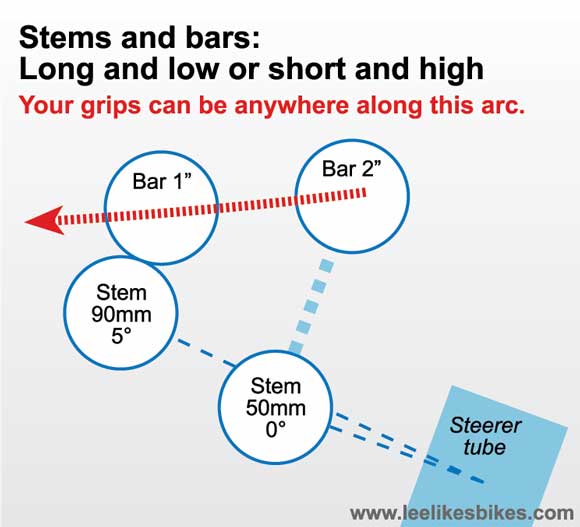 Oh yeah, chicks dig nerds!
Do this: Go out and find a 50/0 stem. You're riding a Yeti 575 with a Thomson stem; you don't need a free trial — just man up and get the dang stem. Slap on your 2″ riser bar. Say braaap!
See also: Stem length/rise for a trail bike
PS: You bought bars at a swap meet???!!!??? Dude, support your local shop. That karma … not good.
https://www.leelikesbikes.com/wp-content/uploads/2018/08/leelikesbikeslogoheader.jpg
0
0
leelikesbikes
https://www.leelikesbikes.com/wp-content/uploads/2018/08/leelikesbikeslogoheader.jpg
leelikesbikes
2007-07-25 10:19:54
2010-01-19 10:57:34
Stems and bars: Long and low or short and high