Hey Now Lee,
Just read a great short bio on you…I'm looking at at Nishiki Pueblo…i'm 45 yrs old and out of shape 5'11" tall with a short inseam 31" yet wish to ride my way to work and into shape and some light trail stuff…
Good first bike? what do you think? Guy is selling it to me for $85 bucks here in L.A.!
be well
kb peace out
The more you click, the more I can post. Lee Likes Groceries dot com!
---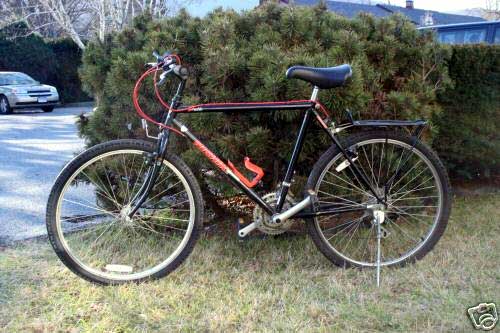 It's Mighty!

KB,
Dude, my first adult bike was a 1988 Nishiki Pueblo!
That thing changed my life. I started at 5-8 and 210 pounds, and after a year of riding dang near everywhere, I was already down in the 170s—and a bike zealot. Yup, that changed everything.
Hell yeah! Ride that Pueblo if:
– It's in decent shape. Drop it a few feet onto the ground and listen. If the only noise is the chain slapping the frame, you're probably good to go. – It fits you. At 5-11 you could ride a medium or a large.
If you buy the Mighty Pueblo, bring it to your local shop for a tune-up. They'll make sure it's safe and dialed.
Who knows? Some day you might be www.kblikesbikes.com
—Lee
$85 … $7,000 … Here at Lee Likes Bikes, we hit all the price points!
Comments
No comments yet.
Sorry, the comment form is closed at this time.