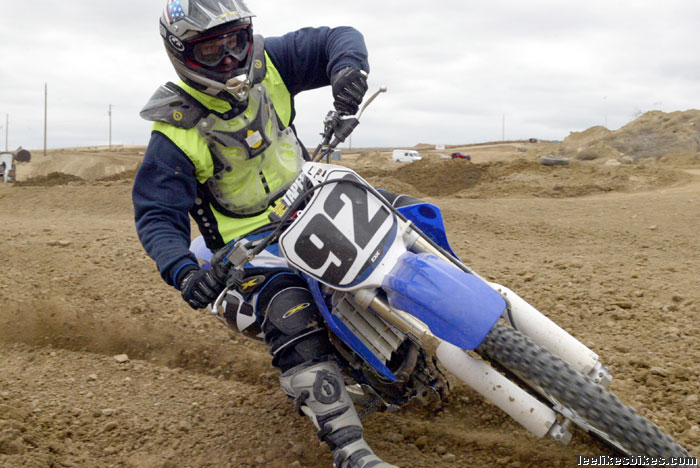 Last week a few of us converged at the Berthoud Motocross Megaplex for our first MX of the year. If I use the words "motocross" and "fun" in the same sentence, it'll be hella redundant. Hella.

The more you click, the more I can post. Lee Likes Groceries dot com!
---
Introducing Darren Murphy
As the owner of PUSH Industries, Darren knows some things about optimizing machines, and he also knows how to ride 'em. Darren is very generous with his moto knowledge, and I learn from him every time we ride together. He's been wanting to appear on this site, and here he is.
| | | | |
| --- | --- | --- | --- |
| Big D doubles out of a whoop section. Braaap! | Darren's favorite jump: tight right, full throttle, 3rd gear, boost to a short landing then braaap up the hill. | The loam was freshly tilled. Says Darren: Hold steady throttle and surf it out. | Style points in 4th gear pinned. |
Special guest star Steve Wentz
I took one of my favorite pro downhillers on his first moto adventure, and he was pretty stoked. As I expected, he stayed away from the clutch and rear brake and rode my CRF450X and CRF250R like bicycles, which worked fine. The key to athletic performance is attitude, and Steve has a great one. I gave him a few tips, and throughout the day he continually made small improvements. By the end of the day he was jumping the doubles on the mini track perfectly — they're about 20 feet; the size of a big bike jump, and he looked like he was on a bike.
| | |
| --- | --- |
| This is exactly how Steve turns his bikes. Low. Looking. Smooth. Fast. | Yeah! Pimping a double on the mini track. |
As for me
Some mysterious and powerful things are happening to me these days, and I see the effect in every aspect of my life: work, relationships and of course BRAAAP! Breakthroughs:
– Holding wide-open throttle all the way to and up jumps. 40-foot jumps no longer make exclamation points explode out of my helmet. Thanks Darren.
– Realizing I don't have to be perfect in the whoops. Landing the big jumps equals ludicrous speed. Land wherever, stay centered, keep the throttle open and skim.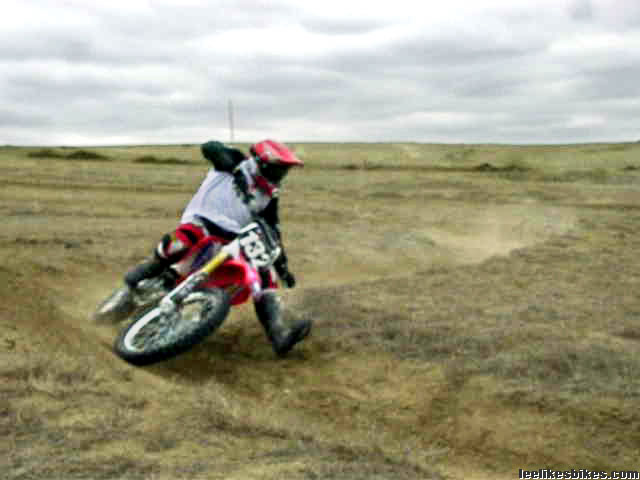 Low-quality video grab, but the cornering form is coming together. You can ride a moto like a bike pretty well, but to get beyond that you have to change some fundamentals.
https://www.leelikesbikes.com/wp-content/uploads/2018/08/leelikesbikeslogoheader.jpg
0
0
leelikesbikes
https://www.leelikesbikes.com/wp-content/uploads/2018/08/leelikesbikeslogoheader.jpg
leelikesbikes
2007-03-19 12:20:56
2007-03-29 15:55:46
We all like motocross