Tour de California Day 1: Mr. Toad's Wild Ride, South Lake Tahoe
In the middle of September my buddy Jim Norman and I rode our own little Tour de California. In the past we've driven from the Bay Area to Crested Butte, Colorado for a week of riding. The Rockies are huge, but so is the drive out there. This year we decided to stay a bit more local. As they say, "Think globally, ride locally."
Also, I've been racing my brains out this year. I've driven more than 2,000 miles, and all I've seen is a few race courses. We wanted to take our time, check out some cool places and experience some new terrain. In 18 hours and six rides, we hit some of the best trails in South Lake Tahoe, Mammoth, southern Orange County and Santa Barbara.
It was an appetizing sample of California's mountain biking diversity. We shivered at 30 degrees and melted at 100. We hammered at sea level and gasped at 11,000 feet. We zoomed through loamy berms and clattered over rocky drops. And it was all good.
Over the next five weeks I'll share some of our adventures. I hope this is just the beginning, that I can continue to explore the state, the country and, hopefully, the world on my bikes.
Day 1: Mr. Toad's Wild Ride, South Lake Tahoe
The description on www.tahoeadventuresports.com says it all: "Mr. Toads Wild Ride (Advanced): One of Tahoe's most famous rides. A technical test piece for advanced riders that finishes with a ripping banked single track. A must ride for serious riders."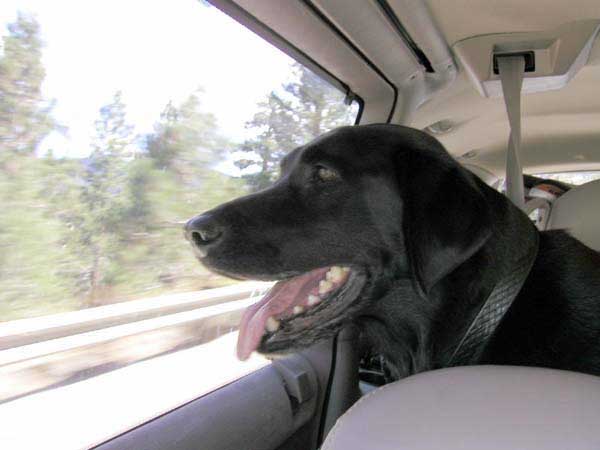 Our women and Rufus the Chowbuddy joined us for the first weekend in Tahoe. Since we had two vehicles and an extra driver, we decided to park one car at the bottom, at 6,400 feet, and start riding at the Big Meadow parking lot on Highway 89, at 7,300 feet.
From the lot, the Tahoe Rim Trail meandered mellowly upward. As we climbed, the trail steepened and rock sections demanded more power and finesse – more than we were willing to give. At sea level it would have been a middle ring push, but here at altitude, on the first day of our Odyssey, we were content to buzz the small rings and walk the tricky bits.
We pushed up some rock stairs to a promontory. As we checked out the view, a beef-jerky lean XC dude came zipping down the trail. "How long to the top of Toad's," we asked. He looked over our fat carcasses and said "30-40 minutes." Hmm.
The trail got steeper still, and the rocks got even less convenient. We did some more walking, half stoked to keep moving and half ashamed that we're no longer the climbers we were in our 20s. Finally, things flattened out and we got to taste some love. We ripped along some nice traverses and powered our middle rings up some short ascents to the Saxon Creek turnoff. We were at 8,940 feet, forty minutes after leaving the car and only 20 minutes after talking to Mr. Jerky, thank you very much.
We lowered the seats and let fly. We zipped along the pine duff, over rocks, through loose turns, and into a steep, rocky section. It would have been fun on DH bikes: Long, random rock piles set on 30-degree slopes, tre
es gating some of the turns, loose dirt in between. Bam, bam, bam, we rode on instinct and 4-inch freeriders. I thought of all the people who have ridden this on hardtails. This must have been gnarly.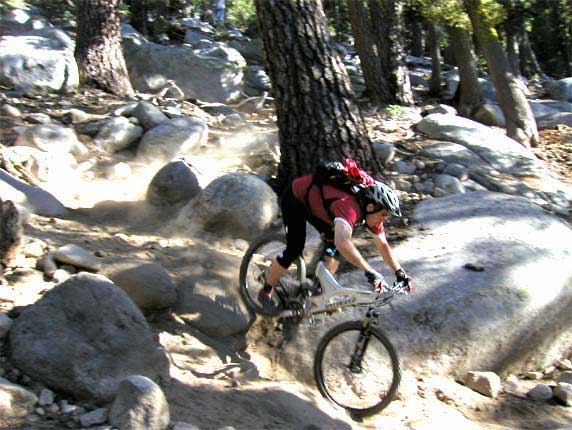 After a few "technical test pieces" the trail flattened and smoothed, and we zoomed along some standard high-speed woodsy singletrack, the kind available in a well-tended wood near you. We railed lines and swam in dust. We rounded trees and hopped rocks. We followed the fall line straight down a 50-rock stairway.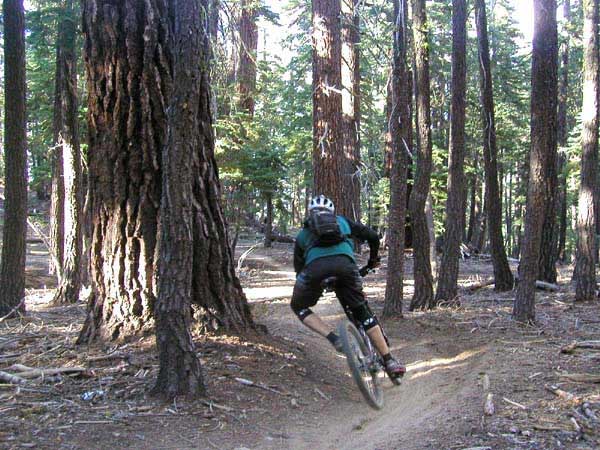 Then we reached the section Toads is famous for. It reminded me of the Space Mountain roller coaster at Disneyland: No big drops or speed, just lots of fast, tight turns. We swiped into one moto-carved berm, then smoothly into the next. My bike never went straight between the turns; I popped out of one turn, skimmed along the duff then dove into the next. It was like a slalom course or powder skiing: weight then weigh
tlessness, weight then weightlessness.
The bottom section so flowy we refused to stop and take photos. What a great start to the Tour, a definite "must ride for serious riders."
Next week: A road shuttle down Sonora Pass.
https://www.leelikesbikes.com/wp-content/uploads/2018/08/leelikesbikeslogoheader.jpg
0
0
leelikesbikes
https://www.leelikesbikes.com/wp-content/uploads/2018/08/leelikesbikeslogoheader.jpg
leelikesbikes
2002-09-25 19:50:16
2009-04-23 14:41:31
Tour de California Day 1: Mr. Toad's Wild Ride, South Lake Tahoe