The Great Spring Norcal Adventure of 2007, Day 1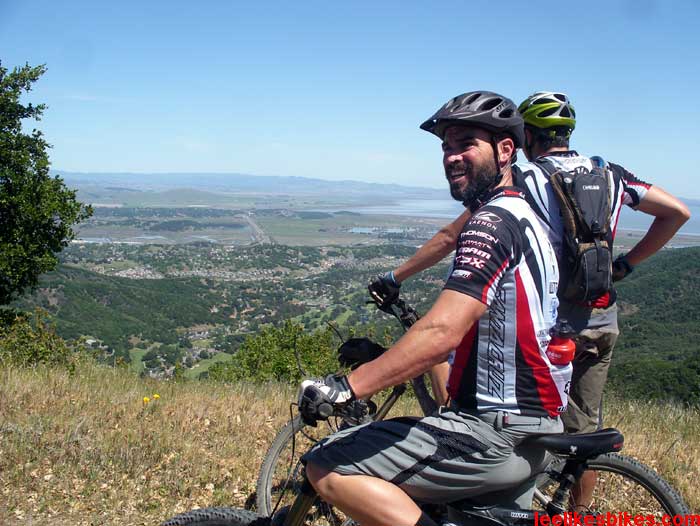 Sea Otter ho! Yesterday/today Zach Griffith and I drove straight from Boulder to Marin (it took 20 hours with heavy snow), and today we tasted the goodness in a big way.

XC with Mark Weir
Yeah, I know, always a hard thing; not always a good thing. He invited us on a "one and a half hour ride," which in Weirspeak means you leave from his house, do a long approach, do a 90-minute+ climb, rip the descent and then ride back home.
The weather was perfect, the climbs were huge, the views were stunning and the descents were braaap. Good stuff.
| | | | |
| --- | --- | --- | --- |
| Almost there … the locals rocked the climb with single rings and 36×34 low gears. The top pitch is 33 percent! | Zach ran a Tazer with a low seat and race gearing — and he suffered. Check out Mt. Diablo in the background. I lived there, working for the local newspaper, for six years. | Weir and Jiro Nakamura overlooking Novato. | Beautiful. You can see why Weir loves home so much. |
Pumping it Up
Since I visited last Fall, Weir has doubled the size of his pump track. It's even more ridiculous — and more flowy — than before. Give an obsessive man a mission, and he'll take it all the way …
Zach and I were beat after the drive and the XC ride, but we had a great pump. I look forward to a mega sesh next week after the Otter.
| | | | |
| --- | --- | --- | --- |
| Yeah, Weir's pump track has bleachers. The Losers Lounge, or something like that. | This berm is easy, but the audience is tough! "Hey Lee, your shoelaces are pretty long … that's dangerous, especially when you have to pedal so much!" Zach's turn. | Jiro was a pro DHer back in the day, and he still knows what's going on. | Weir rips Satan's Tail, a series of S-turns that will blow your mind and make your tires say BRAAAP! |
Next: Tomorrow we arrive at the Otter, set up camp, register and walk the DH course. I'll be off the radar until at least Monday. Rock it!
https://www.leelikesbikes.com/wp-content/uploads/2018/08/leelikesbikeslogoheader.jpg
0
0
leelikesbikes
https://www.leelikesbikes.com/wp-content/uploads/2018/08/leelikesbikeslogoheader.jpg
leelikesbikes
2007-04-10 21:07:35
2007-04-10 21:48:41
The Great Spring Norcal Adventure of 2007, Day 1