Swag for an injured little dude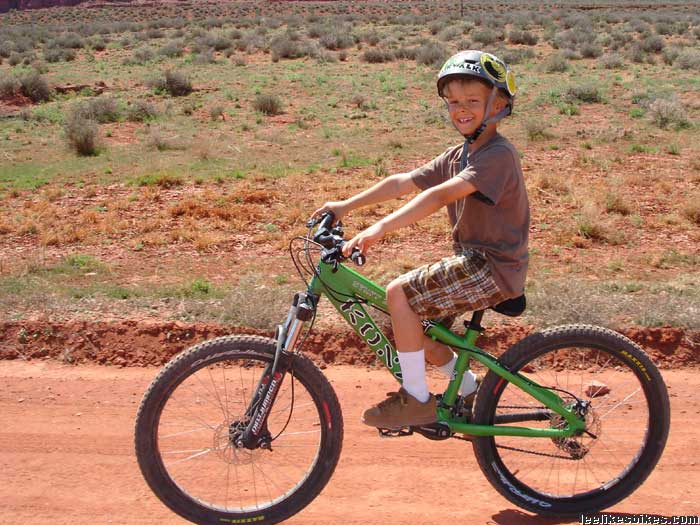 Armen is a very cool 7-year-old ripper. When he got hurt a few months ago, my friends and supporters sent him mega love.

The more you click, the more I can post. Lee Likes Groceries dot com!
---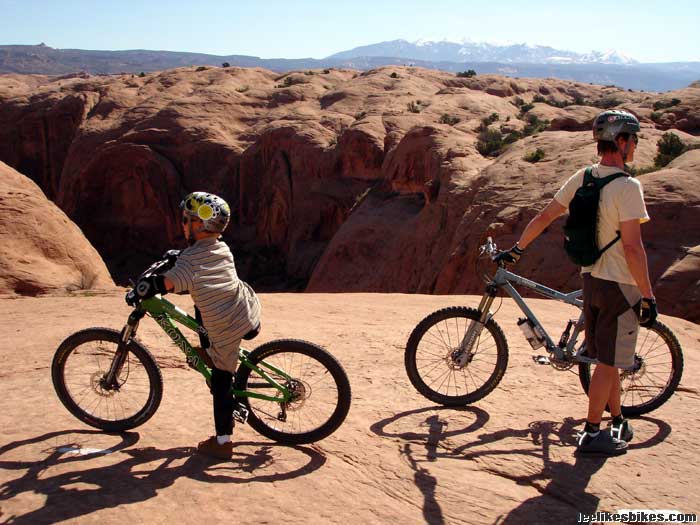 Armen and his dad Chip in Moab a couple weeks ago.
---
After the freak accident I sent this note to my friends and supporters.
---
Hi everyone,
I'd really appreciate your help with something.
I work with a 7-year-old dude named Armen Davis, who is a very enthusiastic ripper-grom here in Boulder. His dad is a dedicated XC/road rider, and his mom was a champion road racer back in the day. The whole family loves cycling — especially Armen.
Yesterday Armen got balled up in a turn, and his brake lever punctured his abdomen, bruising his intestine and barely missing his liver. Immediately after his surgery, he was watching bike videos. He'll be off the bike for a while — and it's gonna be tough for this little monkey.
I'm asking you guys for swag. Nothing fancy or expensive. Armen would greatly appreciate anything we give him: stickers, hats, t-shirts, a FOX 40 … 😉 I want him to feel the love we have in our sport, and I want him stay stoked to ride.
Thanks so much …
---
The love was immediate and abundant. Armen received hats, t-shirts, posters, videos, riding gear and lots of other goodies. His stoke stayed red hot, and he's already ripping with Mom and Dad.
Special thanks to these people who supported a little dude in need.
– Brian Gavagan: Yellow Designs
– Craig Plocica : Cane Creek
– Jeff Lupear : Boulder Fire Department
– Jeremia Dylan Dean : Uptopia Optics
– Mark Vitelli: Airwalk
– Mateo Graziosi : Gamut USA
– Richard Travis : Hayes Brakes
– Rob Salcedo : Shift
– Ron Gager : The Fix Bike Shop
– Ryan Cranston : MRP
– Sean : Dopamine Clothing
– Sondra Williamson : Specialized
– Tom Fox and Greg Niver: Optic Nerve
– Zach Lewis : for wrangling your sponsors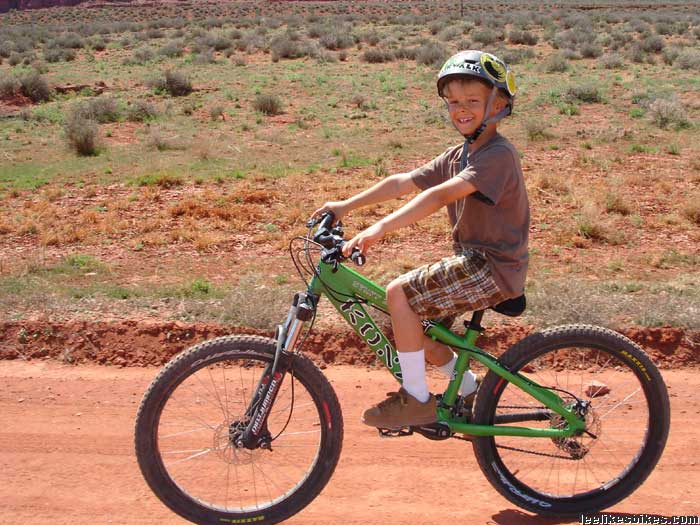 Happy little dude. Thanks again everyone.
https://www.leelikesbikes.com/wp-content/uploads/2018/08/leelikesbikeslogoheader.jpg
0
0
leelikesbikes
https://www.leelikesbikes.com/wp-content/uploads/2018/08/leelikesbikeslogoheader.jpg
leelikesbikes
2007-04-24 15:11:28
2007-04-24 15:14:56
Swag for an injured little dude