Superior Bike Park build: Day 3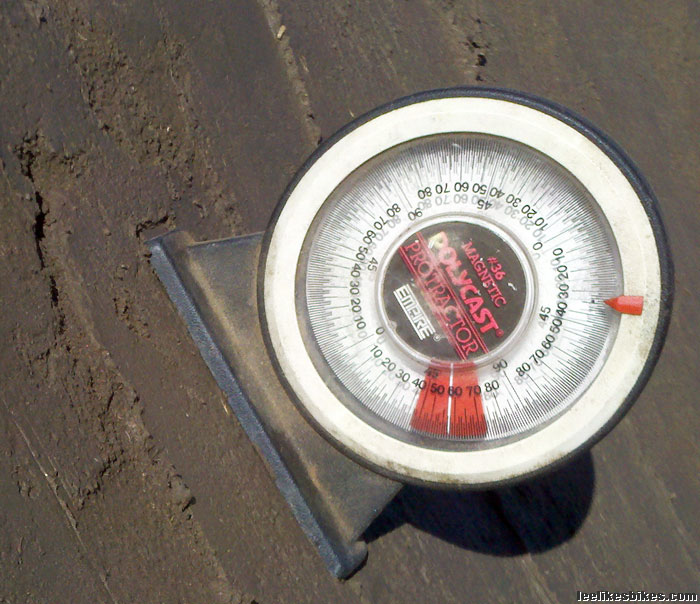 The pump track got shaped and packed today. After a bit of watering and packing tomorrow, it should be ready to ride.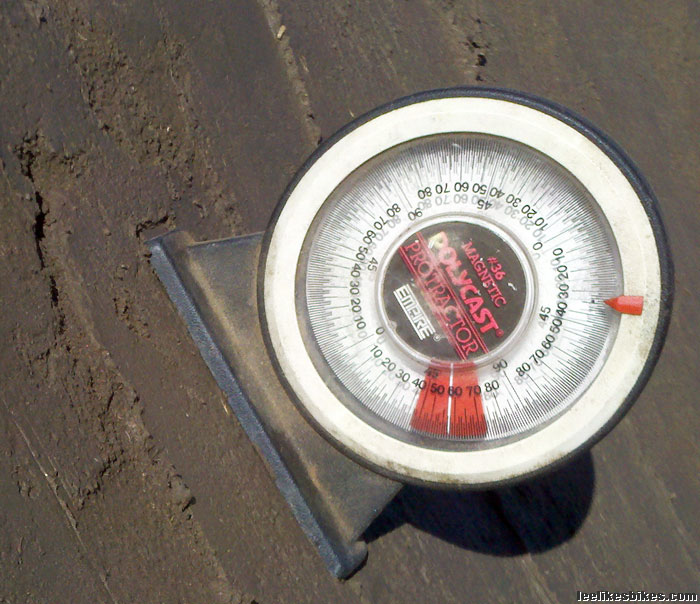 Checking the bank angle on the 180 berm. This angle will allow riders to pull 1.5 Gs without needing any traction.



Overview of the track yesterday evening.
Tomorrow: Re-water and re-pack the pump track then start final-shaping the expert flow line. We are all starting to feel pretty tired, and we will appreciate having volunteer help this weekend.
We WILL be riding this weekend!
Come out and help!
Here's the announcement from volunteer coordinator Aaron Atwell:
— — —
The time is near, the dirt awaits your efforts, our park is calling you!
Our first big volunteer build day is this weekend 3/12/11 & 3/13/11, From 9:00 – 5:00
Under the expert guidance of Lee McCormack from Lee Likes Bikes we'll be forming pump tracks, building jumps, and completing the very important task of getting the rocks out! Show up when you can – people will be coming and going so a consistent flow of help will keep us digging for the whole day. We'll have some food and drinks provided by local businesses as well as some excellent prizes!
Important Items for our work – please bring any that you have (don't worry if you don't have tools we have extra!);
• Flat shovel – spade will do
• Rake
• Wheelbarrow – 5 gallon buckets will work as well – there are many rocks to be removed!
• Push broom
• Hoe
• Gloves to protect the hands during hard work
• Bikes – part of the compaction process involves watering and riding the track – Lee said riding will be happening this weekend!
I'll have balloons out to mark where we're working so people can see it from Rock Creek Pkwy.
Here's a link to a map: ttp://tinyurl.com/4twssmt
All you hard cores – we all know it's going to be a weekend of good riding weather – we still need you!
Best riding regards!
Aaron Atwell
— — —
If you want to come out mid-week, email me or just show up. Nick Simcik, Jerad Fischer and/or I will out out there every day until March 20 (the last scheduled dig day).
Community braaap!!!
---
Know more. Have more fun!
Join the leelikesbikes mailing list:
---
Know more. Have more fun!
Join the leelikesbikes mailing list:
---
https://www.leelikesbikes.com/wp-content/uploads/2018/08/leelikesbikeslogoheader.jpg
0
0
leelikesbikes
https://www.leelikesbikes.com/wp-content/uploads/2018/08/leelikesbikeslogoheader.jpg
leelikesbikes
2011-03-09 22:16:04
2011-03-10 22:37:56
Superior Bike Park build: Day 3