Shorter stem with more rise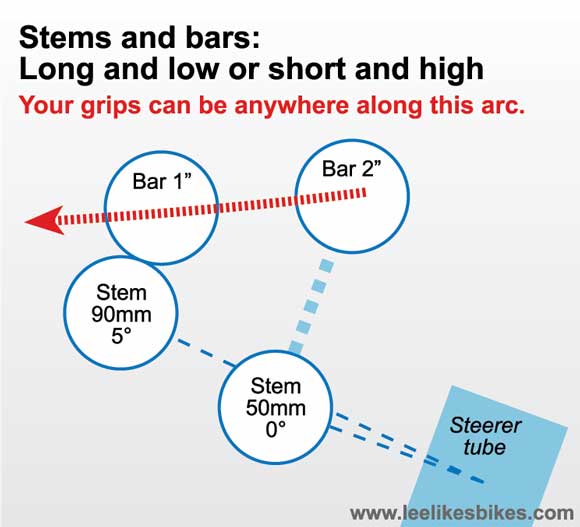 Hi Lee: I've been feeling too stretched out and too far forward on my bike. I want to get a shorter stem but I have a Cannondale and they're pretty expensive, so I want to get the right one. I have a 120mm stem now. Not sure if this is a daft question, but can you recommend what length I should go down to? I was thinking either 80 or 90mm. I guess it probably won't make that much difference which… Thanks for any advice. Simon
Hey Simon,
Thanks for writing. I can't suggest a setup without seeing you on your bike, but I can say this:
A shorter stem is worth trying
Most riders find it easier to control their bikes (and do so comfortably) with shorter cockpits.
Either an 80 or 90mm stem will make a noticeable difference. 90mm is a good all-around modern XC length.
Don't forget rise
As your stem gets shorter, you need your bars to be higher. Check out this action:
My 2008 Stumpy had a 90mm stem with significant rise. My 2010 Stumpy has a 70mm stem with no rise. This brings my bars closer and lower, which feels great when I'm pinning it with a low seat, but feels a bit too low when I'm pedaling in the saddle. Given the same bars, I would appreciate a stem with a bit of rise.
So: If either of those stems has a bit more rise, go for that one.
Tell us how it goes!
— Lee
Be sure to read:
Stems and bars: Long and low or short and high?
Stems length/rise for a trail bike
---
Know more. Have more fun!
Join the leelikesbikes mailing list:
---
https://www.leelikesbikes.com/wp-content/uploads/2018/08/leelikesbikeslogoheader.jpg
0
0
leelikesbikes
https://www.leelikesbikes.com/wp-content/uploads/2018/08/leelikesbikeslogoheader.jpg
leelikesbikes
2010-01-19 14:16:16
2010-01-19 14:18:29
Shorter stem with more rise