Roller spacing for a kids' pump track
Hi Lee,
I bought the v2 of the pump track nation book. Gotta say super well written. I'm planning on building one in the back yard to keep my kids busy. They are 3 1/2 (good at strider) and almost 6 (he's got a nice 20" bike and can ride mellow mtb trails)
My space in the yard is 35 feet wide and 32 feet deep but the SW corner has a shed so need to keep entrance clear so will likely do a trapezoid shape. That includes room for the back of berms.
My main question has to do with the 10 foot peak to peak number you mention as ideal for rollers. How tight can I make rollers. I assume since the kids are on small bikes they can handle tighter spacing. What's a smaller spacing that would still be manageable for me. I'm advanced rider on a dj bike. I can pump my way around a pump track without pedaling but by no means an expert. Though I'd like to practice now that I have time. We are working from home for the next foreseeable future and we have the kids home too. All schools and daycares are shut down here for the next 2 months at least. Our local pump track will also be shut down for the foreseeable future.
Thanks
Bogdan
---
Hi Bogdan,
Thanks for reaching out.
The beginner pump track at Superior Bike Park here in Colorado has 8-foot roller spacing and 8-foot-radius berms. That track was great for kids and fun for me, too. Bonus: It didn't take much dirt or effort to build.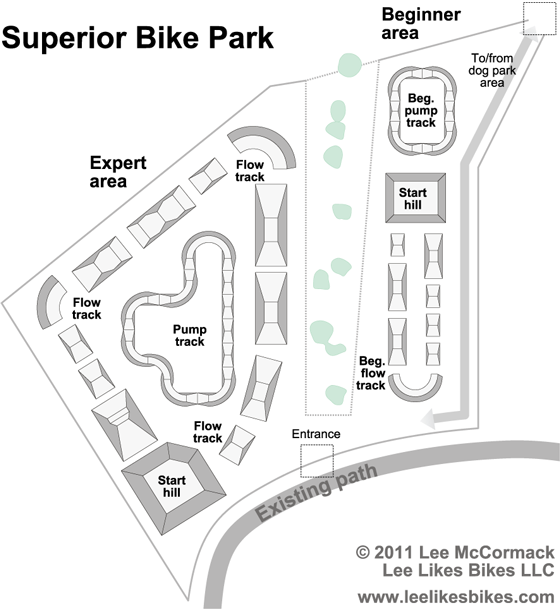 I suppose you could go down to 6-foot spacing.
When you're pumping small, close bumps, you'll find that there's more arm action than with larger, more distant bumps.
Have fun!
Lee
https://www.leelikesbikes.com/wp-content/uploads/2018/08/leelikesbikeslogoheader.jpg
0
0
leelikesbikes
https://www.leelikesbikes.com/wp-content/uploads/2018/08/leelikesbikeslogoheader.jpg
leelikesbikes
2020-04-05 10:44:19
2020-04-05 10:46:46
Roller spacing for a kids' pump track