Public comment: Betasso Preserve and Benjamin Property
Betasso is a nice XC spot with a fun downhill just outside Boulder, CO. The adjoining Benjamin property has been acquired by the city, and the city has begun preparing its management plan. This is our chance to participate in the planning process.
News release – 15 February 2008
Boulder County Parks and Open Space seeks public input on management of Betasso Preserve, Benjamin Property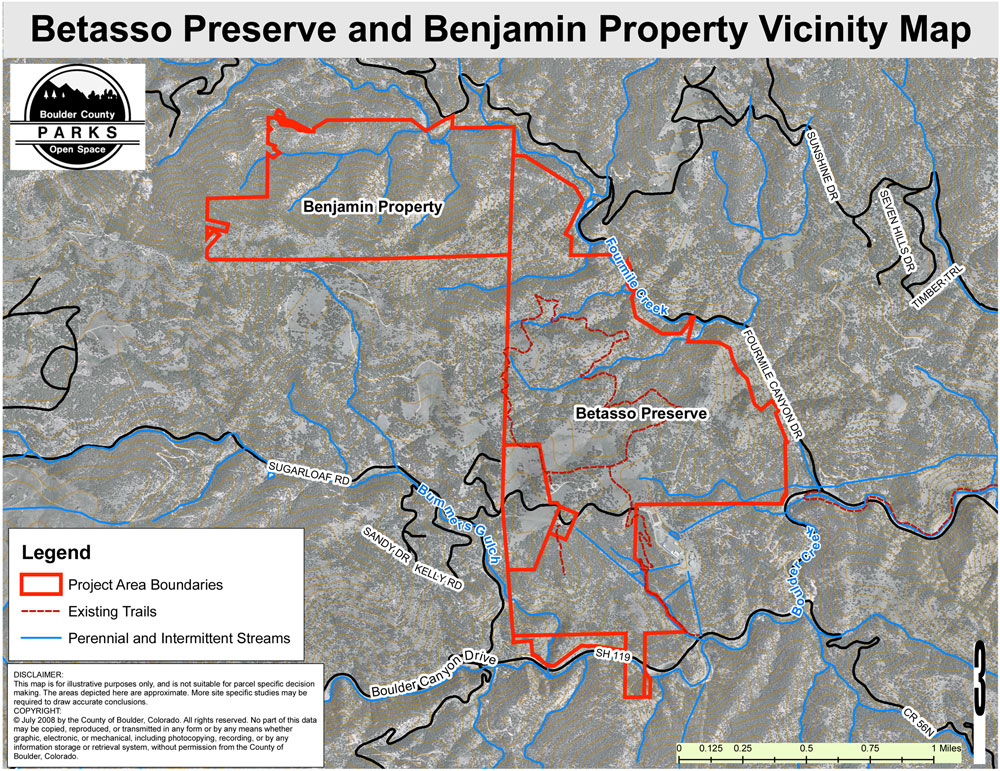 Let's hope the user groups don't battle as fiercely as the lines and colors. Click for big.
Boulder County Parks and Open Space is in the initial phase of preparing a management plan for Betasso Preserve, including the recently acquired Benjamin property. To help set the direction for the management plan, two initial public open house meetings have been scheduled.
– Tuesday, Feb. 26, in the Houston Room of the Boulder County Clerk & Recorder's Office, 1750 33rd Street, Boulder.
– Tuesday, March 4, at the Sugar Loaf Fire Protection District, Station #2, 1360 Sugar Loaf Road, Boulder.
The public is invited to stop by any time from 4:30-7:30 p.m. on either day. Please note: because the same information will be presented at both meetings, it is not necessary to attend both meetings.
The purpose of the open house meetings is to provide the public with background information on the existing natural and cultural resources and public uses at Betasso Preserve, including the Benjamin property, and to solicit public comment early in the planning process on the draft vision, goals and objectives, and opportunities and constraints for its management. The Parks and Open Space Department encourages the public to provide their preferences, concerns, and other thoughts about the management and use of this property prior to the preparation of the draft management plan, which is scheduled for completion by late summer 2008. For those who can't attend either meeting, public comments can be sent:
By mail to: Boulder County Parks & Open Space
c/o Ernst Strenge – Planning Division
5201 St. Vrain Road
Longmont, CO 80503
Fax: 303-678-6180
E-mail: estrenge@BoulderCounty.org
All public comments must be received in writing.
The management plan will be an update to the 1985 Betasso Preserve Management Plan (available at www.BoulderCountyOpenSpace.org, under "Management Plans"). The purpose of the management plan will be to establish the vision, goals and objectives, allowed uses, and implementation strategies for the management of the property. These will be based on an in-depth analysis and evaluation of the existing natural and cultural resources, existing and potential future public uses, public sentiment, the goals and policies of the Boulder County Comprehensive Plan and other relevant planning documents, and additional opportunities and constraints that come to light during the planning process.
Betasso Preserve and the Benjamin property encompass a total of 1,175 acres and offer a variety of open space values. These values include a mosaic of native plant communities, important wildlife habitat and movement corridors, diverse and rugged topography, a hub for recreational activities, a piece of Boulder County history, a grand outdoor classroom, abundant scenic vistas, and a place to seek out peace and quiet, among others.
For more information, to stay informed, or to submit comments, visit the Boulder County Parks and Open Space website at www.BoulderCountyOpenSpace.org or contact the project planner, Ernst Strenge, at 303-678-6269 or estrenge@BoulderCounty.org.
---
https://www.leelikesbikes.com/wp-content/uploads/2018/08/leelikesbikeslogoheader.jpg
0
0
leelikesbikes
https://www.leelikesbikes.com/wp-content/uploads/2018/08/leelikesbikeslogoheader.jpg
leelikesbikes
2008-02-15 12:23:36
2008-02-15 12:23:36
Public comment: Betasso Preserve and Benjamin Property