New downhill trail in Grand Junction, CO
After five years of red tape, a downhill-only trail has been approved in the Lunch Loop area of Grand Junction. The first official work day is Sept. 29. Here's an update from Ryan Cranston.
The more you click, the more I can post. Lee Likes Groceries dot com!
---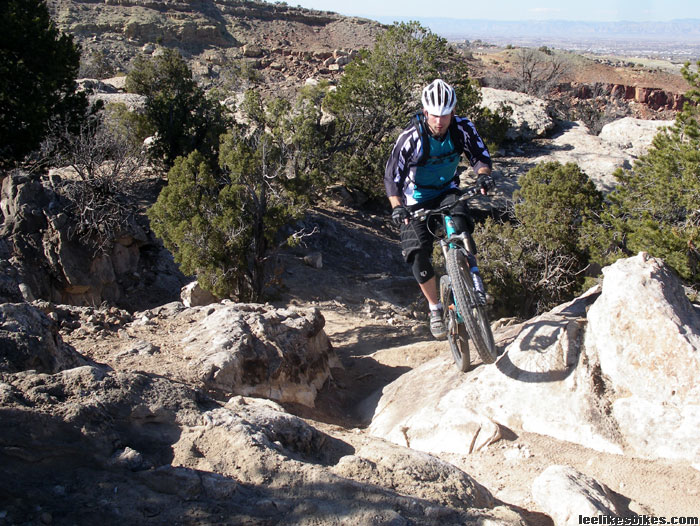 Ryan rocks the Holy Cross trail last spring. This area is rocky and FUN!
Hey Lee,
What's up man? Hope everything is going well with you and you're having a great fall season.
Just wanted to drop you a note and let you know we're busy over here building a new downhill directional traffic trail! It's going to be cutting edge and super progressive as far as public use trails go. Remember Holy Cross that I took you on? Take that trail, make it downhill, and make the moves 10 times bigger, more frequent, sprinkle on some more speed, and add some BIG air potential, drops, and rocks, and you have our new one.
I thought you might post it on your site ifn' anyone who visits your site regularly wants to come help build.
We have a volunteer work day scheduled for September 29, people can email Chris Herrman of COPMOBA at: info@copmoba.org
I have also started a thread on mtbr on the trail, and there are some pictures and other info there. I will update as progress is made. check it here:
http://forums.mtbr.com/showthread.php?t=338702
I started the process about 5 years ago, and after years of beaurocratic red tape, jumping through hoops, we are FINALLY digging!
Greg Mazu and Mike Moga are contracted and over here helping us out with the construction.
Dude….this trail is going to make people cry……….because they are having so much fun!!!!
Cheers,
Ryan Cranston
MRP Product Manager
Mountain Racing Products
https://www.leelikesbikes.com/wp-content/uploads/2018/08/leelikesbikeslogoheader.jpg
0
0
leelikesbikes
https://www.leelikesbikes.com/wp-content/uploads/2018/08/leelikesbikeslogoheader.jpg
leelikesbikes
2007-09-22 15:35:05
2007-09-22 15:36:11
New downhill trail in Grand Junction, CO